There's something about fall that feels festive, especially in the Hudson Valley. Every weekend, the calendar is crammed with fairs and festivals set among colorful landscapes and cool weather.
Bookmark our Events Page for a full list of wine and craft events, and make it your go-to resource all year long. Check out the events we've highlighted below to get the season started. From harvest time to the holidays, we have your weekends covered!​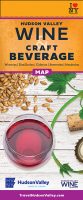 Download the official Hudson Valley wine and craft beverage map to start exploring the region's more than 165 tasting rooms between Westchester and the Capital Region.
Love local wine and craft beverages?
Sign up with your email for our free newsletter to receive quarterly updates about the region's wine and craft beverage news, upcoming events and more, delivered right to your inbox.
"*" indicates required fields