Wineries used to be places where grown-ups went to escape children, but as our culture, and our relationship with craft beverages has evolved, they've become places where the presence of toddling mini-humans isn't just tolerated, it's actively encouraged. The same goes for cideries, breweries, and distilleries, especially in the summer when patio season opens up and the wildflower-flecked fields beg for frolicking and picnics.
Perhaps the Hudson Valley is ripping a page from Europe's playbook. There, and many other places around the world, families thrive in a culture in which they are encouraged to sip, taste, and learn together. At a very young age, children are exposed to responsible alcohol consumption. Meals focus on food and family, with adults enjoying wine and beverages often made by neighbors in their community who are passionate about their craft.
There are few wine and craft beverage regions in the U.S. that cater to families as attentively as the Hudson Valley, and even more so since the number of tasting rooms has exploded over the last decade. That's mainly because many of the businesses here aren't corporate entities, they are run by families themselves. The owners' kids or grandkids may be found running around on the farm, so yours may as well join them—or so the thinking goes.
Ditch the theme parks this summer and bring on the vineyard views, giant Jenga, and retro board games. Pack a picnic, grab a blanket. There are plenty of places in wine country that roll out the red carpet for kids.
These days, many Hudson Valley producers aren't just tolerating tots, they're welcoming them with open arms, adding amenities and activities designed to keep kids happy, while keeping their parents, caretakers, and designated drivers satiated and relaxed. Which is what a trip to wine country should be, shouldn't it?
"My parents Harry and Carole launched Robibero Winery, but I run it day-to-day," Tiffany Robibero explains. "They come here on the weekends to help out, but also to relax. The entire winery is run by my family, and we're all often here on the weekends in the summer. You'll find aunts, uncles, cousins, my four-month-old daughter, my sister and her seven-month-old."
Tiffany and her family's laid-back approach extends to their guest policy, she explains. "Our family is gathering here, and we want yours to, as well," she says. "From the beginning, our goal was to create an atmosphere that was both family- and pet-friendly. For many people, we're a weekend destination, and when I think of the weekend, I think family."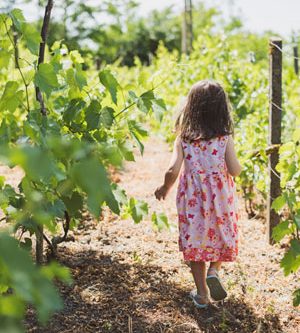 At Robibero, guests are greeted with open fields for kids to run and play, lawn games, a giant Jenga® set (that kids adore), and board games indoors. They have live music every weekend, an outdoor firepit, and wood-fired pizza.
This philosophy is echoed at Bad Seed Cider Company, according to Manager Bram Kincheloe, even though it stems from a different source. There are three unrelated owners of Bad Seed: Albert Wilklow, a sixth-generation Hudson Valley farmer whose family has worked the land in Highland since 1855; Devin Britton, also a Highland native; and Bram, who moved here from California.
"We are totally kid-friendly at our cidery and our farm bar," Bram says. "There are games for kids, a newly-built patio, an elevated fire pit and plenty of space to run and picnic within the farm's 100 acres. And we have food trucks onsite for those that don't want to bring their own food."
Bad Seed even has non-alcoholic sparkling cider, called, aptly, Good Seed, available for kids in the taproom.
Some families have come to love local craft destinations so much, they throw their kids' birthday celebrations there. "Every weekend, we have some sort of family party rolling in," Bram laughs. "The kids play cornhole or ring toss, or just grab a ball and play soccer, while the adults hang out, eat, and sip cider."
Like many other Hudson Valley producers, Robibero and Bad Seed have built their businesses with families—not just adults—in mind. These agricultural operations are fabulous family hangouts, with sunny patios, locally-sourced eats, and open space as far as the eye can see.
Top Spots to Wine Down With the Family
Robibero Winery
714 Albany Post Road, New Paltz
This winery is all about family. Founded—and run—by a sprawling family crew, Robibero epitomizes the spirit and dedication of small-scale, but big-hearted agricultural labors of love in the Hudson Valley. In addition to an open-armed welcome, visitors (and pets) will find 42 beautiful acres of vines and space to wander. Kids can kick soccer balls, play Jenga, and when they get worn out, join the adults for housemade, wood-fired pizzas, or s'mores around the firepit. There is a variety of locally-crafted cheeses and charcuterie for the sophisticated omnivore to pair with Robibero's award-winning wines, but families who want to bring food from home for their little ones are welcome to picnic on the grounds.
Perched amid lush, green hills in Marlboro, Benmarl overlooks the mighty Hudson River Valley, with 37 acres of the oldest vineyard land in America—a fact that's not likely to impress the little ones. What they will dig, however, is Benmarl's kid-friendly vibe, and special events like the Sangria Festival, an annual event that draws hundreds of locals of all ages with live music, Sangria (a non-alcoholic version is available) and an amazing BBQ. Look for other family-oriented events throughout the year like Wine With Your Canine, and their renowned Grape Stomping Festivals in the fall. On summer weekends, the back deck is open and they fire up the outdoor pizza oven. You can't beat Benmarl for the views, their award-winning wines, or the backdrops that make stunning photo ops with the fam.
Millbrook Vineyards & Winery
26 Wing Road, Millbrook
Friday Night Food Trucks summarizes Millbrook's approach to wine, weekends and family. Most Friday evenings, a different food truck pulls up on the lawn offering kid-friendly, but parent-approved, locally-sourced comfort fare, and Millbrook serves tap wine for just $5 a glass. There's cornhole and bocce, and families are welcome to bring their own games, like Twister and Frisbee. There's no cover charge, but outside food and beverages are frowned upon. The winery offers tastings of their award-winning wines in their restored rustic barn and the tours on weekend afternoons are purely for adults, but when it's warm outside, families can dine in their tented café or pull up at a picnic table and meander around the one of the ponds on the picturesque 35-acre vineyard landscape.
Cradled in the foothills of the Shawangunks, this is what one would envision when they think Hudson Valley farm-winery. With views of the mountains and 120 acres of orchards, ponds, and manicured grounds to explore, there is an always-friendly hive of activity around. No food or beverages from outside are allowed, but visitors are welcome to bring blankets and chairs to settle in for live music, and relish the scratch-baked bread, pizzas, salads, and sandwiches served up from their farm-to-table café. Apple-picking and tractor rides to the orchards are musts in the fall, and the humming marketplace has some of the best cider donuts in the region. Visitors will want to take time to sample the stellar lineup of farm-to-glass offerings at Warwick. There's something for everyone: hard cider, fruit liqueurs, distilled spirits, and wines.
Nostrano grows 10 acres of wine grapes, a few acres of table grapes and 15 acres of apples on their 75-acre family-owned farm. While they've been growing fruit for four generations, this is the first generation to add winemaking to the operation. Their Rosé and Pinot Gris are summer picnic must-packs. In the rustic tasting room, which sits atop a rolling hill overlooking the pristine vineyard views, visitors can sample wines, share a cheese board, and listen to live music. Supervised kids are welcome to chill out on the expansive patio—a great spot to take in the spectacular Hudson Valley sunsets. They have a special picnic table and a wooden playhouse just for pint-sized visitors. Nostrano also keeps locally-produced apple cider and Honest Co. kid's juice on hand for their smallest customers. Tip: in addition to grapes, they grow some of the best blackberries and cherries in the Hudson Valley.
Angry Orchard
2241 Albany Post Road, Walden
It's clear that things are done a little differently here. Entering the Cider House, visitors are invited on a self-guided tour that serves as a crash course in ciderology; kids will goggle at the farm truck and vintage cider-making equipment on display, and they'll be engrossed with the fun, interactive exhibits and hands-on activities. The Cider House is located on a 60-acre orchard that has been in operation since the 1700s, with its oldest apple trees first planted about 100 years ago. They offer multiple tours (ranging in price), but the hottest ticket is the free-to-enter tasting room, where visitors can sample a variety of ciders, many of which are limited and only available here. There are food trucks onsite, a seasonal fire pit, and a sprawling lawn with scenic vistas and room to run.
Bad Seed Cider Co.
43 Baileys Gap Road, Highland
Bad Seed's Hudson Valley production facility (they have a tap room in Brooklyn) is open to the public year-round. Visitors 21+ can sample ciders from more than 20 taps, all made from 100% fresh-pressed apples grown on their farm. Food from home is allowed, or visitors can choose options from food trucks parked onsite. On weekends in September and October, Bad Seed opens up its Farm Bar, a welcome spot to soak in the vista with farm-fresh cider and doughnuts after a day of apple picking in the orchard. The Farm Bar is located at 341 Pancake Hollow Road, Highland.
PHOTO: Scott Snell, Courtesy Bad Seed Cider Co.
Hardscrabble Cider
130 Hardscrabble Road, North Salem
If wood-fired pizza, hanging with your little ones, and drinking farm-fresh hard cider is your family's jam, then this may be your new favorite hangout. The family-owned and operated Harvest Moon Farm and Orchard is open every weekday, but on Friday nights in the summer, this laid-back, but hard-working farm cidery, founded by the trio of brothers, throws the kind of block party that everyone wants to be part of. There's live music on the patio and plenty of food options from the Harvest Moon kitchen to go along with their housemade ciders, and an assortment of local wines and brews on tap.
Pennings Farm Cidery
4 Warwick Turnpike, Warwick
Pennings Farm is the type of place where families could spend an entire day—the 100-acre farm is bustling with activity. For kids, there's home-grown goodness from the farm market, fresh eats at the Harvest Grill, barnyard animals to feed, and an ice cream stand that's alone worth the trip for its imaginative, seasonal twists. (Think farm-fresh strawberry sundaes or a fresh blueberry milkshake.) For adults, there's farm-to-table dining, and a beer garden where visitors can kick back with a fresh, local beverage or a housemade cider inspired by farm ingredients. Try the Ginger Beet (a blend of orchard apples, and yes, juiced beets, infused with hand-crushed ginger), and Cyser (a cross of mead and cider) made with Wild Thyme honey sourced from the farm. And did we mention there's a hops yard and a pub?
Plan Bee Farm Brewery
115 Underhill Road, Poughkeepsie
After years of hand-selling their wild-fermented brews at farmers markets and stands, Plan Bee has opened its own place with strong ties to the community. So it makes sense that they're family-friendly, too. All of Plan Bee's beers are crafted from ingredients grown onsite or locally-sourced, and all are 100% New York State. Wee ones have plenty to do at Plan Bee, especially during the warmer months. It's a farm brewery, with goats and chickens, and there's lots of space for kids (and well-behaved dogs) to run—just not unsupervised. They offer small bites for grown-ups and adventurous tots who like funky artisanal cheeses, charcuterie, and olives (courtesy of nearby Rossi's Deli), but for pickier eaters, visitors are welcome to bring some snacks along. (Read: Pack that PB&J in your purse—they don't mind, it says so right on their website.)
TOP PHOTO: Scott Snell, Courtesy Bad Seed Cider Co.