Small (less than 5,000 cases)
Nostrano Vineyards is a family-owned and operated 75-acre farm, vineyard, and winery in Milton, NY. Although Nostrano Vineyards was established in 2010, winemaker Nic Bozzo's family has been growing grapes, apples and other fruits on the farm since 1943. Nic himself grew up on the farm and is the fourth generation in his family to carry on the fruit growing tradition on this piece of land.
Even in the early days of the farm, the family made some wine for themselves using their own grapes, but it wasn't until Nic studied landscape design in New Zealand that he began to envision creating a vineyard back home. Today, Nostrano grows ten acres of wine grapes, three acres of seedless table grapes, and six apple varietals that are original to the property.

After years of focusing on Riesling as the core white wine in production, Nostrano Vineyards produced their first Estate Pinot Gris for 2017. With a light citrus and pink grapefruit aroma this wine is light-bodied and refreshing. Production is limited, so it's available till it's not!
Although Nic prefers not to put suggestions into tasters' heads of what flavors they should be picking up on when they enjoy his wines, he can't help but notice how his farm's legacy of fruit production reveals itself in the bottles. "Maybe it's just my memories, but the grapes that come from where we had peaches planted for years, I'm always catching a hint of peaches from the Rieslings we make from those grapes," he said. "With the Cab Franc, I'm tasting the black cherries and red currants that were there. So I'm taking some of the past and putting it towards the future to tell the story of how a farm changes over time."
Nic and his wife Kayleigh, who is the tasting room and events manager, run the day-to-day operation at Nostrano Vineyards and reside on the property with their family. The Tasting Room sits atop a picturesque hill overlooking a serene farm and vineyard vista. Visitors can enjoy estate wines, local cheese and charcuterie boards, and regular live music indoors at a rustic chic tasting bar or al fresco taking in the beautiful Hudson Valley scenery.
Nostrano Vineyards operates a seasonal wedding venue on-site offering a truly unique and personalized experience with complete privacy in Hudson Valley's wine country.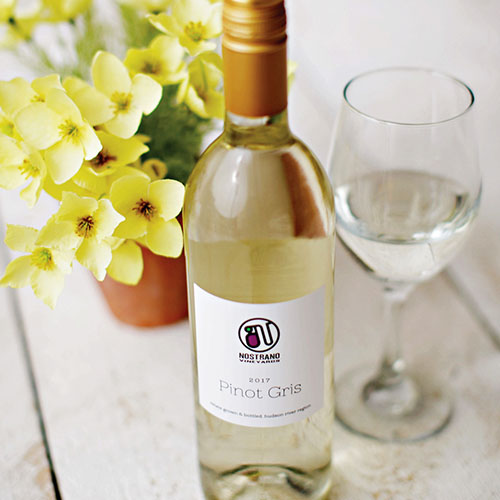 The 2017 Estate Pinot Gris has been hand-harvested from Nostrano's highest elevated vineyard and fermented dry with little skin contact giving it a light golden hue. Clean, fresh, and lightly fruity with notes of grapefruit. Limited production.
Currently on tap in the tasting room is Smashed Cherry Mead, made with tart New York State cherries and clover honey. It is semi-dry with the honey taste up front and a slightly tart cherry bite in the finish. It will soon be available at bars and restaurants in the Hudson Valley.
APR–DEC
Fri- Sun 12-5
JAN-MAR
Sat 12-5
CLOSED
New Year's Day, Easter, Thanksgiving, Christmas Eve, Christmas Day