Ryan Burk, head cider maker
Patrick Commane, assistant

The cider makers at Angry Orchard have been experimenting with apple varieties, ingredients and aging processes to develop hard cider recipes for more than 20 years. The cider making team has traveled the world to find the best apples for cider making and to choose specific varieties based on each cider's desired flavor profile.
In fall 2015, Angry Orchard opened a home for research and development. The Cider House sits on a historic 60-acre apple orchard in Walden, NY. Here, the cider makers research and drive experimentation, and drinkers are welcome to visit for samples of exclusive ciders made on-site and some of the national favorites. Despite the recent growth of hard cider in the U.S., and the prevalence of cider in the Hudson Valley, the category is still small and relatively unknown. Angry Orchard is committed to drinker education and awareness-building to help grow the category for all craft cider makers.


Angry Orchard now offers guided tours of the Angry Orchard Tree House built by Animal Planet's Treehouse Masters, and guided tours of the Barrel Room. After your tour and flight you can enjoy draft ciders from Angry Orchard's changing draft rotation.
As part of the experience at the Cider House, drinkers are invited to take a self-guided tour that features vintage cider making equipment, an interactive exhibit about the
history of cider in the US, as well as an in-depth look at the cider making process. Visitors will then spiral down through the cider production area to experience how cider is made firsthand, including specialty and barrel-aged styles made by the cider makers in New York using local apples. Finally, guests will make their way into the tasting room where drinkers 21+ can sample a flight of three Angry Orchard ciders and purchase additional drafts while enjoying the scenic view from outside on the lawn, next to the fire pit, or at the rustic table tops of the taproom.
Angry Orchard makes a variety of year-round craft cider styles, including Angry
Orchard Crisp Apple, a crisp and refreshing fruit-forward cider that blends the sweetness of culinary apples with the dryness and bright acidity from bittersweet apples for a balanced flavor profile. Angry Orchard also makes The Cider House Collection, the orchard's NY-based specialty ciders, and a variety of seasonal ciders.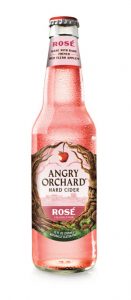 Drinkers are familiar with rosé wine, which continues to grow in popularity. This year, drinkers have a new, unexpected option: Angry Orchard Rosé hard cider, made with a delicious blend of apples including rare, red-fleshed apples from France. Angry Orchard Rosé delivers the crisp and refreshing qualities of cider with a rosy color and floral aroma. It is apple-forward in taste complimented by refreshing light tannins, similar to a semi-dry wine.
Inspired by their love of rosé wines, the cider makers experimented with small batches of rosé cider for more than a year looking for the perfect blend of apples. Their experimentation took them to Brittany, France, where they found the unique red-fleshed apples, called Amour Rouge, or Red Love. When cut open, the apples are rosy inside. The cider makers blend six different apple varieties in this cider, but it's the red-flesh French apples, along with a hint of hibiscus, that gives it its rosy hue.
JAN 1–JUNE 16​
Thurs–Sun: 11–6pm
JUNE 19–DEC 31
Wed, Thurs, Sun: 11–6pm
Fri–Sat: 11–8pm
CLOSED
New Year's Day, Easter,
Thanksgiving, Christmas Day
3rd Saturday Every Month

Game Night
June–October
Fresh Pressed Friday
Sunset Concert Series
The WOLF Cider Jam
Farm to Table Dinner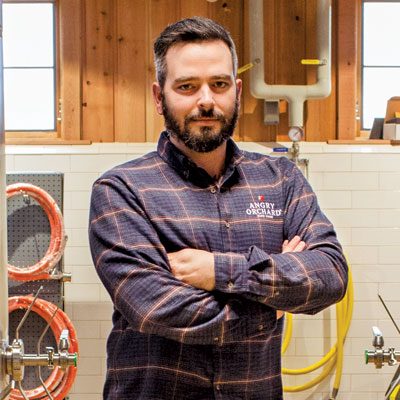 Ryan Burk is Angry Orchard's head cider maker, based on-site at the Angry Orchard in the Hudson Valley. Ryan's New York roots run deep. He grew up in Upstate New York and began hanging out on orchards around age six. He has always been interested in making cider and brewing beer, and experimented with both of these crafts during college and even after.
Prior to joining the Angry Orchard team, Ryan racked up years of professional craft cider making experience, with a particular focus on cider barrel aging and varying fermentation processes.