Three years in, the Hudson Valley Cabernet Franc Coalition has laid the groundwork for success.
2018 was supposed to be a bust for Hudson Valley Cabernet Franc.
Last year the Valley received almost twice as much rain as it usually does. Whereas other high-precipitation years were the result of events like hurricanes, which dump their rain in a short period of time and then move on, 2018 was a steady deluge that made it impossible for Hudson Valley grape growers to spray, to stay ahead of weeds, to make sure their grapes were getting enough sun. Sugar levels were down, colors were off. The mood here at Nostrano Vineyards in Milton, at a gathering of winemakers working under the name of the Hudson Valley Cabernet Franc Coalition should be muted.
It's hours before a sold-out event will take place in this red barn as the public will get a chance to learn about their effort to promote Cabernet Franc as the Hudson Valley's signature grape, and taste wine from every vineyard in the Coalition. But before the public event begins, the winemakers have set aside some time to talk to—and drink with—one another. The atmosphere feels like a baby shower, all smiles and excitement. What gives?
"You tell me," says a poker-faced Bruce Tripp of Milea Estate Vineyard, pouring a sample of their unreleased 2018 Cab Franc drawn from the barrel that morning.
Pronounced nose, fruit forward, mineral undertones. The qualities that are coming to define a successful Hudson Valley Cabernet Franc are all there. They aren't as well defined as the 2017 Cab Francs, which benefited from more agreeable weather. But if the 2018 flavors are a bit quieter when compared to the bracing clarity of the 2017 Cab Francs, they're still there, even with six months or more in the barrel still to go. The reason for the upbeat mood in the barn becomes clear. If the wines from a historically rainy season are coming out this appealing, what's going to happen in a good year?
"Many growers are adopting the desire to plant Cab Franc," says Doug Glorie of Glorie Farm Winery in Marlboro. "They see us rallying around it." It was Glorie who helped found the Coalition about three years ago, whose members can now put a sticker with the silhouette of a hawk on the necks of their bottles to signify that they're part of a group of growers and winemakers working together to realize the potential of Cab Franc as the Hudson Valley's signature grape. Events like the tasting at Nostrano aren't just about educating consumers; they're about encouraging new growers to take advantage of this grape's potential here.
If the wines from a historically rainy season are coming out this appealing, what's going to happen in a good year?
The Hudson Valley is known throughout the wine world as the birthplace of American viticulture and for the incredible variety of wines that can be successfully made here. Glorie and the other initial members felt that the region needed to be known for something a little more tangible.
Cabernet Franc was picked as the perfect grape to promote for a variety of reasons. As a vinifera, it holds a certain status among serious wine drinkers. Just ask winemakers Michael Migliore of Whitecliff Vineyard and John Graziano of Millbrook Vineyards, Coalition members who have been growing Cab Franc in the Valley for over 35 years. At a time when local winemakers were still largely using hybrids, Migliore and Graziano each came to the conclusion that if the Hudson Valley was going to make itself known in the winemaking world, it was going to have to learn to use old-world style vines. Both men laid down experimental plantings of a wide variety of viniferas, and both men individually came to the same conclusion: Cab Franc was the clear winner.
"Merlot was much less winter hardy, which is a problem in the Hudson Valley," said Graziano. "Cabernet Sauvignon and Petit Verdot ripened later than Cab Franc, so Cab Franc was the one that we've chosen over the years to stick with."
"I went to the trouble of tasting Cab Franc from other parts of New York State and saw that we really had the best quality grape," said Migliore. "It was a '3 bears' type of situation. Some of the areas to the north didn't have a long enough growing season for the grapes to fully mature, and some of the regions down south, on Long Island, are too warm for the grape, or didn't have enough acidity when they started fermenting the grape. It really suited the soils here, which tended to be a little bit heavier in clay. If you look at the history of Cab Franc around the world, it seems to like clay."
The grape's versatile nature means that it can be grown in a variety of climes, but the Cab Franc grapes grown in France's Loire Valley, along either side of the Loire River, are particularly prized. The winters are long and cold, but the river and the slopes of the valley create a warmer, maritime climate far inland. Now consider the geography of the Hudson Valley, and you'll find the same characteristics. It's no accident that many of the growers in the Coalition grow their grapes in close proximity to the river, where they can benefit from warmer temperatures.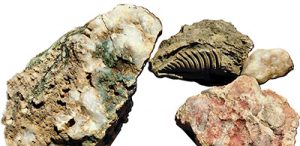 It's the terroir that comes from these characteristics that leads the Coalition members to claim that their Cab Franc grapes are not only the best in New York, but the best in the country. It's not idle boasting: Tripp from Milea recalled an informal Cab Franc tasting among local winemakers several years ago, before the forming of the Coalition, in which one of the makers, for experimental purposes, had blended local Cab Franc grapes with Cab Franc grapes brought in from California. In a blind tasting, all of the winemakers ranked the blend made with California grapes and Hudson Valley grapes last.
"It wasn't that it wasn't good fruit," says Tripp, "It's just too warm in California for Cab Francs." Glorie agrees, referring to California Cab Franc grapes as "hot."
Glorie says that the Loire Valley wines made with Cab Franc tend to be more slightly more acidic than ones from the Hudson Valley. "Hudson Valley Cab Franc wines tend to be more rounded," he said. "The pH is a little higher," – hence the lower acidity – "the mouthfeel is a little softer, so that's going to delineate us a little bit."
The higher pH has also been noted by winemaker Matthew Spaccarelli, whose 2012 Cab Franc for Benmarl scored a 90 from Wine Spectator, proving to the world that Hudson Valley Cab Francs have the potential to not only be successful, but excel. Spaccarelli is the owner and winemaker of Fjord Vineyards in Marlboro, also a member of the Coalition, and has been planting all of the Cab Franc that he can.
"In Marlboro we're getting higher pHs with our Cab Francs so you get this nice volume, but the wines are not extremely solid, tannin-wise," he says. "They don't go hand-in-hand. You can still get this voluptuous wine without really overwhelming tannins. Which is nice, because it really lets the fruit shine."
Why the higher pHs? Spaccarelli still isn't sure. All the reds he makes for Fjord are unfined and unfiltered, so a slightly lower pH would actually help with stability. But drop it too much, and he worries that he'll lose the volume he prizes so highly. The Hudson Valley's terroir continues to be full of secrets that Coalition members are working to unlock. Glorie notes that the Cab Franc grapes he's planted on the west side of his vineyard have a different profile than the ones he's planted on the east side of the vineyard. "The east block has more body and a little bit more going on," he says, although he can't figure out why. Is it because the east block is newer? Because the east block has a combination of two clones, whereas the west block is only planted with one?
Time will tell. It's exciting to be a trailblazer, but the whole reason for blazing a trail in the first place is that no one else has come this way yet. Cab Franc growers in the Hudson Valley don't have hundreds of years of inter-generational history to look to for guidance, since they're the first generations growing it. So the Coalition is turning to the next best thing: Science.
"If they can grow this grape in Michigan, why not us?," says Dana Acimovic, a research support specialist at the Hudson Valley Research Lab run by Farmer's Alliance for Research & Management, a farmer-owned organization working in conjunction with Cornell. At their site in Highland, the lab has planted, among other things, a test acre of Cab Franc grapes. Earlier experiments with Cab Franc here have already solved one major problem plaguing local Cab Franc growers: The unwelcome, vegetal, green bell pepper notes that had been overwhelming some yields. Growers suspected it had something to do with the grapes sometimes having to be harvested before they could reach peak ripeness, depending on when the cold set in each October in the fields.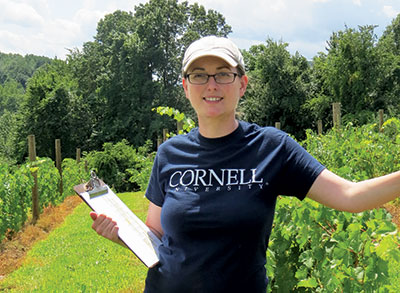 They were on the right track. The lab figured out that it wasn't exactly the ripeness, per se, it was the lack of adequate sunlight which led to the formation of the aggressively vegetal flavors. Early and aggressive leaf pruning, followed by constant vigilance, resulted in getting enough sunlight on the grapes throughout the season to eliminate the bulk of the unwanted flavors, leaving behind a pleasing, minor peppery note which enhanced the overall profile instead of obliterating it.
In the hallways of the lab, in between informational posters on invasive species and fungal diseases, there's a chart outlining the findings of the lab in regards to half a dozen Cab Franc clones and rootstocks and how they fare in the Hudson Valley. At a glance, anyone can compare the clones in a number of categories including fertility, vigor, sugar content, and tannic structure.
For a grower seeking to get into Cab Francs and wondering what to plant, the poster is a lifeline that represents years of work. It's already paying off: When Migliore put down a new planting of Cab Franc at his Olana vineyard outside of Hudson, he knew which two clones to plant. "The 214 clone is more fruit-forward, while the 327 clone is higher in tannins," he said. Both clones are superior to the ones he first planted 40 years ago, and knowing the qualities that clones produce gives him greater flexibility as a winemaker. "When we harvest, we keep the different clones separate," he said. "And we ferment them separate. So that when we go in for the final blend, it's like an artist having a palette of colors. We have more colors available to us to blend to make the best blend, to our tastes, that we think is of the highest quality."
But the lab is just getting started. At their current plot, Acimovic and her colleagues are experimenting with different pruning and spraying schedules on different sections. Come harvest, they'll see how the grapes were affected by different inputs, then crush the grapes and judge the juice. Eventually, Acimovic said she'd like the lab to then start making very small batches of wine on their own, although even with her background in entomology and horticulture, she says she'll probably need some of the winemakers from the Coalition to lend a hand.
In the meantime, growers and winemakers are continuing to tinker with the grape. Thanks to the grapes' versatility, winemakers have options.
"We just can't make enough rosé," says Spaccarelli. "You'd think that the bubble would be popping, but it doesn't seem to be."
Because of the steady rain last season, Spaccarelli picked almost all of Fjord's Cab Franc grapes for rosé, and had it in the bottle by the end of February. With wholesale accounts, he's already sold out of it. One sip and it's easy to see why: The rosé has a clean, zippy quality to it, refreshing enough for a patio but with enough depth to satisfy those looking for something substantial in their glass.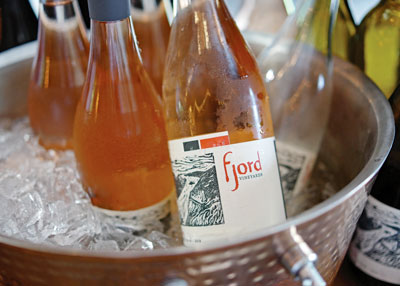 "With Cab Francs, rosés can be really beautiful in cooler climates, we can make them more on the delicate, more balanced side of things," said Spaccarelli. "I think the fact that the variety has that flexibility, it lets us come out here and make really nice wines with it." It also means that, in less than ideal years, you can still produce a variety of outstanding wines with it.
That flexibility may be even more important in the future, as the weather and climate get more unpredictable.
So what is the future of Cab Franc in the Hudson Valley? It certainly begins here in this red barn at Nostrano, with the Coalition members who have been working together to highlight how well this grape grows here, whether they've been growing it for a few years or forty. It's taking shape in the vineyards as the roots grow deeper. Graziano at Millbrook said he's noticed that it takes about seven to nine years for the Cab Franc vines to really come into their own as the roots get deep enough to manage unpredictable precipitation patterns.
The variety's flexibility may be even more important for the future, as the climate gets more unpredictable.
But it's also dependent on those who are just finding out about it now, from the people who attended the tasting and were the first to experience the fruits of this movement, to new growers who are just getting into the business.
"They'll plant that grape over Merlot or any other red viniferas" said Glorie. "They hear the drumbeat, they'll see the action, and they're going to want to migrate towards that grape."
And if they're still skeptical, all it takes is one glass to change their minds.


The Nitty Gritty
About 14,000 years ago, the Hudson Valley was covered by a glacial ice sheet known as the Wisconsin Glaciation which covered most of the northern regions of North America. As a result, a diverse variety of material was deposited during the glacier's advance and retreat phases, forming an equally diverse range of soils in the Hudson Valley.
Along the Hudson River, the retreat left a bedrock consisting of shale and schist, while further north, limestone is more prevalent. Overall, the dominant soil structure in the Hudson Valley is rich with loam and silty loam, both of which are deep, well-drained soils.
In Ulster, Dutchess, and Columbia counties where most of the Hudson Valley's Cabernet Franc vines are planted, several types of soil can be found, each presenting different challenges to growers and imparting their unique characteristics to the grapes. Here's the dirt on soil types:
– Bath-Nassau, formed in deep and shallow glacial till deposits
– Cardigan, formed in foamy glacial till over folded, acid shale bedrock
– Churchville, formed in coarse fragment-free, glacial lake deposits, high in silt and clay
– Dutchess, formed in loamy glacial till high in slate and shale fragments
– Hoosic, very deep, somewhat excessively drained, permeable soils formed on glacial plains
– Mardin, deep, very stony soils formed in glacial till
– Stockbridge, formed in glacial till derived from limestone with a small amount of siltstone, sandstone, and shale
Where the Vines Are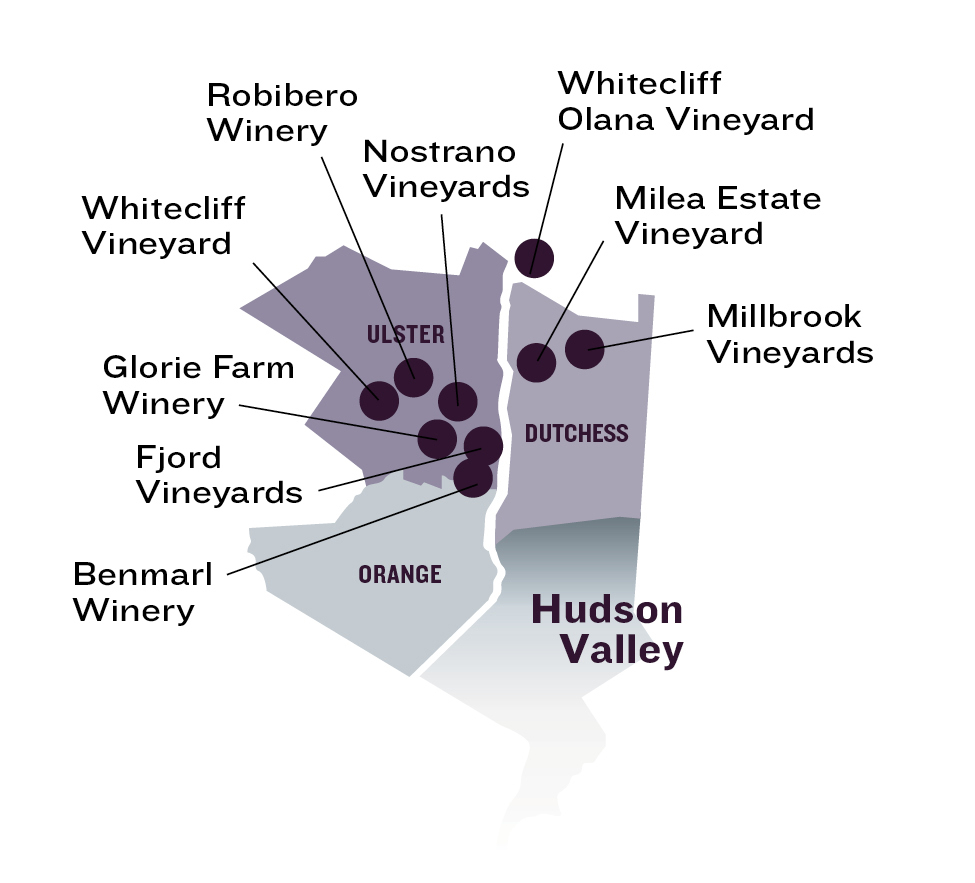 WEST SIDE OF THE HUDSON
BENMARL WINERY
Planted on south/southwest slope at 350 feet elevation overlooking the Hudson River. Shale and silt loam with varying degrees of composition. Temperate air from the Atlantic conveyed from the Hudson River.
IN THE BOTTLE
2018 Estate Cabernet Franc: Earthy nose of bay leaf, cedar, and tobacco, with rhubarb and currant notes and just enough firm tannin to linger on the palate.
FJORD VINEYARDS
Ridge Road Vineyard: North-south rows planted on subtle south/southwest slope, 1.2 miles from the Hudson River at an elevation 545 feet.
Old Indian Road Vineyard: Recent east-facing plantings steeply terraced over a 45-foot elevation. Both vineyards have balanced silt loam with high concentration of glacial deposits, rounded polished stones, and high calcium content. Westerly weather pattern and temperate air from the Hudson River.
IN THE BOTTLE
2017 Cabernet Franc: Layered aromas with deep flavors of blackberry, red raspberry, and black currant with roasted coffee bean notes.
GLORIE FARM WINERY
Older plantings are north-south; newer plantings are east-west. Elevation from 600 to 800 feet with an eastward slope of five to eight degrees. Dark brown, Mardin silt loam mixed with clay and shale fragments and occasional outcropping of bedrock. Moderating influence from the Hudson River.
IN THE BOTTLE
2018 Estate Block West Cabernet Franc (20-year-old vines): Aromas of raspberry and black currant with dark berry fruit flavor and earthy minerality.
2018 Estate Block East Cabernet Franc (5-year-old vines): Vibrant cherry and plum with traces of rose petal on the palate, with soft tannins.
NOSTRANO VINEYARDS
Planted north-south, sloping westwards. Bath-Nassau, deep, well-drained and acidic soil with traces of neutral fragipans (dense, brittle subsurface) on glacial till. Medium-textured soil with underlying bank run gravel and shale. Regular winds mostly from the south.
IN THE BOTTLE
2017 Estate Cabernet Franc: Juicy with black cherry, dark berries, and lingering violet notes.
ROBIBERO WINERY
Planted in 2009 and 2014, north-south at an elevation of 200 feet with a seven to eight percent grade. Soil type is Bath-Nassau, composed of heavy clay and shale.
IN THE BOTTLE
2018 Cabernet Franc: Rich, layered wine with focused aromas and flavors of blackberry and red raspberry fruits.
WHITECLIFF VINEYARD
Planted in 1986 at 340 feet elevation on Churchville soil. Dark red, gray, brown clay, lacustrine sediment with Quartz conglomerate, sandstone, small stones, and limestone fossil overlying loamy till.
IN THE BOTTLE
2017 Estate Cabernet Franc: Complex, earthy nose with dark berry flavor and firm tannins.
EAST SIDE OF THE HUDSON
MILEA ESTATE VINEYARD
Planted in 2018 on rolling hills facing south with a downward slope of 5 to10 percent, 480 feet above the Hudson River. Light brown, slightly acidic, well-drained Dutchess-Cardigan soil consisting of loamy glacial till, high in slate and shale fragments. Southerly breeze throughout the growing season.
IN THE BOTTLE
2018 Cabernet Franc: Bright palate of black cherry fruit with supple tannins and a lingering finish with hints of spice.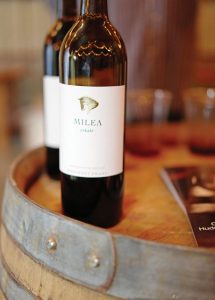 MILLBROOK VINEYARDS
Eight acres, dating back to 1994 plantings, spread across upper and lower hillsides with 10 to 12 percent slopes. Dark brown, very deep, well-drained Stockbridge silt loam formed in calcareous glacial till, with limestone on the upper hillsides, clay
and gravel on the lower. Prevailing winds are out of
the south.
IN THE BOTTLE
2017 Cabernet Franc Reserve: Aromas of dark fruit accentuate rich plum and red berry flavors, with soft tannins and a lush, ripe finish.
WHITECLIFF OLANA VINEYARD
Recently planted (2016) at 263 feet elevation, 700 feet from the Hudson River on a four percent slope. Hoosic soil consisting of yellow, brown, and gray gravelly, sandy loam. A prevailing south-westerly wind over the vineyard.
IN THE BOTTLE
2017 Cabernet Franc Olana
Vineyard: Aromatic nose of plum and earth, showing mature focus and structure for such young vines. Gold medal winner at the 2019 New York Wine Classic competition.

​To learn more about the Hudson Valley Cabernet Franc Coalition visit the website. For updates and events follow the Coalition on Facebook and Instagram.