When the sun comes out to play in the Hudson Valley, our palates tend to follow suit. Thankfully, the producers here are in the mood for tinkering, too. Here, we've gathered some of the Hudson Valley's most innovative, unexpected, and delicious-tasting beverages for you to enjoy this season. But we're always #thirsty for more, so tell us what unusual flavors you've discovered lately!
Glorie Gin
For the first time, Glorie Farm Winery is debuting farm-foraged gin. Distilled from Juniper berries, Douglas fir tips and Staghorn sumac gathered on their farm, it provides their many thirsty fans with a totally new way to taste the Marlboro terroir. The result is an intoxicating cocktail with aromas of juniper, orange zest, elderflower, and spruce. And that's before you even take a sip! This is farm-foraged folks, so grab a bottle now before the limited supply of 375ml bottles sell out. Photo courtesy Glorie Farm Winery.
---

Slate Point Meadery Currant Rose
Mead is made from fermented honey and water, but many artisanal producers like Slate Point are using other local ingredients to tease out additional flavors. For this quencher, Slate Point adds locally grown black currants (literally grown at a neighboring farm) and a pinch of fresh rosemary, both of which balance the sweetness of the honey by adding savory notes. Slate Point also wants to prime your palates for the fall. They plan to release a canned, carbonated version of the Currant Rose after Labor Day. Photo courtesy Slate Point Meadery.
---
Benmarl Winery Estate Cabernet Franc
Long celebrated as the first New York Farm Winery, we have another delicious reason to toast Benmarl this summer. The sustainably-minded winery produced its first Estate Cabernet Franc this year from grapes grown within the bounds of its 37 lush acres. Like other Hudson Valley Cab Francs, it has bright red fruit aromas, herbal undertones, and flavors of dark red fruit with an underpinning of florals. But how does the winery's unique terroir lend other layers of flavor? You'll have to try it to find out.
---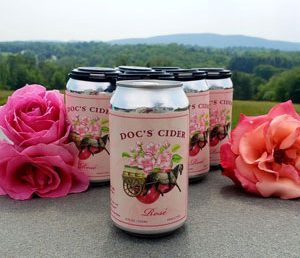 Rosé Cider
Rosé all day, cider style. Rosé cider started trending last summer, and we're thrilled to have a few new options this season from Doc's Draft and Naked Flock. Rosé cider is slightly sweet with delicate floral notes and effervescence, yet refreshingly semi-dry. We'll be kicking these back on the patio with a plate of local cheese all summer long. Both are conveniently available in portable 12-oz cans. Photo courtesy Doc's Draft Hard Cider.

---
Arrowood Farm-Brewery
True Love in an Arranged Marriage
Well, here's something new. This crew, which uses water from Rosendale's historic limestone caves and their very own hops and grains in their creations, is taking it a step further. Brettanomyces, the wild yeast that gives beer its spicy, fruity funk is being deployed by Arrowood to accentuate the hops and bitter flavors to produce something other than a typical Brett-centric lambic brew. The final product exudes tropical fruit flavors (mango, papaya), balanced by piney heft. Juicy, powerful and grounded in the forest, it's a truly unique marriage of Belgian and American sensibilities. To true love!