Balcony at the Vanderbilt Lakeside
Photo: Shelly Kroeger Photography | shellykroeger.com
The Hudson Valley has long been New York City and Boston's playground. City-dwellers often shoot over for a day via car or train, but as the number of wineries, cideries, breweries, and distilleries continues to proliferate, more and more visitors are making a weekend (or longer) of it. There are dozens of Airbnb's and plenty of chain options scattered throughout the Valley, but we think visitors get the most authentic experience at small inns and hotels or guest houses that belie easy description, much like the Hudson Valley itself.  And when you stay at a non-chain run by someone who lives here or was raised in the area, or at a place with deep historical roots, they can often make recommendations and give you the skinny on which places and producers you should seek out first.
---
Benmarl Bed & Breakfast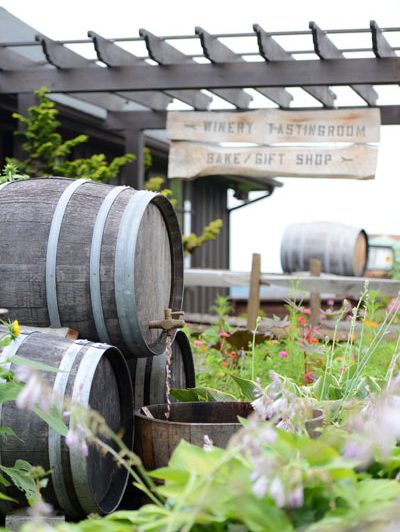 Benmarl was the first official farm winery in the state, and the estate occupies almost 40 scenic acres of prime grape-growing country in Ulster County. After kicking back with a $10 tasting of six wines (pizza and baked goods are available, too), you can walk over to their on-site Bed & Breakfast. If you want to do more than wine and dine, it's close to several historical sites, farms, and hiking opportunities.
---
The Millbrook Inn
Opened in 2011, the Inn's building was once part of Hope Farm School, an Episcopal school for boys. Many of the children at the school (which was established in 1906) were abandoned or runaways; children received a standard education plus lessons in farming and carpentry. The school closed in the 1970s, but the Millbrook Inn still harbors that feel-good oatmeal vibe one often seeks in a country retreat. Now, it's a serene and intimate retreat just a short drive from the idyllic Village of Millbrook, Innisfree Garden, the award-winning Taconic Distillery, and Millbrook Vineyards & Winery, home of daily tours and tastings, a one-mile walking trail, and a host of summer of events.
---
Vanderbilt Lakeside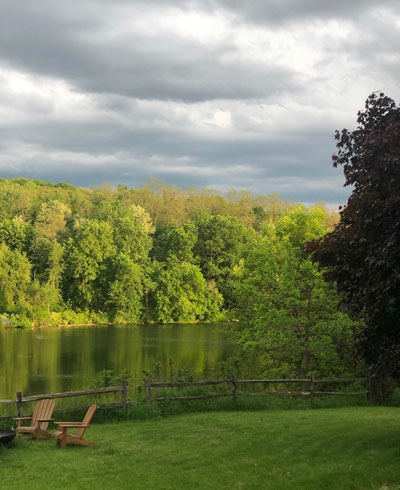 Have you ever wanted a chic, post-mod lake house? Give it a spin at the Vanderbilt Lakeside, which has it all —  cool-kid furnishings, shined rustic décor, more than 500 feet of Summit Lake frontage, a lawn peppered with maples, evergreens, and wildflowers, nightly bonfires, and even the use of their canoes. Guests also have access to suitably artisanal snacks, handcrafted cocktails, and a farm-to-table breakfast. Nearby, visitors will find a Harvest Spirits, Hudson-Chatham Winery, Clermont Vineyards, and so much more.
The Inn at Kettleboro
Constructed in 1830, the Inn at Kettleboro opened in 2014 with modern amenities after the gorgeous mansion underwent a gut renovation (without altering its pristine bones). Perched on a 12-acre apple and peach orchard, it doesn't get more Hudson Valley than this. Visitors also get views of the Shawangunk Mountains, a farm-to-table breakfast, and easy access to New Paltz's funky stores and bars, fabulous hiking trails, and nearby wineries like Whitecliff Vineyard & Winery. Whitecliff, established in 1998, is celebrated not only for its award-winning wines, but for its commitment to sustainable agriculture.
---
Mohonk Mountain House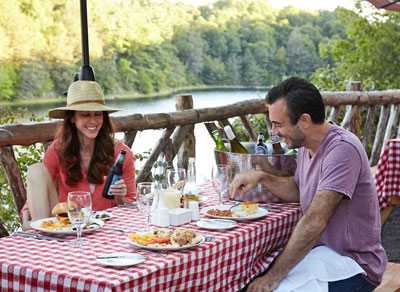 Fancy a stay in a Victorian castle in the 'Gunks? Founded in 1869, the Mohonk Mountain House resort offers a spa, award-winning farm-to-fork cuisine, spectacular views, and a 40,000-acre forest as your backyard. Whet your appetite for a spa detox at nearby Robibero Winery in New Paltz, one of the most laid-back wineries in the Valley. They have live music, pizza nights, and festivals year round (think Sangria Fests, Grape Stomping, Pig Roasts, and the kinds of parties you'd want to throw if you had a winery), so plan accordingly.
Grab glass of wine or a picture-perfect cocktail on a roomy deck with panoramic views at any one of these places, chat with fellow visitors and loyal locals, indulge in artisanal local cheese and charcuterie, listen to the live music. You may just consider turning a weekend getaway into a permanent Hudson Valley escape. (How do you think we ended up here?)