Derek Grout and
Ashley Hartka
Harvest Spirits is seated in the beautiful Hudson River Valley and located at Golden Harvest Farms, a third-generation apple farm and iconic Columbia County fixture, known for its year-round farm stand, fresh fruit sales, pick-your-own apples, and of course, their delicious cider donuts.
Harvest Spirits Farm Distillery products are crafted in the "tree to bottle" method, with the apples grown steps from the distillery then pressed, fermented, distilled and bottled all on-site. Working closely with several local farms, Harvest Spirits is a true Farm Distillery, promoting strong ties among the local farmers and sharing information readily, from farm to bottle.


House-made craft cocktails, a wide selection of local beer and hard cider draft and by the can, and the Harvest Smokehouse is now open! Check website for more details.
Having helped to forge the way in New York craft distilling, Harvest Spirits received New York State's first Farm Distillery license in 2007 and shortly after produced New York's first Applejack since the prohibition era. Their award-winning spirits truly express the terroir of the Hudson River Valley and pay tribute to the abundant variety of the local fruit.
Step into the distillery and you will get a sense of the homegrown and eclectic mix that has created this iconic place and space, where history, innovation, creativity, and the pioneering spirit have built incredible experiences and truly exceptional products. Sample their award-winning spirits, enjoy a cocktail or a draft of local hard cider or beer out on their deck under the wisteria blooms. Either way, a visit to this unique place where it all began should be top on your list.
Harvest Spirits never compromises on quality. Their products are homegrown and meticulously handcrafted on the farm. Never any neutral grain spirits. No artificial ingredients, colors, or sugars added. One hundred percent gluten-free, excepting the whiskey, of course. One hundred percent family-owned and operated and independently distributed. The distillery is open daily for tastings, cocktails, and bottle sales.

Now Open! Cocktail Garden and Smokehouse BBQ
Join Harvest Spirits for a cold cocktail in the cocktail garden, and applewood-smoked BBQ from the farm smokehouse. Serving up creative house-made cocktails from fresh ingredients and Harvest's own spirits, rotating kegs on draft, plus a well curated selection of local wine, hard cider, and beer. The smokehouse specialties include St. Louis ribs, jerk chicken, and select sandwiches.

Double Balsamic Apple Vinegar
Newly released after years in the making, Harvest's Hudson Valley Double Balsamic Vinegar is two times richer, thicker, and more flavorful than before. Made in very small batches and aged in 3-gallon oak barrels, the double balsamic sets the new standard for flavor and quality in apple cider vinegar.
OPEN YEAR ROUND
Mon–Thurs: 11am–5pm
Fri–Sun: 11am–6pm
CLOSED
New Year's Day, Easter, Thanksgiving, Christmas Day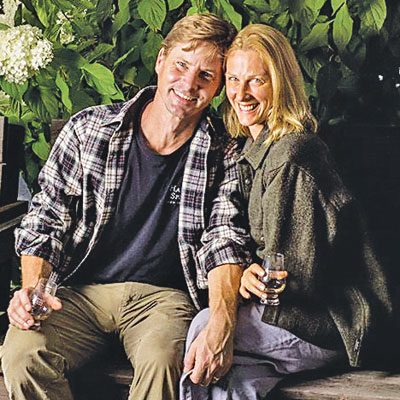 Derek Grout is a third-generation apple farmer and the distiller at Harvest Spirits. He is actively in charge of the distillery and all aspects of the distilling process, as well as product development. Derek's responsibilities range from designing product packaging and website development, to promoting the products, to scrubbing the tanks.
A graduate of Cornell University, Derek began his career as a graphic designer in Boston, MA. After spending too much time in front of a computer, he decided to return to his (literal) roots. In 2003, Derek moved back to his family's apple farm in the Hudson Valley to help his father and to learn the family business of growing apples. When he's not in the distillery, he continues to help out around the farm.