Delicate grapes, through assiduous hands-on maintenance, the use of rigorous scientific analysis, plus the trademark Hudson Valley pioneer and cooperative spirit, are reaching their full flavor potential in the Hudson Valley. Finally, tasting Hudson Valley terroir is as rewarding as gazing upon it. The Hudson Valley's unique and heterogeneous geography, geology and climate have made it one of the most beloved destinations in the country. But the same dramatic features — hot summers, cold winters, the Taconic, Shawangunk and Appalachian mountains, a fierce and stony landscape, the powerful tidal estuary known as the Hudson River sluicing through the region — that attract so many visitors has at times presented a less than open-armed welcome to grapes and those who cultivate them. The Hudson Valley grape region, the third-largest district in New York State, has, until recently, been hidden in the shadows of Long Island's North Fork (the ocean climate provides a spa-like atmosphere that makes red varietals blossom, especially Cabernet Sauvignon and Merlot) and the Finger Lakes (the ancient glacial lakes and hilly terrain produce assertive white varietals, especially Rieslings). But the reputation of the Hudson Valley terroir is infamous for grapes that express foxier and more cloying notes — in other words, not always in sync with sophisticated, contemporary tastes. However, thanks to a decision by many winemakers in the region to work together (gathering for monthly blind tastings to evaluate each other's wines and give each other advice), and to enlist the wine wonks at the Cornell Cooperative for scientific insight to help them embrace the pros and the cons of their vineyard sites, grape growers have been able to coax entirely new flavors out of the Hudson Valley soil.
Every winemaker has a different approach to their vineyard — some embrace vitis vinifera varietals (traditional European grapes), some have turned to hybrid grapes (created by scientists at places like Cornell and University of Minnesota, hybrids are crosses of two or more vitis species of grape to produce new strains that are hardier and more resistant), some use native labrusca grapes.  
Once they've narrowed down the class of varietal, some winemakers try to predict future trends and grow varietals to suit the market's projected tastes. Some stick with the varietals they have found success with in the past, others plant and plan as their palates suit them.
But without exception, when it's time to bottle their fermented grapes, winemakers in the Hudson Valley are using fewer and fewer grapes grown from "the other" New York regions, and are instead focused on celebrating the complex sense of place waiting to emerge from the soil. Unique Hudson Valley "diamonds" have emerged from the rough, and are ready to be reconsidered in all of their newly minted glory. The new Hudson Valley terroir has an unmistakable, signature minerality and earthiness, tasting like the 'Gunks look on a sunny day: vibrant, a little spicy and shaley, but clean and pure.  
Hudson Valley Wine Magazine talked to a handful of the wineries who have made some of the most interesting estate wines in the region lately to find out how they're coaxing uncommonly lovely wines from the uncommonly challenging terroir.
---
Clearview Vineyard
Clearview grows all of its grapes using organic, sustainable practices. Founded by Frank (a former IBM programmer and teacher) and Karen Graessle (previously an ultrasound tech) at their home in Warwick, they currently grow eight grape varietals on two acres of steep terrain.
Being just as scientific and methodical as they are idealistic, the Graessles restraint and conservatism has served them well. In 2004, Frank says they "decided we had the perfect place for grapes." They immediately enlisted the help of Steven McKay over at the Cornell Cooperative.
"They did a soil analysis, gave us recommendations," Frank explains. "We did a lot of research and reading. Based on Steve's recommendations, my research and our own palates, we decided to plant seven hybrids and one vinifera, all grapes that we genuinely enjoyed drinking."
They planted their first grapes in 2007 and began bottling in 2009. Though they didn't have a background in farming (Frank admits that he grew "a lot of zucchini and cucumbers in a vegetable patch, but that's about it"), they were both committed to using 100% sustainable practices. The first year of bottling, they only managed 10, but the response was so phenomenal – they won gold in an amateur competition held by the Hudson Valley Wine and Grape Association – they knew they were onto something.  
The terrain at Clearview is unusually steep for the Hudson Valley, but the Graessles have used the incline to their advantage. "The slope helps get the water to the root of the plants," Frank explains. "The only negative is we have to walk up and down the slope frequently because my wife and I do all the work. We have one part-time employee, but I am almost always in the field with my hands on the grapes."  
The Graessles have found that they don't have a problem with bugs or pests, and they use two organic sprays for rot and mildew. Their wine, if grown and bottled in Europe or Canada would be officially labeled "organic," but because New York State requires organic wines to be 100% sulfite-free, Clearview doesn't qualify.  
"We only add 30 parts per million, and in Europe they allow 150 parts per million for whites and 100 for reds in organic wineries," Frank notes. "Without sulfites, wine turns quickly. And just a little balances the flavor."
About that flavor…While Clearview does grow one vinifera, Frank is passionately defensive of the quality of his hybrids.
"Our hybrids can stand up to any vinifera," he says. "And a lot of people don't understand that viniferas are often hybrids too. They're afraid of what they don't know, but it's just a matter of exposure and education. Once they try our wines, they love them — even if they don't recognize the name of the grape it came from."
Clearview is currently bottling about 600 cases a year, and they think they'll get up to 1,000 next year. They had an opportunity to buy an adjacent neighboring property and expand their vineyard, but the Graessles decided instead to build — sustainable, of course — a new tasting room and wine storage facility. Their wines are all created on-site, and Frank estimates that about 40% of the grapes they use are estate grown and 60% are from "the other" wine regions of the state.
All of Clearview's wines are food-friendly and delicious, but the estate-grown Noiret, Cayuga White, Divinity, and Traminette are particularly compelling. The Divinity is a new Cornell-developed hybrid (officially called NY81.0315.17). It's a cross between a Cayuga White and a Riesling, that seems like it shouldn't — but in Clearview's hands, does — have floral and lightly spicy notes with an undercurrent of trademark Hudson Valley shale. Few vineyards grow the grape, but as more people taste Divinity, surely more winemakers will take the plunge.
Clearview's new tasting room — with 1,300 square feet reserved just for hanging out, tasting and watching the live music that plays on the weekends — is a great place to test Frank's theories. While you're there, ask for a tour of the vineyard and enjoy the 15 miles of views of West Point, Harriman State Park and three local mountains.
---
Millbrook Vineyards & Winery
Millbrook has cultivated its eager fan base (it has won numerous accolades, including the Best Overall Hudson Valley Wine in 2013 from the Hudson Valley Wine competition for its Tocai Friulano and is referred to as the Hudson Valley's "flagship winery" by the New York Times) and its grapes in much the same way: by paying attention and making adjustments to their approach as conditions warrant.
"We grow 100% vinifera grapes," says David Bova, Millbrook's general manager. "We decided from the beginning to grow grapes that people really want to drink."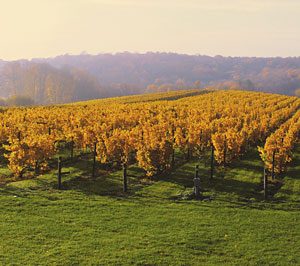 Millbrook's wine is currently cultivated on 35 of the winery's roughly 115 acres. While the vineyard has been in place (with a few acres added on in recent years) since they opened in 1984, Bova tells HVWM that the placement of the varietals has shifted over the years to accommodate the characteristics of the soil, which has more clay in certain pockets and more shale in others.
"We have been working with the same winemaker, John Graziano, since 1984," Bova notes. "I think he may be the longest-running winemaker in the country. Because of our long history together, we're able to really strategize and analyze the different grape varietals in a different way. John ferments each grape separately and we taste them side by side, along with the grapes we buy from North Fork and the Finger Lakes."
Millbrook started out growing Merlot and Cabernet Sauvignon, but found that their particular slice of Hudson Valley terroir did not allow the fruits to ripen as fully as they can on the North Fork.
"Unripe fruit produces lousy wine," Bova explains. "We are focused on producing grape varietals that can relate to the sun and hillsides we have here. Our vineyard is facing south and west so it has maximum exposure to the sun, which helps ripen vinifera grapes—they take longer to ripen than native grapes and hybrids. Our slope is important too — the bottom of our vineyard is 600 feet above sea level and the top is 950.
It allows cold air to move and not settle, preventing damage from frost. And when the glaciers melted here, they left a huge deposit of gravel. Grape vines don't like wet feet, and we have found that ours draw amazing flavor from our gravel-heavy soil."
Millbrook's premier varietals are Chardonnay, Tocai Friulano and Cabernet Franc, Bova points out. (Millbrook also grows Riesling and Pinot Noir.) Millbrook's "big three" are all cool-climate grapes. The realities of Hudson Valley weather make them lighter in alcohol and lighter on the palate than the same grapes grown out West. When they harvest their Chardonnay grapes, they are about 22-23 degrees Brix — the measure of sugar content in winemaking — and after fermentation, that translates to about 12-12.5% alcohol. Compare that to a typical Chardonnay harvest in California, where a Chardonnay will be about 25-26 degrees Brix at harvest, resulting in a 14.5-15.5% alcohol after fermentation. Those few degrees make a world of difference in flavor, Bova asserts.
A few other distinctions have emerged as well, Bova explains. "We have our hands on each grape plant at least five times before harvest, pruning and examining each leaf and piece of fruit. Essentially, it is all about the fruit's exposure to the sun and air, so we try to maximize that by hand-tying trellises and splitting canopies in two for greater exposure. When John ferments each grape individually and we taste them next to the grapes we also source from the North Fork and the Finger Lakes, the differences are fascinating."
Finger Lakes wines are universally aromatic on the nose, but light on the tongue, while grapes grown in Long Island have a lot of depth, but less on-the-nose aroma. "Ours have the aroma and the deep flavor," Bova notes. "We've shifted the grapes around to take advantage of certain areas of our vineyard that have more clay, which lends the Cabernet Franc a lot of depth, whereas our Chardonnay blossoms beautifully with a great minerality in the shalier areas of our vineyard."  
Millbrook uses about 50% of their own grapes and 50% from the North Fork and the Finger Lakes, split evenly, producing about 15,000 cases. Millbrook sees about 25,000 visitors every year, and they are committed to educating consumers, conducting in-depth tours of the vineyard, in addition to the standard sip-and-spit treatment.  
Perhaps even more laudably, Bova and his team are committed to helping other burgeoning wine geeks out there launch their own vineyards. "We have a wine boot camp," Bova explained. "We always try to talk to anyone interested in starting their own vineyard. Our philosophy is, the more of us there are, the better it is for all of us – and the consumer. I'll teach anyone who's genuinely interested everything I know."
"Essentially, it is all about the fruit's exposure to the sun and air, so we try to maximize that by hand-tying trellises and splitting canopies in two for greater exposure." —David Bova
---
Robibero Winery
Sometimes the new kids on the block are willing to take the biggest risks. Robibero Winery, owned by Harry and Carole Robibero, and managed by their daughter Tiffany, and son-in-law, Ryan Selby, is an unabashed family affair – and they're the first ones to admit it. And like many family affairs, the logic of the proceedings may initially escape even the keenest of observers.  
"My background in wine primarily involved drinking it," Ryan tells HVWM. "When Tiffany and I decided to quit our jobs and make wine, we had no idea what we were getting into. There is no '9 to 5' in winemaking. But the experience has been amazing and I think that, because we're new and green, we have taken risks and made discoveries and been able to explore the terroir of the Hudson Valley in a way that seasoned pros might not be able to."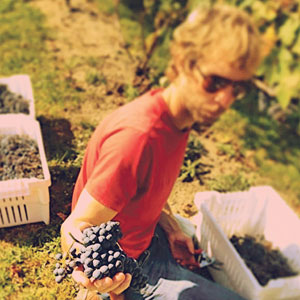 The Robibero team planted one acre in 2009 as an experiment to explore grape varietals and figure out which ones flourished in their soil. They harvested the grapes last year and they're just bottling the first estate-grown grapes this year, though they have been making and producing wines from the get-go with their winemaker Kristop Brown. Kristop learned the winemaking trade under Mark Miller at Benmarl Winery, and Ryan is learning it under his watchful eye as they go.  
Before planting, Robibero recruited Cornell to analyze their soil and give them recommendations for auspicious varietals. The family analyzed Cornell's analysis, thought about their own tastes, their microclimate in New Paltz, and the market.  
"Our goal is to grow the best grapes we can, within certain parameters," Ryan says. "The current vineyard is planted north to south, and all of our future plantings will be situated that way too, so they have a good exposure to the sun. We are too far from the Hudson to get the maritime influence, which can put us at a risk of freezing too much in the winter, but our summers are hotter so our grapes ripen faster. We also have a nice slope without too much angle, and our soil has a lot of shale and some clay, which can add depth to reds."  
They decided to initially plant a French-American hybrid, Vidal Blanc, for a white, and a vinifera, Cabernet Franc, for a red.  
The results — after waiting so many years — have been inspiring, Ryan adds. "We are planting four more acres. And we are open to planting vinifera, hybrids and even Hudson Valley native grapes. We're still deciding."  
"Everyone in the family weighs in," Ryan continues. "We have aunts, uncles, cousins, the whole Robibero crew down here on the weekends sampling our latest efforts and working in the vineyard. We do blind tastings with different percentages of varietals blended in. The favorite is the blend we choose."  
This year, Robibero will produce about 2,500 cases, using 10-15% of their own grapes, with the rest coming in from the North Fork and the Finger Lakes. Their 2012 Cabernet Franc won a double gold medal in the Hudson Valley Wine competition, but their 87 North, named after the NYS Thruway – a blend of Vidal Blanc and Cayuga White – and for the first time this year brimming with estate-grown fruit, is Ryan's favorite.  
"I can taste our terroir in it," he explains. "It reflects the grapes of the entire state, which is why we named it after the Thruway, but you really get Hudson Valley terroir in every sip. The deep minerality, the shale. It's a beautiful New York white."
The spirit of the winery is also fresh, young, unexpected and distinctively Hudson Valley.
"…because we're new and green, we have taken risks and made discoveries and been able to explore the terroir of the Hudson Valley in a way that seasoned pros might not be able to."
—Ryan Selby
---
Hudson-Chatham Winery
Hudson-Chatham is the Lady Gaga of Hudson Valley wineries, transforming oddness into art. The winery was created, in a sense, to celebrate the terroir of the Hudson Valley. Founder Carlo DeVito who owns the winery with his wife Dominique is devoted to the history and tastes indigenous to the region.
"Our winemaker Steve Casscles collects grapes like Imelda Marcos collects shoes," Carlo tells HVWM. "Steve has amazing grapes from his time at Benmarl in the 1970s. He started working there in high school and became fascinated by the variety of grapes we can grow in this region. We have five acres planted on site and Steve has his own vineyard across the river. He has 30-40 varieties growing on his farm. We are working together to bring back certain historic and heirloom grapes."  
They have had the most commercial success with wines made from the obscure hybrid Chelois. Their Chelois Casscles Vineyard wine has appeared at a number of critically acclaimed restaurants from Manhattan to Albany, including restaurants at the Culinary Institute of America. Hudson-Chatham's Baco Noir, another hybrid, is often likened to a Burgundy grand cru.
While the DeVitos delight in planting grapes that defy expectations, they won't plant grapes that don't like their soil. "We will never plant Merlot," Carlo said. "They don't belong here. They thrive on Long Island, but they'll never ripen properly in our vineyard."  
Hudson-Chatham produces about 3,000 cases every year (up from 500 eight years ago when they opened) and receive regular raves and enough accolades to collapse a mantel (including a "Best in Category" from the Hudson Valley Wine competition for their Hudson River Valley Red, and a gold from the New York State Wine Competition for their Raspberry Fine Ruby). They bottle their own estate-grown grapes (about 85-90%), and then source the rest from the North Fork (like their Cabernet Franc) and the Finger Lakes (like their Riesling).
While most of their wines are devoted to teasing out the terroir of the Hudson Valley, some drill down further, teasing out the subtleties and magic of the flavor in their little patch of vineyard alone. "I'm a wine geek," Carlo explains. "Our vineyard is on slopes and we're rocky. We decided to celebrate it instead of fight it, so with our Field Stone Baco Noir, we used parts of an oak tree that fell down and rocks from our farm and put them in a tank to sit with our grapes and age for 4-5 months. You really get a new level of minerality and a unique sense of place."
Carlo is obviously proud to be making wine in the Hudson Valley. "It is a surprisingly cooperative business," he notes. "We taste each other's wines blind, share info on ingredients and techniques, loan each other equipment and lend a hand when necessary."
---
Whitecliff Vineyard
Whitecliff is in many ways the grand dame of the Hudson Valley wine scene. Created 35 years ago from the ground up by Michael and Yancey Migliore, it is rooted in the Hudson Valley and its unique terroir, but is inspired by the great European tradition of winemaking.

The Migliores work closely with Cornell, testing their soil and growing traditional vinifera, but also branching out and testing alternatives on their 26 acres of vine sprawled in view of the Shawangunk mountain range. Michael, trained as an organic chemist, is renowned in the wine world for the truly European-style complexity and structure he has managed to entice out of the Hudson Valley soil.
Awosting White is probably Whitecliff 's most beloved example of their trademark Hudson Valley character filtered through a European sieve. The wine is a blend of Vignoles and Seyval Blanc to produce a Hudson Valley Heritage white with notes of dusky spice and minerality, with an assertive apricot tang.
In total, Whitecliff boasts 20 varieties of vinifera and hybrid grapes with about 6,500 cases under production. They continue a long Hudson Valley tradition of hand-crafting small, artisanal batches of wines that consistently win awards.
---
Brookview Station Winery
The exploration of Hudson Valley terroir has led some winemakers to head down surprising paths. Brookview Station Winery, founded in 2006 as an extension of Goold Orchards, works with Frontenac, Marquette and Marechal Foch, vinifera hybrids known for their hardiness in cold weather and their intensely rich, sweet flavors.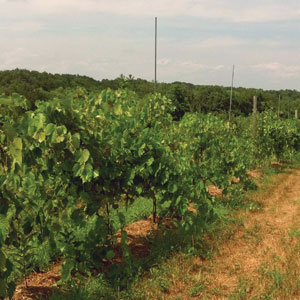 "We converted one of our apple orchards to a vineyard," Sue Goold Miller, the proprietor of Goold Orchards, explains. "We're fairly close to the river, and we have rolling terrain that's fabulous for grapes, but we are just too cold in the winter for delicate vines. We harvest everything by hand and we're out there a lot, hand-pruning and making adjustments. We've found the grapes are very happy here."
Perhaps because of their background as an apple orchard, and their experience making hard cider (producing about 120,000 gallons a year), they were more open than many to exploring wines beyond the grape. Sue is quick to assert not only the level of sophistication and complexity she has achieved using less canonical grapes, but also the wonders of wines produced from other types of fruits.
"For too long, the Hudson Valley has been seen as the Rodney Dangerfield of wine regions," she said. "Critics and the public tend to kind of snicker and not take us seriously. But once they try our Frontenac, they change their tune. It's surprisingly dry and smooth. And our apple wine and other fruit wines aren't cloying, they're clean and food-friendly. Fruit wines, too often, are seen by grapes snobs as an evil invention. But in the fifth century in Rome, they were considered the height of sophistication because grapes grow wild, whereas other fruits need to be cultivated. I think winemakers in the Hudson Valley are finally forcing people to take us seriously, and I think fruit wines are part of that."