Remember when going out to grab a drink meant a mass-market beverage trucked in from afar? So 2008. These days, it's all about #drinkinglocal, and bars and restaurants not just carry, but feature, New York-made wine, beer, cider, and spirits.
It's hard to believe, but Hudson Valley Wine Magazine was launched 10 years ago with the goal of spreading the editors' passion for wine and the Hudson Valley beyond their circle of friends and family. At the risk of tooting their horn for them, it's safe to say: mission accomplished. The magazine has grown, which has been gratifying to see, but the entire team here has been even more thrilled and privileged to be witness to the incredible progress the craft beverage industry has made in the past decade.
New York's producers, farmers, and researchers have fermented the craft revolution, but it could never have been tapped without the robust support of consumers, but also the powers that be in Albany. Governor Andrew Cuomo held the first Wine, Beer and Spirits Summit in 2012 at the behest of the nascent industry, and thanks to the legislative and regulatory reform, the Empire State's fledgling craft beverage world has sprouted eagle wings.
We knew that quite a bit had changed over the past decade, but until we took a step back and looked at the data ourselves, we didn't realize the extent of the change in the Hudson Valley, and the positive effects it had on a whole host of other industries.
Below, we share the empirical evidence* (number of wineries, breweries, distilleries, cideries) alongside squishier, tangential testimony (the sudden popularity of washed-rind cheese, bitters, and more), from industries that we suspect has hitched a ride on craft's success, but don't quote us on that. As JFK (allegedly) said, a rising tide lifts all boats. New York—and we think, especially the Hudson Valley—has never been a more delicious place to live, and for that we are eternally grateful. Thank you for coming along with us for the last decade, and cheers to many more to come!
---
By the Numbers
NATIONAL SPOTLIGHT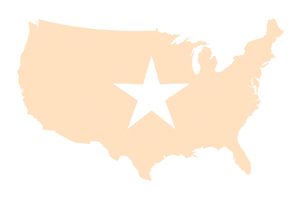 WINE  Nationally, New York ranks in the top five for number of wineries and the size of production, behind California, Oregon, and Washington. California boasts 4,391 wineries, Oregon 774, Washington 772, while New York has 435. Texas is next with 319. Interestingly, our net production beats Oregon. California produces 282,500,000 cases, Washington cranks out 14,800,000, New York churns out 12,000,000, while Oregon produces 4,200,000. Texas produces 1,800,000.*
BEER  With 407 licensed brewers in the state, according to the New York State Brewers Association, New York ranks third nationally. But because the Empire State is so populous, we actually plummet to number 28 in terms of breweries per capita (2.2). Beer has a $3.4 billion economic impact, the fourth highest in the nation, and New York produces 1,211,494 barrels of craft beer a year, the sixth highest in the U.S., the Brewers Association reports. Somehow, we're slipping in terms of consumption, guzzling just 2.5 gallons of beer per adult, a mere 22nd compared to our thirstier cohorts across the country.
SPIRITS  The Empire State is second behind California in terms of the number of craft distillers we have. (Kentucky and Tennessee are out of the running because their sprawling spirit conglomerates—Jack Daniel's, Jim Beam, etc., are too big to qualify as craft.)
CIDER  New York tops the rest of the country with 90 licensed hard cider producers, the New York Cider Association reports. Behind New York are Michigan with 79, California with 78, and Washington with 67. According to the most recent agricultural report, the number of acres of apples in New York from 2012-2016 remained at 40,000, but the yield increased dramatically, from 18,000 to 29,500 bushels.
---
NEW YORK STATE'S CRAFT LANDSCAPE
The starkest evidence of the explosion of craft beverage in the past ten years can be found in the radical increase in the number of operations statewide. All told, by 2018, 326 operations mushroomed into 1,083.
| | | |
| --- | --- | --- |
| Type | 2008 | 2018 |
| Wineries | 240 | 435 |
| Craft Breweries | 54 | 407 |
| Craft Distilleries | 20 | 151 |
| Cideries | 12 | 90 |
---
THE HUDSON VALLEY'S CRAFT LANDSCAPE
In the Hudson Valley and Capital Region the numbers are equally dramatic as the state's, if obviously on a smaller scale. From 2008 to 2018, the number of wineries shot up from 38 to 86, the number of craft distilleries more than quadrupled from 10 to 49, the number of craft breweries grew from 15 to 111, and the number of cideries grew from just 4 to an astounding 35. All in, the number of licensed craft beverage operations skyrocketed from 67 to 281.
---
Tourism
WINE COUNTRY
In the past 10 years, New York has become known as a wine destination. In 2017 alone, tourists visiting wine country in New York spent $1.8 billion. In 2008, there were about 4.98 million wine-related visitors generating $376 million. No doubt, the Hudson Valley has benefited from this increase, especially as it is finally being recognized as one of the oldest and most historically significant regions in the country. (French Huguenots planted the first vines in New Paltz in 1677.)
Vineyards used to be confined to certain areas of New York. By 2008 that had already started to change, and by 2018 vines are snaking all over the Empire State. Ten years ago, there were just 10 trails in the state, including the Shawangunk Wine Trail and the Dutchess Wine Trail in the Hudson Valley. Now, there are 18 trails devoted to wine and craft beverages throughout New York.
Trails new to the region are: Capital Craft Beverage, Catskills Beverage, Cooperstown Beverage, Hudson-Berkshire Beverage, Schoharie County Beverage, and Upper Hudson Wine.
---
By the Books
LEGISLATIVE COUPS FOR CRAFT
In the past decade (especially the latter half), there have been a number of key legislative changes instituted that have made the business of craft beverage production easier and cheaper. Highlights include:
2011  Fine Winery Law (allowing farm wineries to operate up to five branch stores, simplifying laws around out-of-state shipping);
2012  Beer Franchise Law (small brewers are no longer locked into a relationship with a wholesaler);
2013  Farm Brewery License (craft brewers using products grown in New York are permitted to operate like farm wineries, mimicking the game-changing Farm Winery legislation of 1976);
2013  Farm Cideries Legislation (established a new license for cideries that use crops grown exclusively in New York);
2014  Craft Act (allowing micro and farm breweries to sell their own beer on-site);
2016  ABC Law (expanding sales on Sundays and eliminating paperwork and fees for all craft manufacturers);
2016  Sales by the Glass Law (permitting breweries, wineries, and cideries to sell any NYS-made alcoholic beverage by the glass on-site).
---
Q. What's the Trickle-Down Effect for Businesses and Farmers?
A. In addition to making cocktail hour happy again, new legislative changes have provided an unprecedented direct opportunity for farmers, in addition to indirect boosts for businesses around the craft beverage facilities. It's virtually impossible to accurately capture and track the data of B2B business referrals in the Hudson Valley, but think of the last tasting room you visited . . . chances are, you also stopped in a cute antique store, grabbed a bite, or gassed up in the area.
---
Bank on Wine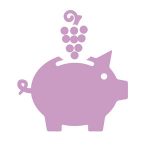 The production, distribution, sales, and consumption of grapes, grape juice, and wine in New York generated $13.8 billion in economic activity in 2017, according to a study commissioned by the New York Wine and Grape Foundation. (In 2008, it created "just" $7.02 billion in economic activity.) More than 101,000 jobs are related to the wine industry, netting a combined $5.2 billion in wages annually. (In 2008, 39,000 jobs were tied to the industry, netting $1.5 billion.) All told, New York now has 11,684 acres of vineyards. The number of acres dedicated to vines in the Hudson Valley and Capital Region is steadily increasing, with wineries focused on planting more varieties to satisfy demand, and, in turn, generating more job growth.
Growing Apples
Since the signing of 2013's legislation, licensed cideries in the region have more than tripled. Cideries are building out their tasting rooms, event spaces, and offerings to draw folks who want to drink—not just pick and eat—their apples. Apple production in the Hudson Valley is on the rise due to the popularity of hard cider, with many cideries committed to planting more varieties of cider apples to augment the traditional and dessert apples in their orchards. New York, overall, squeezes out 1.5 million gallons of cider each year from its homegrown apples.
New York's Multigrains
The farm brewery licensing law has led to a resurgence in the state's hops and barley production. In response to a rising demand, the acreage of hops grown in New York nearly doubled from 2014 to 2016, while the acreage of malting barley increased by 374% over the same two-year period. (Between 2008-2014 it was fairly flat.) Naysayers fret that New York farmers won't be able to handle the requirements stipulated in the 2013 law. (Currently, brewers have to use 20% New York-grown grain and hops; in 2019, that number jumps to 60%, and in 2024, it surges to 90%). Researchers at Cornell are working with brewers, legislators, and the New York State Brewers Association to ensure that by 2019 the industry can sail through the 60% target. The Hudson Valley, with its rich farmland and proximity to the New York City market, is quickly becoming a center of innovation for grain and hops production in the state.
Toasting Malt
New York's homegrown grain needs to be malted to produce craft beer and spirits, and now, it can finally be done in-state. New York is currently home to 13 malt houses, all of which have opened following the demand generated by 2013's Farm Brewery legislation. Many of New York's malt houses, including the six in the region—Hudson Valley Malt in Germantown; 1866 Malt House in Fulton; Argyle Craft Malt and Hops in Argyle; Black Dirt Malt in Pine Island; Convergence Craft in Albany; and Subversive Malt in Livingston—work closely with the region's brewers and distillers to grow crops that will survive the tough New York climate (cold in the winter, hot in the summer) and impart rich, distinctive flavors in the bottle. Some Hudson Valley spirits producers have taken the next step by building their own malting facilities on-site. Hillrock Distillery was the first distillery in the U.S. since before Prohibition to floor malt at their distillery. Stoutridge Vineyard and Distillery recently installed a malting floor on-premise. Both view on-site malting as the bridge between the farm and the distillery, and believe that managing the full process of a product's graduation from grain to glass is the ultimate reflection of local terroir.
Meaderies, Buzz of Tomorrow?
Have you been to a meadery? (Pssst: a meadery is a honey-based alcoholic beverage often infused with fruit and spices for different flavor profiles, and no, you weren't the last to know). Legislation is now underway to make mead the next craft beverage trend, by allowing small mead makers who use New York–produced honey to receive the same benefits as farm breweries and wineries (inexpensive licenses, on-site tastings and sales). Meaderies in the Hudson Valley are gaining traction; in 2008, there were none. Now there are four. Helderberg Meadworks was the first to dive in, followed by Mysto Mead and Royal Meadery. Last year Salt Point Meadery became the latest, but surely not the last, member of the hive. The number is likely to grow because New York is the number one honey producer in the Northeast, with honey production increasing steadily in the past five years. In 2016, honey production was valued at $12 million, up from 2015's $11 million, and soaring above 2011's $6 million. Makers of braggot, a beverage made from honey and barley malt, would also benefit.
---
Side Effects
In the past 10 years, the food that lands on our sustainably-sourced farmhouse tables has become simultaneously more local and exotic. (Think about that kimchi you made from your CSA basket.) Many of these new products were spurred on by the craft beverage revolution of the past decade. In the Hudson Valley and Capital Region, seasoned farm producers are joined by artisans and entrepreneurs who flock to our hills and valleys to execute their own urbane takes on the simple life. (And thanks to the influx, our fridges, pantries, and liquor cabinets have exciting new inhabitants!)
Fromage Homage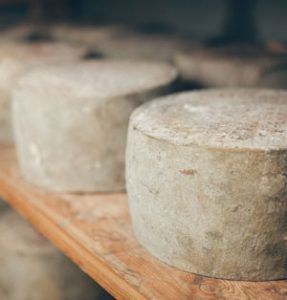 Shockingly, hard data on the spike in complex fromages bathed in booze is tough to come by. Inspired by Belgium's tradition of beer-brined farmhouse cheeses (Trappist monk St. Benedict started the trend back in the 6th century), local brewers, winemakers, and cheesemakers have come together to make a stink. When cheese ripens in a wine, cider, or beer-tinged bath, microbes eat the sugars in the alcohol, creating a rind and a soft interior. The end result: washed-rind cheeses develop a mold that smells like a middle school gym locker with a broken fan, but taste strong and meaty with notes of jam and nuts. Local collaborations include Gatekeeper, a soft-ripened cow and sheep's milk triple crème from Old Chatham Sheepherding, washed in a funky-tart hard cider from Graft Cider then aged at Crown Finish Caves in Brooklyn; and Beer Cheese by Harpersfield Cheese, soaked in Belgian ale from Brewery Ommegang.
Tantalizing Tinctures
Consumers not only want locally grown and produced wine, beer, and spirits, they also want to be able to customize them. Shrubs, vinegars, and bitters sprouted up in the region during the cocktail craze, inspiring bartenders and budding mixologists, and providing zingy options for health-conscious drinkers.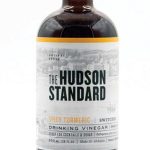 SHRUBS also known as Drinking Vinegars, originated in Colonial America and became the new hotness right in the middle of the craft boom, circa 2012. Shrubs are vinegar-based syrups, sweetened with honey or fruit, and infused with spices and herbs. They add a zesty tartness to cocktails and dishes or when drizzled into cake mixes (don't judge until you try), and are a natural base for sodas for the teetotaling-but-wish-they-weren't set. Small-batch shrubs from The Hudson Standard, like Strawberry Rhubarb and Cassis Berry, and switchels like Spicy Turmeric (a blend of vinegar, honey and organic ginger, turmeric, and cayenne), are made with organic apple cider vinegar and loaded with local flavor.
CIDER VINEGAR is a farm product that makes use of the Hudson Valley's surplus orchard apples by turning apple cider into flavorful vinegars loaded with health and digestive benefits. Harvest Spirits Farm Distillery teases every ounce of juice out of the beloved apples grown at their family-owned orchard to handcraft barrel-aged vinegars via the balsamic method. Currently five vinegars are in production, ranging from the ultra-spicy Fire Apple to Extra Dry Peach, with more in the pipeline. Fishkill Farms in Dutchess County dabbles with experimental batches of cider vinegars made in limited quantities from apples cultivated on their 100-year-old farm.
BITTERS are the salt and pepper (and cayenne, Za'atar, and turmeric) of the liquor cabinet. Several local farm-to-bottle bitters makers, including The Hudson Standard have developed deliciously offbeat concoctions (like smoked chili, citrus, and ginger) that add layers of character and depth to cocktails. Tuthilltown Spirits makes their Basement Bitters from un-aged rye, sarsaparilla, aromatics, and maple syrup, then ages the elixir in rye whiskey cured barrels. A dash even makes plain seltzer taste like a party.
---
Extracurriculas
One thing we've learned after a decade plus of covering local wine and beverages is that there are many ancillary businesses that quietly support the industry behind the scenes. Here are just a few examples.
Cooperages
Yes, coopers. The folks who make the barrels that store the beverages. How often do you hear about what kind of oak a wine or spirit is aged in, and for how long? Barrels can have an outsize influence on the final flavor of its contents. Two cooperages have sprung up in the Hudson Valley in the past decade: Quercus Cooperage, which creates a 10-gallon neutral barrel ideal for beer and cider (and available for toasting and charring for spirits makers); and Olde York Farm, which sources American White Oak from New York State.
Places to Say "I Do"
In the past decade, more and more couples have been looking beyond the cookie-cutter wedding options, and the region's wineries (and their guests!) are reaping the benefits. In addition to the most popular venues in wine country— Benmarl Winery, Brotherhood Winery, and Millbrook Vineyards and Winery—known for their picturesque backdrops, world-class wines, and crowd-pleasing amenities, new options for nuptials have been uncorked. Red Maple Vineyards offers 143 acres of farm and vineyards, with views of the river for couples seeking a farm-to-table experience. Nostrano Vineyards exploded onto the upstate New York wedding scene in 2015 with a modern take on rural, and breathtaking vistas that overlook their pristine, manicured estate.
Trail Runners
Drinking and driving can be fun, but only if someone else is behind the wheel. The Little Wine Bus (their tag line is "Take Me to the Vino!"), The Little Beer Bus ("We'll Take You to the Brewski!") and Hudson Valley Craft Beer Tours (which also hits wineries and distilleries) are a few we've seen weaving through the region with increasing frequency in recent years. Limos and taxis are getting in the game too, and now with Uber and Lyft drivers as an option, drinkers can design their own tours and tastings on the fly.
More than a quarter of New York State's 1,000+ winemakers, brewers, distillers, and cider makers are right here in the Hudson Valley and Capital Region. Chances are, there's one around the corner from wherever you are. Check it out and let us know: what are you most excited to see in the next 10 years?
Top: Courtesy Clermont Vineyards & Winery
Sources: The Brewers Association, Cornell University, New York Wine and Grape Foundation, New York Cider Association, New York Brewers Association, New York State Office of the Governor, and Wines & Vines.