---
Is there another edible object more freighted with historical significance than the lowly apple? Between Eve, Steve (Jobs), and Sir Isaac (Newton), the apple is linked in the popular imagination to the downfall of man, the most significant socio-cultural revolution of our time and the dawning of an age of science.
Pretty heavy stuff for a pomaceous fruit. Their status as tokens of sin and progress aside, apples are arguably the most interesting and economically powerful agricultural product in the Hudson Valley today.
Apples have been eagerly consumed since at least the Iron Age (archeologists found remains in prehistoric lake dwellings in Switzerland) and they are thought to be the earliest tree to be cultivated. Colonists brought apples to North American shores in the 17th century (crab apples are the only apple variety native to North America), and they have flourished here ever since.
The phrase "as American as apple pie" notwithstanding, drinking them may be the best way to celebrate their past and preserve their future in the Hudson Valley. Until Prohibition (1919-1933), hard apple cider was the most popular fermented drink in America (more popular than wine) and the Hudson Valley was the fruit's unofficial headquarters. Before Prohibition, cider apple orchards in the Hudson Valley were the norm. But cider apples are so sour they're practically inedible straight off the tree. In a bid to maintain profitability during Prohibition, farmers got rid of their cider apple orchards and planted eating apples instead.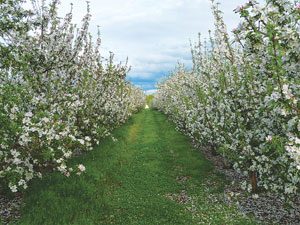 The orchards flourished until the end of the 20th century, when more and more farmers began aging and selling off their land. New York's official state fruit is the apple and while the absence of apple orchards here is unimaginable, according to Glynwood—a working Hudson Valley farm and sustainability think tank—it's a real possibility. In fact, the number of apple orchards in the Hudson Valley dropped so precipitously between 2002 and 2007 (by 25%!) that Glynwood launched The Cider Project to preserve current apple orchards, encourage diversification of apple varieties, and help create new markets and opportunities for growers.
Glynwood appears to have an in with the zeitgeist: the top ten cider brands in America grew by 62% in 2012 alone, according to the beverage statistics company, Impact Databank. And while the big commercial hard cider producers are busily quaffing major profits, the thirst for local, sustainable, traditional and off-beat apple beverages is also strong. Before Prohibition, more than a thousand New York farmers produced alcohol from local fruits and grains. By the beginning of the 21st century, though, the number was close to zero. Thanks to Governor Andrew Cuomo's loosening of laws restricting the manufacturing, sales, and consumption of New York spirits, since 2011 the number of hard cider producers in New York has sky-rocketed 360%, from five to 23 producers.
Between the Glynwood Project, the support of the state government and a piqued appetite for fermented apple juice on the part of the public, growers and producers of apple ciders, spirits, and even mead, have never operated in a more auspicious environment, and the drinking public has never had a more bountiful crop of fermented fruit producers to choose from. Here's a look at how some Hudson Valley producers are paying homage to this trademark regional fruit:
WARWICK VALLEY WINERY & DISTILLERY:
Revving the Revolution
Warwick Valley Winery & Distillery unwittingly launched a cider revolution in 1994, when most of the fermented cider on the market was as sweet as a bubblegum lollipop. The folks at Warwick, with dozens of varieties of apples on their farm, were tired of drinking the sweet pap commonly available, so they decided to apply for a cider producer and farm winery license in 1993, and start cranking out their own. They began experimenting, and instead of treating cider-production like a science experiment using sweeteners, concentrates and dyes, the team at Warwick approached it like their forefathers would have in the 18th and 19th century, when refrigeration didn't exist and all apple cider was fermented for safety reasons.
They used apples, water, and yeast to yield a product that was as natural as it was delicious. "Our goal was to take the essence of the apple and create a hard cider that did it justice," says owner/founder Jeremy Kidde. Their incredibly successful line was born: Doc's Draft Ciders. (Warwick Gin and their line of fruit brandies and liqueurs are all produced with the same premise that founded Doc's Draft: to create spirits with real fruit picked at peak ripeness.) Using real apples made an enormous difference in the taste, Jeremy said. But, he found, not just any apple would do. "We grow 40 varieties here at Warwick, and every single one produces a different cider. I've found that the best balance can be achieved with a blend of dessert apples and cider apples, with an emphasis on dessert apples." The cider slowly developed a reputation beyond their own family tables, the farm store, and the orchard. After receiving demands for their ciders from people all the way in the Big Apple, in 2002 they officially "went retail." Their first year, they produced 2,000 gallons of cider. In 2014, they are on target to produce 200,000 gallons.
That's two-million pounds of apples! They source their apples from their own orchard and other Hudson Valley-area apple farmers. Warwick's biggest seller, comprising about 50% of their sales, is Doc's Draft Hard Apple Cider, a semi-dry and effervescent cider that tastes crisp, refreshing and is difficult not to chug. They also offer a variety of seasonal ciders with small releases, often available only in the Hudson Valley. This fall, they are releasing their much-ballyhooed Pumpkin Cider (Warwick was the first in the country to produce a pumpkin cider, and, like most of their products, it seems obvious only in hindsight), and their single-varietal all-organic cider, Gold Rush Hard Apple Cider. Made with just one apple variety and barrel-aged with ginger, allspice, cinnamon and a touch of brown sugar, Gold Rush is dry, complex, spicy, with just a hint of good ol' American apple pie. Doc's Hard Cider has grown 25% every year – even during the recession – providing real income for struggling farmers and inspiration for a whole new generation of would-be distillers.
But the rise of the fermented apple wasn't as smooth, straightforward and obvious as it might appear to us now. "I remember getting laughed out of stores when I started telling people we were making cider in the Hudson Valley," Jeremy recalls. "One guy at a major retail store in New York, who will go unnamed, actually told me that no one producing anything alcoholic in the Hudson Valley was any good. It was like pulling teeth to even get a meeting sometimes." The times have certainly changed, but Jeremy and his cohorts still have the attitude of underdogs with something to prove, simultaneously inspired and humbled by the long line of imitators (not to mention apple trees) that their success has planted in the region. "It's great to see farmers out there planting varieties just for cider," Jeremy said. "That's the first time that's happened in several generations. I haven't seen any new statistics, but I can tell you that it feels like the sale of orchards is going down. And if they do sell, they're going to other farmers, not developers. As far as direct competitors go, there are obviously issues that crop up, but overall it is a huge net positive for us, other farmers, and the consumer. This is an exciting time to be making spirits – and drinking them."
BROOKVIEW STATION WINERY:
A Small (but Significant) Recruit
Goold Orchards is a family business that has been growing apples in the Hudson Valley since 1910, generation after generation. Their stated mission is "to grow and sell only the highest quality apples and freshest pressed apple cider." That simple mission has carried them through more than a 100 years of wild economic swings, encroaching development, and changing commercial tastes. In 2006, the third generation of Goolds to helm the farm, Sue Goold Miller and her husband Edward Miller, launched a winemaking operation that uses grapes and fruit grown on their farm and on other farms in the Valley, and released Pomona, a semi-sweet apple-pear wine. But what may prove to be Goold Orchard's most exciting development has also been their quietest.
In 2012, with nary a splash, they rolled out their first hard cider, named for Joe Daddy, who has been their foreman for 30 years but has apparently been concealing a talent for cider-making. Goold already produces about 120,000 gallons of sweet table cider every year, so adding a bit of yeast and allowing it to ferment into hard cider for a few months seemed like the next logical step in the company's evolution. Logical, yes.
Simple, not so much. "We don't like a lot of the commercial varieties on the market and we didn't want to produce anything like that," Sue said. "It's often sickly sweet and often made from concentrate. We played with the blends of apples because we found that using just one variety of apple yielded a flat, uninteresting flavor. We also found that we wanted to use both eating apples, which are sweet, and traditional cider apples, which are tart." While classic ciders hailing from England and Normandy are primarily made with tart cider apples, it requires about 20 years to establish a full, healthy orchard of cider apples that could support a successful hard cider-making operation. Sue, Ed, and Joe Daddy found that, in addition to the logistical nightmare that producing a 100% cider apple–based hard cider presented them with, their palates also rebelled. "We really preferred a blend," Sue explained. "We found fermenting a blend of apples with ale yeast produced an English-style cider that's dry and complex, but with the dessert apples in the mix, it was also very drinkable without being too sweet."
The blend of apples is essential, but it's the yeast that unlocks the fruit's true potential and allows their essence to be expressed, Sue said. She worked with the Homebrew Emporium in Rensselaer on selecting the perfect yeast. "I tried all of the different yeasts and the only one I like with our apples was an English-style," she said. "What we try to do is to preserve the essence of the fruit flavor. Your end product can only be as good as the base it starts from, so the first step is great apples and great yeast, and then using a production method that helps preserve its integrity." To do that, they adhere to the very traditional, time consuming rack-and-cloth system of apple pressing that requires extra manpower (two versus one presser) without press aids. She maintains that this method yields an ephemeral, difficult-to-quantify "apple essence," without which a cider is "flat, dull, and one-dimensional." In addition to the Joe Daddy English Style Ale, they are now producing an orange citrus spice and a cranberry cider. A trademark of farmers is caution in the face of new-fangled trends, and Sue and Ed have decided to approach their latest venture with the reticence one would expect (if slightly regret the limited availability, given the deliciousness of their cider). Last year, they produced about 1,500 gallons, and this year they plan to double it and allow the business to grow organically. Thirsty customers have to go to them, growlers in hand, for a sample – at $10.99 for 64 ounces, it's one of the cheapest, yummiest ways to keep the doctor away.
APPLEWOOD WINERY:
Sowing New Seeds
Comparing one type of apple to another is kind of like comparing apples to oranges, according to Jonathan Hull. "Every apple has a different flavor profile that can get developed and accentuated as it gets produced into a cider," Jonathan notes. He should know, as a third-generation apple man. Jonathan's grandparents purchased what became Applewood Orchards in 1949 to give to their son, a pomology student at Cornell University at the time.
David "Apple" Edward Hull took over in 1955 and raised apples, peaches and livestock until he passed away this January. Jonathan rejoined the family business and founded Applewood Winery in the mid-90s after a long stint in New York City. "Apples are not generic stand-ins for each other," Jonathan explains. "Just like every grape produces a different type of wine, the same is true for apples. For example, I've found through experimentation that by blending Winesaps and Idareds with Red Delicious and Golden Delicious, all of their best characteristics stand out and complement each other. We are creating a specific Hudson Valley style of cider that isn't as austere and dry as the traditional English and French ciders. It is more approachable, but has qualities that both beer and wine lovers look for, including drinkability, complexity and depth of flavor."
Jonathan has been perfecting his various cider recipes since about 1995 (he and his wife, Michelle opened Applewood Winery in 1993, successfully making wine from vinifera grape varieties grown on their land, in addition to making apple wine), but he was so busy with the winery, he didn't feel it was wise to start selling it immediately. Sometimes, however, the market moves even the most reticent farmer's hand. Jonathan began selling cider from the farm store, and every year the demand grew, slowly but surely. Five years ago, he was producing about 2,000 gallons. Last year, he made 20,000, and now his line of Naked Flock ciders are available in three varieties in grocery stores, liquor stores and restaurants, all over the state. About 2.74 pounds of apples make it into every bottle of hard cider, and while Jonathan sources as many apples as he can from his own family farm and growers in the area, scarcity is actually becoming an issue. "There is a high demand for Northern Spies and Winesaps and some of the other varieties I love to use in cider," he says. "It costs about $20,000 an acre to plant apples, but we're doing it. We are going to plant Kingston Blacks and other cider varieties that don't make good eating, but help build phenomenal flavors in ciders."
The competition over superannuated apple varieties is frustrating, but exciting, Jonathan says. "It's great to see apple farmers prosper and to really watch the cider movement in the Hudson Valley grow and develop its own taste-profile and style, apart from both the traditional European styles and the overly sweet mass-market American style. And it's only going to get better as the market for gluten-free and sustainably grown products keeps developing. This is a good start, but it's only the beginning." Naked Flock is available widely in three varieties: Original (fermented with Champagne yeast and sweetened with Hudson Valley honey), Draft (fermented with Belgian Trappist Ale yeast and sweetened with organic maple syrup) and Pumpkin (fermented with local Hudson Valley sugar pumpkins), but Jonathan can usually be found, brewing up a new, funky batch to try on the next lucky crew of thirsty adventurers who happen by. "I've been experimenting with a citrus cider made from Citra hops which add a lively lemon flavor," Jonathan says. "And for the winter, we are working on one flavored with chipotle and oak tannins. Our goal is to produce a chocolate flavor with a hint of spice. The chipotle can easily become overwhelming, so we're trying to find a balance." Both will be available on tap in the tasting room when Jonathan is satisfied. He is also tinkering with an ice cider and a Hudson Valley Pommeau – a traditional drink from northern France produced with fresh apple juice and an aged Calvados (apple brandy).
GLORIE FARM WINERY:
Mutineers
Glorie Farm Winery, established in 2004, was created to celebrate the history of agriculture and wine in the Hudson Valley; this year, as a natural extension of its mission, it rolled out its first cases of hard cider.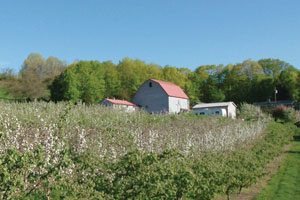 "Apples have grown here for 30 years," says Doug Glorie, who co-owns the winery with his wife MaryEllen. "We have 16 varieties of apples, mostly dessert, but some that have a tartness that suits hard cider as well, like Granny Smiths, Northern Spies and Staymans. And we're planting about 250 more apple trees, exclusively with hard cider production in mind." The hard cider production this year has been modest since the farm-winery only has about three acres of apples (see photo above) and they are committed to using primarily their own fruit for the final product. "For our wines and now our cider, we like to use our own fruit if possible because we like to make sure they're completely ripe and so that we can weed out any unusable pieces ourselves," he explains. "We shoot for 80% of our own fruit in the final product."
The cider, like most of Glorie Farm Winery's products, is off-beat. "We named it Mutiny for the famous mutineers of 1611," he says, referring to the crew who rebelled against English navigator and Hudson Valley namesake Henry Hudson in 1611. Hudson, his son and seven supporters were set adrift on the ice-strewn Hudson River, never to be seen again. Like the infamous incident for which it's named, Mutiny cider is sharp, aggressive and has a rebellious agenda of its own. "We didn't want the typical sweet, syrupy cider that fits the classic American hard cider profile," Doug explains. "Mutiny is high in alcohol at about 9.5% whereas most ciders clock in at about 6%, and its lightly carbonated with a complex bouquet of apples, both sweet and tart, that dance on your tongue. The champagne yeast we use also adds layers of complexity." In addition to providing a new avenue of creative expression and an additional revenue stream, creating a cider has given Doug and MaryEllen an excuse to hang with their son (also Doug) who they hope, will help carry their legacy of faithful allegiance to the Hudson Valley's agricultural history, tempered with a dash of delicious rebellion.
NINE PIN CIDER WORKS:
The Latest to Join the Fray
The next time your knocking down a Nine Pin, thank the Governor. "He has been over-the-top-amazing for us and the beverage industry in New York in general," declares Josh Whalen, who runs the marketing arm of Nine Pin with his cousin, the founder and cidermaker-in-chief, Alejandro, and his aunt, Sonia, who runs the operational side and moonlights as a practicing attorney. "We were founded last year as the first farm cidery under the Farm Cidery Bill which officially allowed us to operate a tasting room on our production site, as long as we used New York State apples."
Nine Pin wouldn't have it any other way, of course. "My cousin grew up here and he is the heart and soul of business," Josh says. "He made cider for Citizen Cider in Vermont, but his heart was set on creating his own cider in his home-state, supporting the growers here and taking advantage of the amazing market we have for local, sustainable, farm-made products." Although Nine Pin opened its doors to the public in February, they are on target to sell about 30,000 gallons this year. In bottles, they have their Nine Pin Signature Blend of dessert and cider apples from Samascott Orchards in Kinderhook, fermented with a white wine yeast that lends it a refined, Champagne taste; Ginger cider with dessert apples from Samascott, infused with ginger and orange peel; and a Belgian-style cider fermented with a Belgian beer yeast which gives it a fruitier flavor, a fuller mouth-feel, and lends a general creamy, full-bodied flavor that is perfect for the fall.
"Cider is in a category by itself, but there's amazing cross-over for both wine and beer drinkers who want something sophisticated, hand-crafted and as easily drinkable," Josh notes. "We have three ciders in bottles right now, but we have been through about 30 different small batches. We experiment, make it available in the tasting room, see how people respond and then continue to develop and perfect the most popular recipes." As Josh says, hard cider is in a category by itself – one that straddles the taste and spirit of craft beer and wine. "The market for cider is huge," he notes. "Cider apple trees were cut down during Prohibition and replaced with dessert apples. It hurt farmers, but it also hurt the market. It has taken 100 years and Governor Cuomo and his amazing staff to bring it back."
HELDERBERG MEADWORKS:
An Apple Alternative to Cider
Handcrafted Hudson Valley ciders may be as far from the candy-like mass-market confections as an apple Jolly Rancher is from a Tarte Tatin, but they still won't appeal to everyone. For apple lovers who spurn the classic cider, Helderberg Meadworks offers a compelling alternative. Mead, the world's oldest alcoholic beverage (many anthropologists have speculated that mead predates the cultivation of soil) is made by fermenting honey with water. Other fruits, spices, grains, and hops are frequently added and it can be either still or carbonated, and is available in dry, semi-sweet or sweet styles. Mead has been around for 7,000 years, but in the Hudson Valley, a descendent of King Harald Fairhair (850-932), the leader who unified Norway, has given a fresh spin on the drink the Vikings made famous more than 1,000 years ago.
The descendent is Peter Voelker, an engineer-turned professional fermenter, who started making mead in 1995, but he didn't release his first batch commercially until 2012. Helderberg has produced eight meads so far, and their apple mead was created to celebrate the bounty of the Hudson Valley – and please his own palate. "Going back 15-20 years, I remember the two best meads I've ever had," Peter says. "One is the traditional mead that I reinterpret through our line of Heritage meads. The other is an apple mead; not only does the tartness of the apple perfectly complement the sweetness of the honey, it is a perfect distillation of our place and time." Peter says he is motivated to help increase the acreage of apples in the Hudson Valley, and to see a greater diversity in the types of apples being planted. He gets his apple cider pressed for his mead recipe at Indian Ladder Farms in Altamont, NY, using a precise blend of dessert and cider apples.
"At Indian Ladder, they know I like a balance of sweet and tart apples, so they are actually planting a few more cider apples for us," Peter explains. "It is so exciting to see farmers plant varieties that haven't been seen in the Hudson Valley in generations." Helderberg's apple mead, first released in 2013, weighs in at 13.9% ABV, and is three-parts mead to one part apple cider. In addition to the ideal balance of sweet-tart, the water and yeast Peter uses in his meads provides the foundation of local flavor. "When I moved five miles down the road, the taste of my mead changed radically and I couldn't figure out what it was because I was using the same equipment and recipes," he says. "But then I realized it was the water! In our new location, we had a water softener, so we weren't getting the hardness of the minerals. We put in a bypass around the water softener, and now we have all of the flavors and characters of the hard mineral water." Peter has taken a pride of locality to an entirely new level with his latest venture, called Feral, a mead fermented using wild yeast captured and cultivated right at the meadery.
Feral is yet another example of Helderberg's commitment to distilling the unique characteristics of time and place, combined with a nod to the region's roots. Peter says Helderberg will continue to work with Indian Ladder Farms to grow interesting regional apples that will make their way into doubtless new and delicious interpretations of his cherished apple mead formula in the coming seasons.
HARVEST SPIRITS: Hard Apples
If you like your apples sauced, chances are, Harvest Spirits has a version (or soon will!) that you can dig into. Derek Grout says he started in the apple spirits business after delivering apples to Tuthilltown Spirits and tasting the incredible vodka they produced with them. Derek's father runs Golden Harvest Farms, a 200-acre apple orchard founded by Derek's grandparents in 1958, on old orchard land originally owned by the Van Buren family. With a pick-your-own farm of gorgeous eating apples in 16 varieties, a farm store bursting at the seams with local, seasonal fruits, dairy, and baked goods, Derek says his family still rode the riotous ups-and-downs of the economy, consumer tastes and weather. "Once I saw what Tuthilltown could do and once then-Governor Spitzer changed the laws in 2007 so that we could hold tastings and sell a product at a farm distillery, I knew developing a distillery would create more stability for my family and our business," he explains. "As a farmer, the more you change your product, by say, turning a raspberry into a jam or a unique liqueur, the more you add value to it, change it from a commodity into a product, which adds elasticity to its price." While the farm and the distillery (created in 2008) are separate business legally, and while the bulk of his family's income still comes from wholesale and retail apples, they are a stone's throw from each other and as symbiotic as the birds and the bees. "A large bottle of our Core Vodka or Applejack probably has 60 to 70 apples in each bottle," Derek says.
All of the apples used in their spirits come from his father's farm. (Pears and other fruits used in their spirits come from another Hudson Valley farm, Fix Fruit Farm in Hudson, NY). Ever the astute businessman, Derek lacks any trace of sentimentality about the process of distilling his father's apples. "An apple spirit made from apple products grown in Vermont or New Hampshire could taste the same as the apples I get next door," Derek says. "Where you see the difference in taste comes from the producer and the techniques they use. I do see a certain profile and style emerging from not just Hudson Valley spirits, but hard ciders as well. Everyone always asks why we don't do a hard cider when we have so much apple cider lying around." Well? Derek admits that it's "in the hopper." "But I would never hit the market with anything that I wasn't confident could be number 1 or number 2," he says. "Let's just say we're working on it.
But soon, you will see an apple cider vinegar we're developing. We are concentrating it, much like balsamic vinegar is concentrated. We're trying to bring our apple vinegar up to the level of an artisanal Italian balsamic. It's getting there." While we wait for Derek to perfect his various ciders, there are plenty of other apple spirits to content ourselves with at Harvest Spirits, most notably the Core Vodka, made from hard apple cider distilled three times. Unlike most totally neutral vodkas, Core has a floral nose and extraordinarily crisp, refreshing finish. The Cornelius Applejack (also 100% apples), peach, pear, and cherry brandies and black raspberry vodkas are also stunning, refreshing interpretations of nature's bounty, if not quite as apple-forward as the crisp autumn winds call for.
TUTHILLTOWN SPIRITS DISTILLERY:
The Old Guard
The resurgence of Hudson Valley-produced hard cider – and the concurrent fattening of the Hudson Valley's collective goose – can be traced to spirits producers. Tuthilltown Spirits Distillery, New York's first whiskey distillery since Prohibition, was motivated at least in part with nothing less than the wholesale saving of the apple industry in mind. "We saw that the great history of Hudson Valley farming was at risk," said Ralph Erenzo, who founded Tuthilltown. "There is so much competition from China and Washington State in the table apple market, and our apples are susceptible to pests. If they have even a mark, they can't be sold in retail stores.
Our thought was to take the essence of apples and turn them into vodka or brandy. If they had a slight imperfection [it wouldn't matter and] turning them into a spirit would increase their inherent value eight-fold." Ralph spent – and still spends – much of his time lobbying in Albany for less draconian laws. Most people in the industry credit his persistence with the more business-and-farmfriendly laws signed in by then-Governor Spitzer. Without Ralph, there would certainly be fewer spirits distilleries in New York, probably fewer acres of apple trees and most likely fewer serious hard cider producers. "We go through a thousand gallons of Hudson Valley apple cider a week making our spirits," Ralph says. "In addition to that, all of the tourists we draw to our tasting room then go and visit the Hudson Valley apple orchards we use. We're proud of where we are and where our products come from, and we want to share that with the people who buy our spirits."
The pride of place and all of the ingredients, especially the apples, can be traced and tasted in the final product, despite (or in spite of ), federal regulations that would indicate otherwise. "Vodka, at the federal level, is defined as having absolutely no character," Ralph says. "But our indigenous apple vodka is double distilled and still has a subtle apple character in its crispness. It is light and silky. The apple blend we use in our gin provides a really silky mouth-feel, as well." Tuthilltown may be the king of the school dance, but no one there is content to sit and polish their considerable crowns and accolades (including a Gold Medal at the 2014 LA International Spirits Competition for their Half Moon Orchard Gin, and Golds in 2013 for their bourbon, rye, and whiskey from the Craft Spirits International Competition). Ralph's latest apple project is a Hudson Valley version of Calvados, which traditionally hails from Normandy (the production methods, taste and style of Calvados, which was originally developed in lower Normandy, is governed by laws dating back to 1606). "We are developing a Hudson Valley Apple Brandy that is aged in lightly toasted American Oak for a few years," Ralph explains. "It will probably be ready for release in about a year, but only available at our distillery. I want people to drink it where it was made, to get the full Hudson Valley Apple Brandy experience." The team at Tuthilltown produces spirits using apples harvested by farmers within five miles of their distillery and grain harvested less than 10 miles away. Luckily for Tuthilltown fans, their spirits are available almost everywhere, so a wee bit of the Hudson Valley can be enjoyed from LA to Taipei.