Angry Orchard and its head cider maker Ryan Burk want to change the way we think about hard cider. Along the way, they hope to elevate the category into a premium product akin to fine wine. While moving forward requires innovative approaches to cider making, they also look to the past, when cider was the preferred pre-Prohibition beverage.
Angry Orchard cider makers have been making it for more than 20 years. The cider company decided to establish a home in Walden, NY, in late 2015, and brought on Burk as head cider maker. The Stone Barn, one of the original structures on the 100-year-old farm the company purchased from the Crist family, is where you'll likely find him, tasting and testing the golden liquid aging in oak barrels of several sizes.
Terroir isn't a term you might associate with hard cider, but it's integral to the small batch products Burk creates. Apples, like wine grapes, reflect local terroir from the soil and climate. The Hudson Valley provides optimal seasonal growing conditions for apples: reasonable winters, wet springs, and humid summers. In addition to the terroir carried by the fruit, Burk frequently utilizes wild fermentation, a natural process that uses the yeast already present on the skins of the apples, and in the air.
What really sets Burk's artisanal ciders apart, however, is his barrel-aging process. Most notably used for aging wine or spirits, oak barrels impart nuanced flavor into whatever liquid is stored there. Oaking affects tannin levels, and introduces flavors specific to the source of the wood, as well as the product previously held in the barrel. At Angry Orchard, you'll find towering rows of barrels that were once vessels for wine, spirits, and even maple syrup.
In a short time, Burk has developed one of the most comprehensive cider barrel-aging programs at the country's largest hard cider producer. However, the specialty ciders that result from his passion for experimentation are only available at the Walden facility, and in a select number of bars and restaurants. We met him there recently, toured the Stone Barn, climbed up to the treehouse tasting room that overlooks the orchard, and asked a lot of questions!
Early Inspirations
Burk hails from Williamson, NY, known as the "Core of Apple Country" for its apple farming history. Prohibition wasn't lifted in this small town until the mid-1990s, and it wasn't until the first half of 2004 that a bar opened there. He grew up working in apple orchards, and the local cider making culture provided early inspiration.
"It was a tradition," Burk says. "A lot of apple trees, plus prohibition, equals great cider. My friends and I made it for our own consumption. I'm not the only person that I grew up with who is making cider professionally now. In the past few years two cideries, Embark and Rootstock, have opened in my hometown."
Burk eventually moved to the Midwest, where he developed his cider making techniques at Virtue Cider in Michigan. Two and a half years ago, Angry Orchard lured him back to New York to launch the Cider House on the 100-year-old apple orchard previously owned by the Crist family.
"The company's interest in the traditional ways of cider making is what drew me in. We really value that here, and it's a big part of our story," he says.
It All Begins With Apples
Nearly 30 varieties of culinary and cider apples grow on Angry Orchard, whimsically named for the appearance of the gnarled tree branches. Cider apples are not the same varieties you find in the grocery store; they are more tart and tannic, with names like Dabinett, Yarlington Mill, Kingston Black.
Because cider apples are in short supply across the United States, Burk must also source them from upstate New York, Oregon, France, and Italy. He's committed to bringing traditional cider varieties and lost heirloom varieties back to the Hudson Valley. Areas of the Walden orchard are designated for new plantings and varietal research, but these will take up to seven years to bear fruit.
"The more we push these conversations about apple varieties, the more excited people get about cider," he notes.
The Fermentation Effect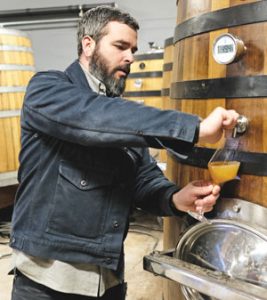 Experimentation happens at every stage of the cider making process, beginning with the choice of apples used. The apple pressing season is October through March, and the juice is sent to tanks for fermentation. Burk tests different wine yeasts and yeast combinations, as well as variations in fermentation times and temperatures. Some ciders will even continue to ferment in the barrels. For others, he goes with wild, or "native," fermentation without additional yeast.
"In the first four months of our production here, we didn't pitch any yeast. It was all natural fermentation. We harvested the lees off those original permutations, grew that up in a lab, and now we pitch that yeast. We have a real native culture going. Nobody else has that. It's our unique touch on cider making."
Barrel Aging
The Stone Barn was the farm's original cold storage facility for the apple crop. It's built into the side of a hill, and naturally cooled. Now it's where a new climate control system keeps the temperature in the 40s year-round; ideal for the 400 barrels of cider that spend up to a year aging there. The barrels, which generally hold 100 gallons of cider, yielding up to 220 cases, are mainly European oak. Burk definitely has his favorites.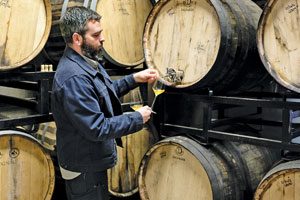 "I like French Oak barrels that have been well used before we fill them with cider. Usually they're from wineries, but I was lucky enough to get my hands on some calvados barrels last year. We finally found the right supplier through a middleman. You can't just knock on the French producers' doors; although I've tried. I really like the flavor and aromatic profile they impart on the cider."
The age of the barrel matters in cider making. "We like them to be used three to five times before we get them. The barrel tannins are super aggressive when they're fresh, and cider is very delicate. A cider can't stand up to what a red wine could. We're dealing with a lower alcohol percentage. Red wine is 12 to 15 percent alcohol, and cider is 6 to 9 percent on average.
While the barrels are European, they usually held an American product, such as white and red wines from the West Coast. But I want to get as many calvados barrels as I can because it's an apple brandy. With spirits barrels, we want barrels with one use, but older – six years or more. The longer the spirit is in the barrel, the more it strips from the barrel. So it takes away some of the aggressiveness of the barrel, but it leaves some spirit. I'm looking for the calvados impact."
Cider spends between six to eight months in the barrels, but some spend up to a year or even two. There's a point when the barrel has done all that it can do for the cider, and that point is determined by tasting. Monthly tasting starts in earnest in April. Sometimes, what comes out of the barrel is pulled and packaged, as is. There are only a few single variety ciders, like the Newtown Pippin. Generally, they are blended to adjust acidity and sweetness.
Due to its low tannin and ABV, cider generally doesn't age well in the bottle. "Cider is traditionally a fresh beverage, and was never really meant to be aged," Burk says. "I'd rather drink it fresh."
The ciders in the Stone Barn now are on their second or third turn in the barrels. Burk uses them until they start to fall apart, but they can last years with proper care.
Small Batch Production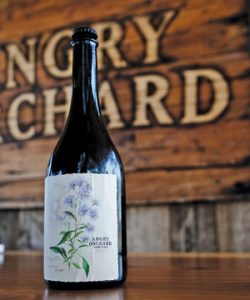 The ciders Burk has created, like First Flora and Walden Hollow, are produced in limited quantities, but each year brings a new vintage. Unlike wine, cider cannot by law be designated with a vintage year on the label. Instead, the art on the label will remain consistent year-to-year, with a change to a single element representing the year of production.
Small batches mean Burk is careful about distribution beyond Walden. "There are such small quantities, but we're sending some out to restaurants and cider bars that I have a relationship with, like Wassail in New York City and ANXO in Washington D.C. It's a story that needs to be told, preferably around food, so it's not going to sit on a shelf in a store."
The Connection to Tradition
Burk is influenced by the traditions and techniques of English and Spanish cider makers. While England and France have the longest history in cider making, he believes Spain has the most participatory culture, from the way it's poured to the food it's served with.
In England, the tradition of barrel aging cider was born from necessity, because oak was readily available. Burk enjoys the farmstand ciders he finds in the west country, because of the "funky" aromatic profile and phenolic character that results from elevated tannin and the aggressive use of bittersweet fruit.
"Before Prohibition, cider was the beverage of choice. Wine was for the elite . . . That's why it becomes so important to look for history, tradition, and direction in other countries."

– Ryan Burke
In the United States, cider making is younger, but still steeped in history. "Before Prohibition, cider was the beverage of choice. Wine was for the elite. We lost a whole chunk of history up until about 35 years ago when it started up again. That's why it becomes so important to look for history, tradition, and direction in other countries."
Educating the Consumer
Burk believes that cider is still on a learning curve, and he's up for the challenge to educate drinkers. The majority of people who come to Angry Orchard have never tasted barrel-aged cider, so they're offered samples. Burk and his staff want to pull people into the drier side of cider, by pointing out the nuances. The hope is that they will then value the "heart and soul" that goes into making it.
"It's expensive to do this," Burk points out. "I think a cider that ages in oak, for a year, with traditional bittersweet fruit should be able to be sold for $60, but our most expensive bottle is $25. We want to push those limits, and hope that a year from now, you'll be able to come here and enjoy a bottle that you can't get anywhere else, and have the type of experience you have with wine.
But here at Angry Orchard, we do everything, because cider can be so many things. It should also be a beverage with a low ABV that you could have three or four of. Crisp Apple does that for us – it comes from the same intentions, history and traditions."
What's Next
Burk enjoys collaboration, and there's no end in sight to potential projects. He recently worked with Eleanor Léger at Eden Specialty Cider in Vermont to produce Understood in Motion. Burke and Léger chose a blend of apples, and the fermentation took place at Eden. The dry cider was finished at Angry Orchard, where Burk aged it in calvados barrels for six to eight months.
Last year, his first collaboration with a non-cider maker paired him with Crown Maple Syrup in Dover. The result, Maple Wooden Sleeper cider, flew off the shelves.
"We got the bourbon barrels and sent them to Crown Maple. They aged their syrup in the barrels, then sent them back to us for the cider. After a year in the barrels, the cider had a toasty, maple profile. It was 12% alcohol, and really sweet. It was back-sweetened with syrup, but it all made sense, because the tannin and acidity were there to support the sweetness. It sold out quickly, but there are plans to make more." Other collaborations with local producers are in the works.
"In beer, collaboration is an established practice. It's not that easy with cider. It's about figuring out how to work with our different fermentation practices, figuring out the blends, and putting our own fingerprints on the finished product. It's very personal.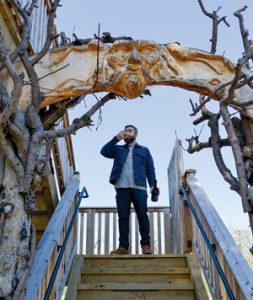 Collaboration is part of the fun. There's all kinds of cool stuff going on right around here. And to go learn someone else's process allows me to learn something new about my own process. If we can find a way to put that together, then that's awesome."
"As time goes on, more and more of what we do here will influence what we do across the brand." – Ryan Burke
As a sign of things to come, Burk recently hired another cider maker. "There's already a nerdy demand for barrel-aged cider. It's common for beer, and we'll see the same thing for cider. As time goes on, more and more of what we do here will influence what we do across the brand. We're going to turn this into an entire cider orchard. Oak will become a bigger part of this. We're adding barrels pretty rapidly right now. We're definitely growing this program."
Photos: Carolyn Karsten