During the nineteenth century, the Mid-Hudson River Valley, in addition to eastern Massachusetts and the St. Louis, Missouri, area was one of the top three centers of American horticulture and fruit breeding, especially for grapes.1 The Hudson Valley was home to many grape and other fruit breeders, nursery owners, fruit growers, and nationally recognized horticultural leaders, writers, and thinkers. One of the reasons why fruit horticulturalists, writers, and breeders congregated in the Hudson Valley was because of its uniquely superior climate, geology, and soil composition for fruit cultivation, and its close proximity to New York City. In 1890, when the Valley's grape industry was at its height, it possessed approximately 13,000 acres of vineyards.2 Here, America's oldest commercial winery, Brotherhood Winery in Washingtonville continues to operate, and Benmarl Winery in Marlboro continues to be one of the oldest continually farmed vineyards in America. Clearly, the Hudson Valley is one of the birthplaces of American viticulture.3
The concentration of fruit horticulture and breeding laid between Croton Point and Hudson, New York, with the epicenter being in the Newburgh-Marlboro area. In this area, many advances were made in viticulture and small fruit culture, such as: the development of new table and wine grapes, raspberries, blackberries, strawberries, and red currants; the classification and naming of grapes, apples, pears, raspberries, and red currants; and the creation of new and innovative grape pruning and trellising systems. In addition, there were several scores of experienced fruit growers and nursery owners who tested these new locally-developed varieties in the field, provided comments, and ultimately propagated them for commercial sale and distribution across the United States and Canada.4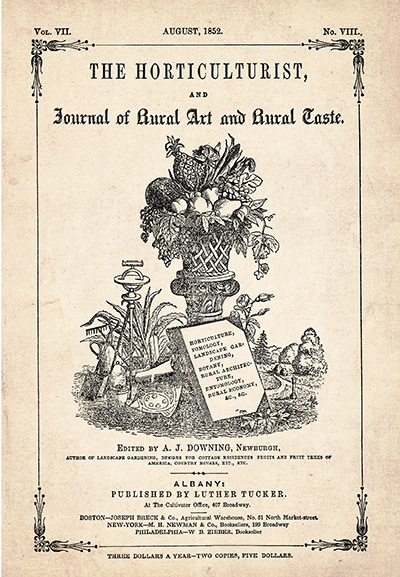 Information on these advances in fruit culture were rapidly disseminated across the United States, Canada, and Europe by local writers, authors, and editors via horticultural journals, books, nursery catalogs, and through national and regional horticultural and pomological societies. During the Valley's "golden age" of grape breeding, between 1840-1890, many local breeders had national reputations for their breeding work, writings, and communications with other American horticultural leaders. They were leaders of the American Pomological Society, Massachusetts Horticultural Society, Western New York Horticultural Society, and very active in our local societies, such as the Newburgh Bay Horticultural Society, Orange County Agricultural Society, the Horticultural Association of the Valley of the Hudson, and the Eastern New York Horticultural Society. They regularly published their work in magazines such as Hovey's Magazine of Horticulture, Downing's The Horticulturalist and Journal of Rural Art and Rural Taste, The Cultivator, The Bushberg Catalogue: A Grape Manual, Horticultural Register, New-York Farmer, and the New England Farmer. The close proximity of so many grape, pome, and small fruit breeders and horticultural experts in the Valley helped to advance the individual work of each breeder.
The Caywoods, Benmarl Vineyards, and their Place
in History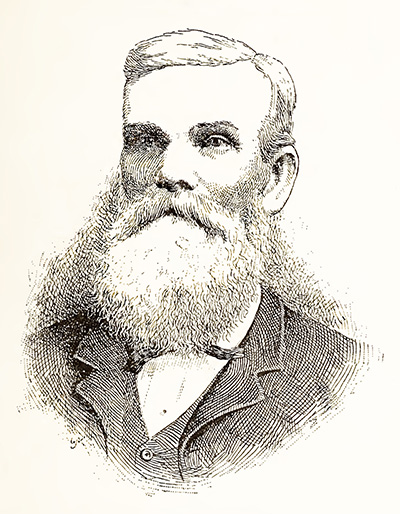 Andrew Jackson Caywood (1819-89) was an experienced horticulturalist, writer, and member and exhibitor of fruit at the American Pomological Society, Massachusetts Horticultural Society, the Eastern and the Western New York Horticultural Societies, and the locally-based Newburgh Bay Horticultural Society and the Orange County Agricultural Society. He worked extensively with the nationally-known nursery owner and writer Charles Downing (1802-85) of Newburgh and The Rev. Edward P. Roe (1838-88) of Cornwall-on-Hudson and contributed to their written works on grapes, raspberries, blackberries, and red currants. In addition, he was one of the founding members of the Poughkeepsie Scientific Society, which ultimately became the Vassar Brothers Institute. Caywood also worked with his fellow Episcopal church members: The Rev. John Brown (1791-1884), minister of St. George's Episcopal Church, Newburgh, who was a leading organizer and president of the Newburgh Bay Horticultural Society, and the grape breeder James H. Ricketts (1818-1915) of Newburgh who worshipped at Marlboro's Episcopal Christ Church.
The youngest of eight children, Caywood was born in Orange County near Modena in 1819. His father, a farmer, died when Caywood was quite young. Caywood continued farming until his early twenties, then attended the Amenia Seminary in Dutchess County for two years to study botany and geology. When he was twenty-five, Caywood became interested in grape and fruit cultivation. This interest was probably inspired by his neighbor William T. Cornell, the brother of his future wife, Deborah Cornell.
Caywood's interest in grapes and grape breeding was influenced by both his brother-in-law Cornell and the Underhill families of Croton Point in Westchester County. William T. Cornell had planted a vineyard of Isabella grapes near Clintondale in Ulster County in 1845. Mrs. Cornell and Mrs. William A. Underhill were sisters, so Cornell's vines presumably came from the Underhill vineyard.5 Caywood bought his first small farm in Modena around 1850 and was one of the first in Ulster County to plant grapes and peaches for market. Because of his enthusiasm, other farmers began to grow fruit in that county. Today, Ulster County continues to be a leading grower of apples, grapes, and other fruits in New York.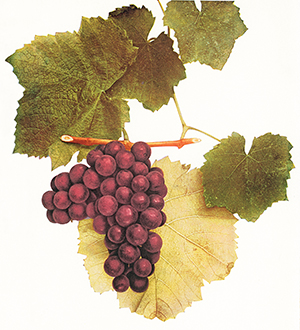 In 1861, the Caywood family moved to Poughkeepsie, where his grape breeding activities continued. In 1865, his first grape variety, Walter (Delaware x Diana), was introduced at various state and regional agricultural exhibitions. At this location, the grape variety Poughkeepsie (Iona x Delaware & Walter) was also bred.
A. J. Caywood and Deborah Cornell (1823-90) were married in 1848 and had five children. Not one, but two of their daughters married the son of the adjacent farming family of Wardell. The middle twin, Harriet E. Caywood married Lawrence E. Wardell, but Harriet died in 1885, at which point Lawrence married his deceased wife's older sister Anna Cornell Caywood one year later. From this marriage came one child, William L. Wardell (1887-1970), who farmed this property until it was sold to Mark and Dene Miller in 1957, who along with their sons Eric and Kim Miller established Benmarl Vineyards.
In 1877 or 1878, the Caywoods purchased from Jesse Lyons an old 84-acre fruit farm on Old Post Road, just south of the hamlet of Marlborough. The purchase price was $7,000 to be paid for and financed primarily by a balloon payment payable to Lyons in 1884. In addition, the Caywoods promised to set out 500 peach trees and one acre each of red currants, strawberries, and grapes in 1879, and an additional three acres of grapes and 500 peach trees in 1880. Caywood did satisfy the conditions of the agreement by 1884, and ultimately obtained title to the land outright by 1885. He relocated to Marlborough to start his own nursery, first under the name Ferries & Caywood, and later under the name Caywood & Son, when his son Walter joined the business. The nursery was known as Riverview Nursery.6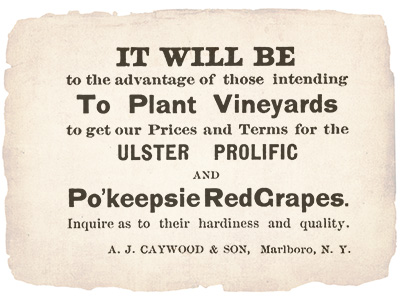 The then newly purchased 84-acre Caywood property should be accurately described for the benefit of our readers. The hub of the farm was based along Old Post Road adjacent to the Buckley's Bridge. Along Old Post Road was a very large wood framed white farm house, an old sealing wax factory along "Jew's Creek" next to a dam and mill pond that provided water power for the factory, other farm outbuildings, and an old fruit farm whose trees, vines, and brambles badly needed replacement or refurbishment. The property encompassed lands to the west of the main house and factory and crossed what would one day become Route 9-W and traveled up the steep hill to include what we know today as Benmarl Vineyards. At that time there was no access to the "Upper Farm" off of Highland Avenue, the only access was a farm road that went up the steep hill to the upper farm vineyards.7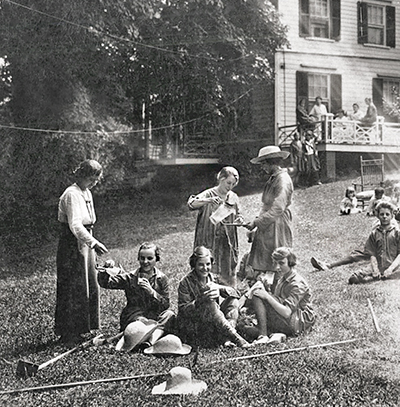 In 1886, a few years before A. J. Caywood's death, the property was divided among the children, with the "Lower Farm" going primarily to William Cornell Caywood (1855-1901) and ultimately to his wife Florence Ormsby, who would then marry Frederick Schramm upon the death of William in 1901. In 1899, on the Lower Farm, Florence and her two young children, Edith and Marion, along with the assistance of her mother Julia Ormsby, began to operate a boarding house called Shady Brook Lodge and Farm. Upon W. C. Caywood's death, Florence would have three more children with her new husband Frederick Schramm (Margaret, Elizabeth, and Frederick). Mr. Schramm was an illustrator and commercial artist from Flushing, New York.
The "Upper Farm" was operated by Caywood's daughter Anna Cornell Caywood Wardell, who had recently married the neighboring farmer Lawrence E. Wardell, after the death of his first wife who was Anna's younger sister. Their home, barn and gate cottage was located just east of Rt. 9-W and the property extended west across that road up to where the Benmarl Winery property exists today.8
Caywood earned his living by breeding grapes, raspberries, blackberries, and red currants, and selling plant material.9 For grapes, he sought the hardy constitution of native-American V. labrusca varieties, with the increased size and superior flavors of existing cultivated varieties such as Delaware and White Concord. His hybrids included Dutchess (White Concord x Delaware & Walter), Poughkeepsie (Iona x Delaware & Walter), Ulster (Catawba x Aestivalis), Walter (Delaware x Diana), White Concord (Concord x Montgomery), and minor varieties Nectar, Florence, Hudson, White Ulster, and others.10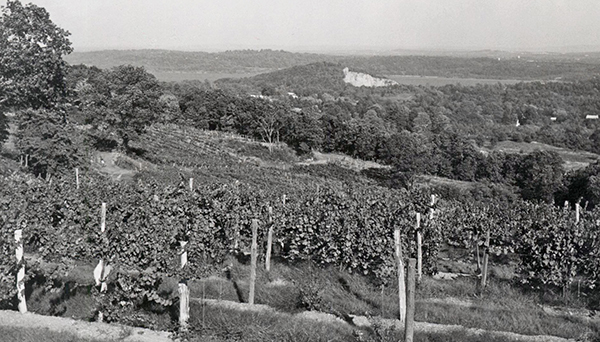 Caywood died at his home in January 1889. The Grapes of New York reported that Caywood's final days were clouded by financial troubles and failing health, and that he had "became dissatisfied, somewhat quarrelsome and indifferent about his affairs, to which poor health probably contributed". However, other very credible sources maintain that Caywood in his final days, while recognizing his old age, still truly enjoyed what he did and was looking forward to his future fruit breeding work and not to the past.11 Walter, his only son who had an interest in the business, died two and a half months after Caywood's death at the age of 27, in March 1889. The following day, Walter's wife gave birth to their son. Walter's mother then died eighteen months later.
The Caywood nursery business may not have been very profitable, perhaps due to the high debt load needed to finance the purchase of the large Marlborough property and the troubled economic times of that era. The triple blow of the deaths of Caywood, his son, and his wife dying within twenty months of each other sealed the nursery's fate and that of Caywood's next generation of more than 100 new seeding varieties of grapes, currants, raspberries, and blackberry hybrids.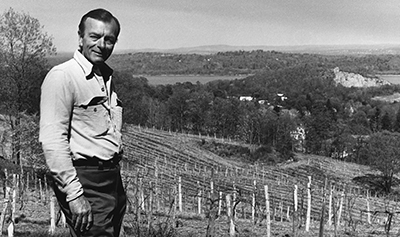 When the Miller family purchased the "old Wardell" farm in 1957, the "Upper Farm" as it was called, had been in decline for many years with many of its vineyards either abandoned or in need of substantial repair and modernization. On this farm there was a medium-sized home located just east of Route 9-W that Anna Caywood Wardell's son William had lived in with his family when they were young. The children, it seemed, had all grown up and moved out. This antiquated home had no indoor water supply to speak of, an old coal furnace, a cracked coal-burning kitchen stove that was used to heat the house, and limited electricity.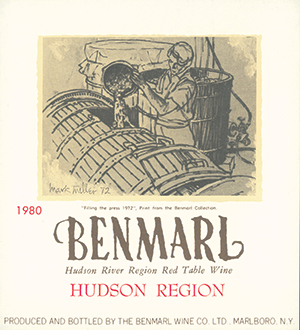 In addition, there was the small gate cottage where Milton Barnes lived. He was described by Mark Miller as an "old black hired man" who had retired from the railroad years before, and who had a limp, but was a very capable fruit grower. Much of the vineyard work fell to Milton Barnes who was of great help both in expertise, experience, and moral support to Mark Miller. By 1957, what was left of the Upper Farm was a collection of several acre plots of vineyards planted primarily in Delaware, Caywood-based Delaware hybrids, and some other local Hudson Valley heirloom varieties such as Bacchus, Worden, and a few Dutchess vines.12
Caywood's In-Laws – The Underhill Family
Three generations of the Underhill family of Croton Point were, from 1804 to 1871, one of the Valley's leading families in fruit culture. The Underhills were grape growers, nurserymen, fruit hybridizers, and winemakers for over sixty years. They demonstrated that growing grapes and making wine from them was a profitable endeavor to be replicated by local growers.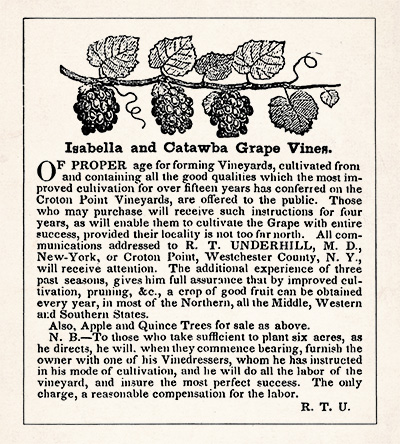 In 1827, Robert Underhill (1761-1829) and his two sons, Dr. Richard T. Underhill (1802-71) and William A. Underhill (1804-73), planted a vineyard of Catawba and Isabella grapes at Croton Point. This vineyard eventually grew to 75 acres and supplied New York City with grapes for the next sixty years and continued to do so well after 1873.13
One lasting impact that William Underhill had on the Valley's grape industry is that his wife, Abby Underhill, was a sister-in-law of William T. Cornell's wife, who subsequently established a vineyard of Isabella grapes in 1845 near Clintondale, Ulster County. Further, Mr. Cornell's sister, Deborah Cornell, became the wife of A. J. Caywood.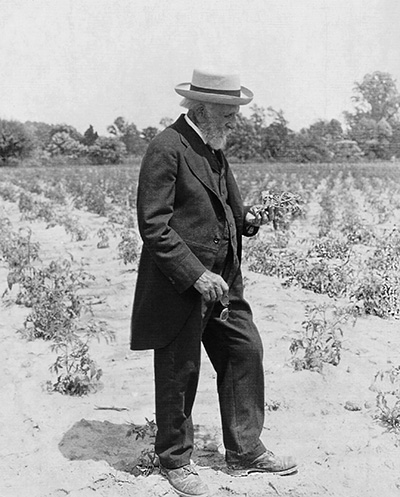 Dr. Underhill, along with his nephew, Stephen W. Underhill (1837-1925), developed the grape varieties Croton, Black Eagle, Black Defiance, and Senasqua. After Dr. Underhill's death, the farm slowly converted to public recreational uses.14
Other Mid-Hudson Valley Fruit Growers and Breeders
The yeoman farmer was the backbone of the Valley's fruit growing industry. They were sounding boards for fruit breeders and test growers of locally developed fruits. Further, they published their own findings and reported on the work of other nationally recognized fruit breeders. These families included the Barnes family of Middle Hope in Orange County, who farmed 300 acres of prime fruit land along what is now Route 9-W between the Overlook Farm Market and Cedar Hill Cemetery, including the author's former farm. The Barnes family included Nathaniel Barnes (1782-1879) and his three sons William D. (1828-1904), Nathaniel, Jr., and Daniel D. Barnes. The Clark family included Edson H. Clark (1813-85), and his son Leander Clark, Jr. (1837-1906). While they made their fortune in the iron works business and founded Clark & Kimball, a Newburgh manufacturing firm located at 125 Washington Street, both father and son worked with local horticulturalists, such as Charles Downing and Dr. Grant.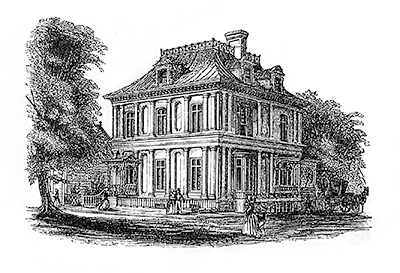 In addition, there was Dr. William A. M. Culbert (1822-90), who was, by profession, a widely respected homeopathic physician. However, his passion was to breed grapes at his vineyard in Balmville. His residence and practice was located at 120 Grand Street, which ultimately became the Newburgh City Club. The building still stands today, but it is a burned-out brick building that stands in front of the Newburgh Library.15 However, there are plans to establish a new ornamental garden inside that old structure. Other prosperous local business and community leaders of national stature who possessed farms in the valley and hired experienced local fruit growers and gardeners included J. G. Burrows, Dr. Charles W. Grant, Philip Van Rensselaer, James Alexander Hamilton, Dr. David Hosack, Daniel Crommelin Verplank, the Knevels family, Edward Armstrong of Danskammer, Robert Livingston Pell, Henry Winthrop Sargent, Jesse Buel, and Robert Baynard, just to name a few.16
The Future of Heirlooms
There is increased interest in cultivating heirloom grapes because they can be grown in a more ecologically sustainable manner and provide a diverse set of quality fruit flavors for our dining room tables.17 The past work of the Valley's grape breeders, such as A. J. Caywood, is relevant today because economic and ecological forces are increasing interest in the cultivation of these heirloom fruits. Consequently, we should become reacquainted with the Valley's heirloom grape varieties, such as the Caywood hybrids, Dutchess, Walter, and Ulster, and the hybrids of his contemporaries in the Newburgh-area such as James Ricketts who developed Jefferson, Empire State, and Bacchus; Dr. Charles W. Grant (1810-1881) of Iona Island who developed Iona, Marion, and Eumelan; and Caywood's in-laws, the Underhill Family who developed Croton, Black Eagle, and others.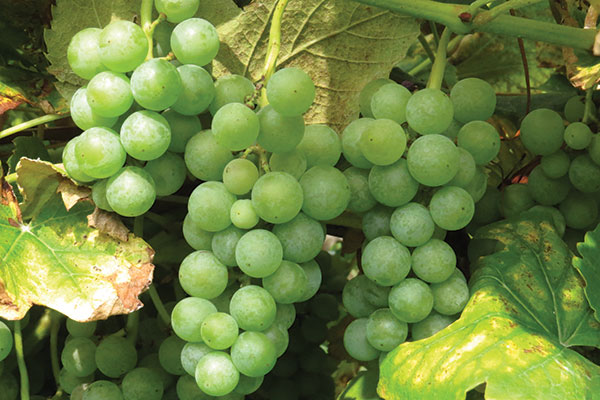 ---
NOTES
This article, presented at Benmarl Vineyards on Saturday, July 6, 2019, by J. Stephen Casscles, Esq., is adapted primarily from Grapes of the Hudson Valley and Other Cool Climate Regions of the United States and Canada, Chapter 1, A Short History of Viticulture in the Hudson Valley, 1-18, and Chapter 8, The Hudson Valley Hybridizers, 83-25, by J. Stephen Casscles, Flint Mine Press, Coxsackie, NY (2015).
J. Stephen Casscles, Grapes of the Hudson Valley, 10-11; Mark Miller, Wine – A Gentleman's Game: The Adventures of an Amateur Winemaker Turned Professional (New York: Harper & Row, 1984), 23-24, 48; U.P. Hedrick, The Grapes of New York, Report of the New York Agricultural Experiment Station for the Year 1907. Department of Agricultural, State of New York. Fifteenth Annual Report, Vol.3 – Part II. (Albany, N.Y.: J. B. Lyon Company, 1908) 88-89; Conversations with Eric Miller in 2011, and with Joseph L. Casscles throughout his life.
Leon D. Adams, The Wines of America, 4th ed., (New York: McGraw-Hill, 1990), 130-139; Myra B. Young Armstead, Freedom's Gardener: James F. Brown, Horticulture, and the Hudson Valley in Antebellum America, (New York: New York University Press, 2012), 45-53; U. P. Hedrick, The Grapes of New York, 90.
Armstead, Freedom's Gardener, 41-83; see generally Edward Payson Roe, Success with Small Fruits, (New York: Dodd, Mead and Company, 1880); Emily Pawley, "Cataloging Nature: Standardizing Fruit Varieties in the United States, 1800-1860.", Business History Review 90, no. 3 (2016): 405-429; Casscles, Grapes of the Hudson Valley, 1-18, 83-125.
Casscles, Grapes of the Hudson Valley, 86-88; Hedrick, The Grapes of New York, 247.
Articles of Agreement between A.J. Caywood and Jesse Lyons, dated 1877 or 1878; Section 16, Map of Portion of Orange & Ulster County by Watson & Co., 1891.
Section 16, Map of Portion of Orange & Ulster County by Watson & Co., 1891; Note: the Casscles family (the author's family) had its fruit farm right across the street from what is now the entrance to Benmarl Vineyards on the corner of Highland Avenue and South Street from the late 1870s until the early 1950s.
Casscles, Grapes of the Hudson Valley, 86-88; Mark Miller, Wine – A Gentleman's Game, 30-88.
See the obituaries of A. J. Caywood, Vick's Monthly Magazine, February, 1889 (Rochester, N.Y.: James Vick Seedsman); L. H. Bailey, Annals of Horticulture in North America for the Year 1889: A Witness of Passing Events and a Record of Progress (New York: Rural Publishing Company 1890); Newburgh Daily Journal, January 15, 1889, 3.
Casscles, Grapes of the Hudson Valley, 86-93; Hedrick, Manual of American Grape-Growing, 362, 427, 443.
Casscles, Grapes of the Hudson Valley, 87-88.
Mark Miller, Wine – A Gentleman's Game, 22-88; Conversations with Mark Miller, Eric Miller, and my grandfather, Joseph L. Casscles over the years about Benmarl Vineyards and the Wardell Family.
Casscles, Grapes of the Hudson Valley, 110-112.
Casscles, Grapes of the Hudson Valley, 110-115; Hedrick, Manual of American Grape-Growing, 338, 355, 437; Adams, Wines of America, 131.
Casscles, Grapes of the Hudson Valley, 116-122.
See generally Myra B. Young Armstead, Freedom's Gardener: James F. Brown, Horticulture, and the Hudson Valley in Antebellum America.
Fruit Notes, (Amherst, MA: Stockbridge School of Agriculture, University of Massachusetts, 2018), Vol. 83, No. 4, Fall, 2018, 15-18, 19-21, 23-26, by J. Stephen Casscles, Selected White Heirloom Grape Varieties for the Northeast, Blue and Black Heirloom Grape Varieties for the Northeast; and Pink and Light Red Heirloom Grape Varieties for the Northeast.
Images taken from Grapes of the Hudson Valley; additional images from Flint Mine Press archives.