WAKE UP!
That's what we're thinking, as we look at the remnants of snow outside our windows. We've been doubting Punxsutawney Phil's early spring declaration all along, but we take comfort knowing that soon enough, we'll see tell-tale signs of a new season that will bring fresh crops to craft beverage makers throughout the Hudson Valley.
This year, there will be even more producers to visit and new products to taste. Look for the updated edition of our Hudson Valley Wine + Craft Beverage Map due out this spring with more than 40 new tasting rooms listed! Read on about a few we're really looking forward to visiting.
Even here at HVWM HQ, things are coming to life…specifically, our new website, launching soon. We'll announce it on Facebook and Twitter, so follow us there. And look out for the summer print edition of Hudson Valley Wine Magazine, due out late May.
Two New Places to Catch a View and a Sip This Spring!
Speaking of awakenings, add these to your weekend bucket list.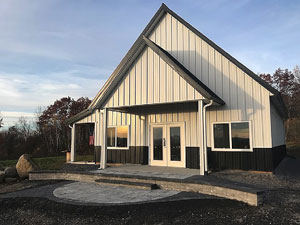 Helderberg Meadworks has a new tasting room in Esperance open on Fridays from 5–9pm and weekends from 12–5pm, where you can sample multiple varieties of craft mead, hard cider, and switchel made on premises from locally-produced honey and apples.
Shady Knoll Orchards & Distillery will have its grand opening on May 4th! Situated on a country farm in Millbrook that dates back to the late 1700s, this small family-owned and operated craft distillery is initially producing apple brandy and rye whisky.
May 11, 11:30am–5:00pm | 1 Main Street, Catskill Point, Catskill
This has been a highly anticipated event in Catskill for the past 13 years, and Hudson Valley Wine Magazine has sponsored it for most of them! It's an idyllic spring day of sipping wine and craft beverages, sampling cheese, baked goods and treats, and enjoying live music on the banks of the Hudson River.
Participants are still signing on, but so far include: Awestruck Cider, Brookview Station Winery, Chatham Brewing, KAS Spirits, Pazdar Winery, Taconic Distillery, and Whitecliff Vineyard. Check the Facebook page for updates.
Tickets are $25.00, and available online. The rain or shine festival is hosted by The Fortnightly Club of Catskill, and proceeds benefit the local community.
Shawangunk Wine Trail's Wines & Bites

May 18–19 | 10:00am–5:00pm | Shawangunk Wine Trail wineries
Get those taste buds ready for a day of snacking and sipping along the Shawangunk Wine Trail! Each of the fifteen member wineries has selected a scrumptious tasting of cheese, meat, salad, pasta, or dessert paired with their wine tastings.
You'll receive a souvenir wine glass at the starting winery of your choice. Then continue on a self-guided Trail tour at your own pace over the course of two days, or just Sunday. Online maps provide directions with various starting points, depending on which winery you visit first.
Tickets are $29.73 per person for Sunday only, or $46.55 per person for both days. A designated driver ticket is available for $18.54. Buy them here.