Summer is here and the open road beckons. For lovers of great drinks, delicious food and thought-provoking culture and history, there is no better place to set the GPS for than the Hudson Valley. Whether you live in the Hudson Valley or are just here for a visit, sipping and tasting your way through an exploration of America's historical and cultural roots has never been more rewarding.

The region, however, is vast, spanning 7,228 square miles, 11 counties, 13 cities and 43 towns. Each mini-region has its own personality and culture. Even the temperature between the southern Hudson Valley and the northern tip of the Valley can vary significantly. Spring buds pop up weeks earlier in Westchester than they do in Albany, and the ground freezes first (and for longer) up north. For farmers, of course, the temporal difference requires a completely different growing strategy, from time of planting and harvesting to the varietals and crops that ideally flourish in each area's patch of soil and sun. For visitors, these differences trickle down to the glass, with beer culture thriving in the north, and wine culture deeply rooted further south.

Below, a portrait of two areas for visitors who can't wait to sip their way through 400 years of American history.
---
DESTINATION: Upper Hudson Valley
---
The Upper Hudson Valley, a.k.a. Capital District has a population of about 1.1 million people and features four major cities: Albany, Troy, Schenectady and Saratoga. The best place to truly get a taste of the Upper Hudson Valley's craftastic offerings is Albany, the seat of the state's government, and in many ways the nucleus of not just political power, but economic and cultural power, as well.

Albany is America's oldest city and the birthplace of the American brewery. "The region was settled by the Dutch four hundred years ago, and the production of beer and spirits has been deeply embedded in the way of life and our history for hundreds of years," Molly Belmont, Director of Marketing at Albany County Convention & Visitors Bureau, explains. The evidence is everywhere.

Thirsty explorers should begin their journey on Broadway in the historic Warehouse District.
SIP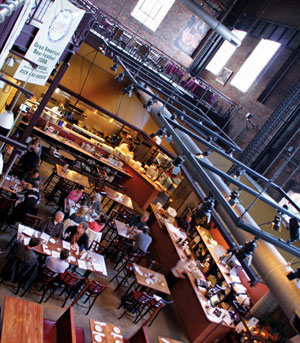 First stop is C.H. Evans Brewing Company at the Albany Pump Station, which is right off the highway and has a capacious parking lot (19 Quackenbush Square, Albany). Founded in 1786, C.H. Evans is now located in an industrial-chic 19th-century pumping station on the National Register of Historic Places. It serves as a production facility for its award-winning beers and ales and brewpub, so explorers can watch the World Cup Beer-winning Munich Dunkel being made while they drink it, with a hearty Pump Station Burger (with Kick-Ass Brown Ale BBQ sauce, bacon, chipotle ranch dressing and various shredded cheese) with which to gird themselves for future perambulations.

A brief stroll next door finds the first licensed distillery in Albany since Prohibition, the Albany Distilling Company (78 Montgomery Street, Albany). Tours of the facility (with samples!) are available on Saturdays. The distillery, which features Ironweed whiskey, Quackenbush Still House rum, ALB vodka and Death Wish coffee vodka, has launched a $1 million+ expansion to a new facility in a former Nabisco factory in the same neighborhood. For now though, the production facility and tasting room are under the same roof, where visitors can get a behind-the- scenes peek at the process of turning grains into spirits.

After a few nips of rum and whiskey, Nine Pin Cider Works (929 Broadway, Albany) beckons. It's walkable, though the route is decidedly industrial. The cidery is run by young locavores who clearly believe in playing as hard as they work. On the first Saturday of the month, from 1:30 to 2:30 p.m., visitors can tour the production floor and learn about their commitment to using New York farm products in their beverages. The real draw, though, is their imaginative (and wildly popular) tasting room events. Open Tuesday to Sunday, the tasting room offers 18 taps, small bites from local cheesemakers, pop-up food nights (like Ravenous Crepe Night, Ciders & Sliders), craft nights, game nights and food truck events. (Troy's beloved Slidin' Dirty food truck often appears.)

Druthers Brewing Company (1053 Broadway, Albany) is a production facility-brewpub run by shameless foodie-beer geeks. While C.H. Evans has more of a steampunk, Victorian vibe, Druthers' Albany facility (its first branch opened in Saratoga Springs in 2009) opened in 2015 in a brilliantly shiny, 18,000-square-foot warehouse with a post-modern Scandinavian feel. The beer, which has won several medals at the Great American Beer Festival and the World Beer Cup, goes hand-inhand with its imaginative fare (snacks like beer cheese dip and pork belly tacos, entrees like crispy trout pozole).
TASTE
Thirsty travelers need plenty of fuel to keep going and luckily, no one will ever go hungry in Albany. Curd nerds rejoice: The Cheese Traveler (540 Delaware Avenue, Albany) will take your Cabot Clothbound Cheddar and raise you a Bulgarian Feta, with an amazing staff, vigorously curated selection of local and international cheeses, a vast array of alcoholic beverages and on-the-go meals like grilled cheese that can also be eaten at a table in-store. A sweet tooth can be indulged right next door at Bake For You, a homey small-batch confectionary with indulgent delights like iced oatmeal cookies, Earl Grey French macarons, and chocolate cupcakes with Oreo buttercream.

New World Bistro Bar, which is just down the street (300 Delaware Avenue, Albany), is an 80-seat gastropub run by the passionately locavore, globally-inspired, award-winning Chef Ric Orlando (think a big Tunisian tagine, or a Mumbai fish fry). His imagination spans the globe, but he sources his ingredients as locally as possible, making him a favorite of foodies, globe trekkers and farmers.

Missing the wine so prevalent elsewhere in the Hudson Valley, or just in the mood for white-glove service? Fine dining destination Yono's (25 Chapel Street, Albany) features Chef Yono Purnomo's unique blend of contemporary American cuisine with Indonesian influences coupled with a list of New York and international wines that has been touted by the James Beard Foundation and Wine Spectator.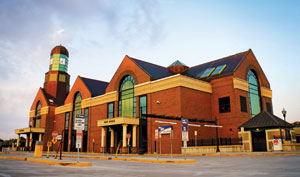 GETTING HERE
There are several ways to tackle transportation in the Capital District. Albany International Airport has 54 nonstop daily flights. There's an Amtrak station – the ninth busiest in the country – five minutes from downtown. Albany's off of several Interstates connecting travelers from New York City, all major points in the Northeast, the Canadian highway system and the Southern tier of New York and Pennsylvania. It's a port city too, 124 nautical miles north of New York City via the mighty Hudson River and accessible from Buffalo and Oswego through the New York State canal system. There are conventional taxis available and an Enterprise Rent-a-Car office at the train station (train and car rental packages are available). Uber and Lyft are en route, but haven't made it here yet. Don't want to drive or depend on cabs? A few years ago, a craft beverage tour company called Hoppy Trails Brew Bus was launched. Private and group tours are available for those who don't feel like drinking quite responsibly enough to drive.
SEE
There's more to Albany than drinking and eating, of course. The Albany Center Gallery (488 Broadway, Albany), is in the newly renovated Arcade Building and features all local artists. There are also daily (free!) tours of the Capitol Building. Sitting atop State Street Hill, it has served as New York's seat of government since the 1880s. The building is a well-preserved example of 19th-century grandeur, built by hand over a period of 32 years. On the immersive tours, visitors can absorb the entire history of Albany seen through the lens of one building. Dozens of intricate carvings, murals and a wonderful collection of fine art are found throughout. The New York State Museum (222 Madison Avenue, Albany) explores the natural and cultural history of New York with thoughtful permanent exhibits and temporary exhibits. Currently on view is The People's Art: Selections from the Empire State Plaza Art Collection, featuring work of modern masters like Mark Rothko and Jackson Pollock.
STAY
Need somewhere to hang your hat for the night? Morgan State House Inn (393 State Street, Albany) is a multi-level brownstone with peaked gables and intricate interior details that evoke the original owner's love of the Japonaise aesthetic prevalent in the late-19th century. The rooms are stately and visitors will enjoy the English border garden surrounding the communal terrace, and the extensive continental breakfast.
Every city and town in the Hudson Valley region holds its own charm, but uniting them all is an unquenchable passion for locally grown, handmade drinks, food and goods . . . and the hometown pride and joie de vivre that accompanies it.

Beyond Albany
Albany is hardly the only destination worth exploring in the Upper Hudson Valley. Troy, for example, long an afterthought in the Capital District, has enjoyed a booming renaissance in recent years, fueled by a young, urbane creative class keen to make their mark in the food, drink, and art space.
SIP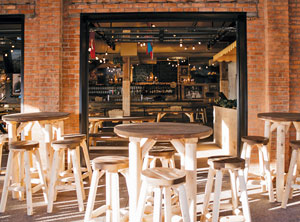 Start off with a bang in Troy at Wolff's Biergarten, an authentic German biergärten with locations in Albany, Schenectady, Syracuse and Troy (2 King Street, Troy). Wolff's specializes in classic European beers served with sausage, schnitzel, peanuts and soccer (more than one million peanuts have been served!). And yes, it's as rowdy and fun as it sounds. The Beer Diviner is an old-fashioned farm brewery that uses as many New York grown ingredients as possible. The English professor-turned-brewer Dr. Jonathan Post learned his trade in a small village in West Africa. Dig the Ancient Gruit Ale, made from an ancient recipe of Wormwood, locally gathered wild Yarrow, Grains of Paradise and local honey. The herbs are allegedly pyschotropic.

TASTE
Peck's Arcade (217 Broadway, Troy) is run by hot-hot-hot culinary entrepreneurs Vic Christopher and Heather LaVine who helped launch a culinary revolution in Troy. They own several other equally hot-hot-hot spots, but Peck's is the perennial favorite for its exceptional, perfectly executed farm-to-table cuisine, with a heaving bar of New York wines, beers and spirits to accompany it. Sunhees Farm and Kitchen (95-97 Ferry Street, Troy) is a Korean-American culinary treasure run by two intrepid women, Sun Hwa and Chun Hee, and is staffed solely by immigrants and refugees as part of its mission. The best bibimbap bowls, kimbap rolls and bulgogi north of Queens.
SEE
The heart of Troy beats in the Troy's Farmers Market, open Saturdays 9:00 a.m. to 2:00 p.m. on the Waterfront. Visitors will find one-stop shopping not just for produce, meat, and dairy, but also local libations. Brewers and winemakers sample their wares weekly. The Rensselaer County Historical Society conducts history walks on Saturdays at 10:30 a.m., and while each one has a different theme, they all provide a deeply committed portrait of one aspect of this fascinating industrial city. Taste of Troy Food Tours are also worth a spin, with five pre-set tastes at indie restaurants and a walk that explores the history of the city and how small-scale food operations are bringing Troy back to life. (More on their Facebook page). Antique stores in Troy are definitely worth a look, especially if well-preserved Victorian-era and mid-century furniture is of interest. The 11,000-square-foot Antiques Warehouse (78 4th Street, Troy) and the Trojan Horse (2 Third Street, Troy) have the best selection.

Other Sips of Note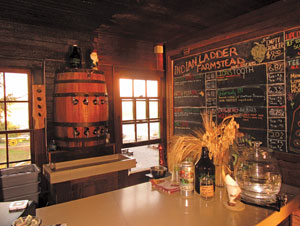 Indian Ladder Farmstead Cidery and Brewery (342 Altamont Road, Altamont) is a farm-to-glass cidery and brewery on a century-old family farm with views of the Helderberg Escarpment. Cider and beer are made using ingredients grown on-site and from other local farms. The farm is worth a visit on its own, for its pick-your-own fruit, market and café, and its educational programs that bring kids (of all ages) in contact with ducks, chickens, turkeys, rabbits, sheep, goats, pigs, and cows.
S&S Farm Brewery (174 Middle Road, Nassau) is parked on a small farm that has been owned and operated by the Sanford family since the 1800s. The farm incorporates as many of its own field-grown ingredients as possible, with harvest from neighbors' fields thrown in for good measure. A successful Kickstarter campaign helped S&S convert their dairy barn into a lovely taproom, which opened its doors last year.

---
DESTINATION: Mid-Hudson Valley
---
While locals and visitors are relishing the renaissance of beer in the northern region, wine is still the Hudson Valley's signature beverage, as it has been since Colonists first set foot on the shores of the Hudson River. Visiting any of the wineries on the region's designated wine trails is a good way to tap into the roots of New York's terroir, history, and culture.

Farmers have been experimenting with cold-weather viticulture in the Hudson Valley for centuries, but one grape that shows exciting promise is Cabernet Franc, the region's newly designated signature grape. A delicious way to explore the region's wineries and compare wine making on both sides of the Hudson – mountain vineyards vs. valley vineyards – is to seek out producers on the "Hudson Valley Cabernet Franc Trail". Cabernet Franc is commonly found in Bordeaux blends, but local Cabernet Franc wines have been piquing the palates of more than one self-proclaimed wine geek wanting to learn more about what makes this the region's signature grape.

Adventurous visitors can experience a range of flavors on an itinerary that explores six of the top growers and producers of estate-grown Cabernet Franc wine, with plenty of pauses for palate cleansing and an overnight stay in-between. Tasting begins in the mid-Hudson Valley on the east side of the River.

---
DAY ONE
SIP
A 20-minute drive through the countryside leads to the Hudson Valley's flagship winery, Millbrook Vineyards and Winery (26 Wing Road, Millbrook), where acres of Cabernet Franc vines are pristinely trellised in front of the winery's Dutch-style barn. Both Cabernet Francs here are excellent examples of winemaker John Graziano's dedication to his craft (at Millbrook for more than 30 years) and the region's signature grape, although both are distinctly different. The Proprietor's Special Reserve features red and black fruit with hints of black currant that dances on your palate, while the Block Three East is mature with black fruit, plum and more defined tannins. A palate-pleasing lunch at the winery's Vineyard Grille affords sweeping views of the vineyard.

Venturing over the river to Whitecliff Vineyard (331 McKinstry Road, Gardiner) is about an hour's drive along a scenic route. At Whitecliff, Michael Migliore and winemaker Brad Martz craft outstanding Cabernet Franc wines that offer bright red cherry and blackberry notes with strong tannins. Buy a bottle and settle in on the deck to enjoy the serene views of the Shawangunk Ridge and the towering white cliffs that inspired the winery's name.

The last Cabernet Franc stop of the day is just 10 minutes away at Robibero Winery (714 Albany Post Road, New Paltz). Their 2015 Cabernet Franc, a blend of 92% Cabernet Franc with 8% Petit Verdot, won a Double Gold Medal and was awarded Best Red Wine at the 2016 Hudson Valley Wine & Spirits Competition. Production of this sell-out wine is limited with just 223 cases produced. Linger on it for a while around their cozy outdoor fire pit.
STAY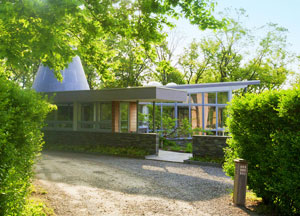 There's no better place to relax after a long day of wine tasting than at Buttermilk Falls Inn (220 North Road, Milton), a 25-minute drive from Robibero. The historic bed and breakfast sits on 75 acres with stunning views and a working farm. The inn has ten lovely rooms with eight additional guest houses and cottages, situated on grounds just begging to be strolled. Plan ahead and make an appointment for a rejuvenating spa treatment or soothing massage at Buttermilk Spa, then cozy up for a dinner on-site at Henry's at the Farm, where the ingredients are fresh from the farm or sourced from local purveyors.

---
DAY TWO
TASTE
Fuel up before heading out to the wineries in nearby Marlboro at Frida's Bakery (26 Main Street, Milton) a favorite spot for a savory breakfast and scratch-baked goods. (The bakery samples by the cashier are not be passed up!) Pick up a picnic lunch there to enjoy at one of the vineyards later in the day.
SIP
First sip of the day is at Glorie Farm Winery (40 Mountain Road, Marlboro) which has one of the best sites for growing Cabernet Franc in the Valley. The terroir shines through in Glorie's complex Cabernet Franc wines, with mouthwatering aromas of raspberry and cherry, and earthy notes that combine with black tea and a dose of minerality in the glass. The fresh red fruit flavor finishes with bursts of black pepper. Perched at a high elevation, the tasting room has expansive views of the valley from which to savor each sip.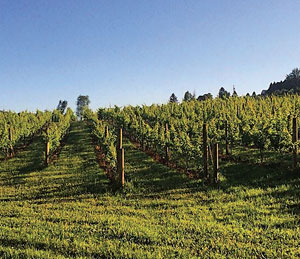 Three miles down the road is Nostrano Vineyards (14 Gala Lane, Milton), a fairly new winery that is making great Cabernet Franc wine from the grapes that can be viewed from their tasting room. Along with magnificent vistas of the Hudson Valley, there are tables for picnicking that overlook the vineyard and apple orchards below. Relax and sip it all in.

By the time of this printing, the tasting room at Fjord Vineyards may be open and a great destination to end the day. (Check website for address and hours.) Fjord's mission is to make small lot wines that reflect the terroir. Known for his award-winning winemaking at Benmarl Winery, Matt Spaccarelli produces Fjord's Cabernet Franc from grapes grown on the property using wild fermentation, aging it for 14 months in two-year-old French oak barrels. Well-worth waiting for.

SUP
Dinner on your way out of town is "local-eclectic" at Perch (1 King Street, Marlboro). Their wine list is tops, with a good selection from the neighboring wineries. In the mood for a good burger? Just cross the street for a rough-and-ready experience at the Raccoon Saloon, where juicy burgers are served up with homemade ketchup. Request a table by the window overlooking the ravine to reflect on the day and start planning your next road trip.

Wherever your GPS takes you in the Hudson Valley, something delicious and edifying awaits. What are you waiting for?