Hit the road for fall adventure! Autumn in the Hudson Valley is a whimsical time, when colorful crops are plush and plentiful, flavors are at their freshest, and the culinary and beverage scenes are just as vibrant as the falling leaves. It's the perfect destination for a road trip—the proximity from the city and the feeling one gets leaving it behind for a weekend makes mapping a course for the region a no-brainer. For locals, as well as escapees of New York City life, there is something magical about the rolling hills that, once verdant, have turned magenta, yellow, orange, and red. For craft enthusiasts, it's a time to experience all that goes into the glass, from twig to swig and vine to wine.

Part Two of Hudson Valley Wine Magazine's Road Trip series is a guide to experiencing the Hudson Valley and the sublime beauty that is at its peak this season.
---
Fall in the Hudson Valley is meandering down the road to the goat farm for artisanal cheese; it's finding fresh-plucked mushrooms at the local farmer's market; it's eagerly awaiting rhubarb season because folks like Grandma Phoebe at Jones Farm make amazing baked goods with it; it's about local businesses and farms working together to make the Hudson Valley an authentic farm-to-table community.

There is justification for blogs like Escape Brooklyn and Instagram accounts called Beacon Transplant. For busy New Yorkers and suburbanites, visiting the Hudson Valley is a quick remedy to shake off the hustle and bustle of their regular day to day. In fact, "Many of the Hudson Valley's 40 to 50 million annual visitors come in September and October because of the foliage," explains Susan Hawvermale, Director of Orange County Tourism. And for good reason. Gone is the feeling of congestion and claustrophobia—it's a place to unwind and take in the surrounding beauty.

Where to begin? Here is a quick tour of the Lower to Mid-Hudson Valley, where one can prime their palates at award-winning wineries, sip cider straight from the source, sample seasonal fare and frolic in the landscapes just beyond the city limits.
The Lower Hudson Valley is just a short distance from New York City but still evokes a relaxed, immersed-in-nature lifestyle. While the three major counties in the area – Westchester, Putnam, and Rockland – differ vastly from one another, each has its own vibe. Easy access to bridges and major roadways (Interstates 287 and 684, and the Taconic Parkway, to name a few) makes it convenient for a day trip or an extended stay. So it's no wonder visits are on the uptick and folks are putting down roots at a swift rate. According to the Journal News, Westchester added 19,689 to its population since the 2010 census, with Rockland County increasing their number by more than nine thousand. Craft beverage adventure starts less than an hour from Midtown Manhattan.
---
DESTINATION: Southern Westchester & Rockland
---
SIP
Start at Captain Lawrence Brewing Company (444 Saw Mill River Road, Elmsford), where top-notch beers are widely popular. The facility and taproom are well-worth the search—they are completely hidden behind a truck rental company. There's a large beer hall, an outdoor patio, and corn hole and bocce on the lawn. A perfectly-orchestrated menu, with offerings such as cast iron cornbread and New York duck confit fries, meshes with the beers on tap. In addition to scheduled game nights, beer geeks should mark their calendars for visiting brewmasters, like Rudi Ghequire of Belgium, who they'll be hosting in October.

SEE
Just a 12-minute drive from the brewery is Kensico Dam Plaza (1 Bronx River Parkway, Valhalla). While the walking and bike trails surrounding the Great Lawn is enough of a draw, walking over the dam for an aerial view of Westchester will take your breath away. The park hosts events throughout the year including an array of cultural festivals, and can even be visited after dark thanks to permanent lighting installed in 2014.

TASTE
Ready for a pick-me-up? Try Coffee Labs Roasters (7 Main Street, Tarrytown), a small, independent roastery only a few minutes walk from historic Sleepy Hollow and the Tarrytown waterfront—a panoramic spot to take in the foliage. The coffee shop is committed to sustainable practices and features many single origin roasts, plus they make adorable pictures in the froth of each latté!

SUP
Stay on the east side of the river for a fancy meal on the water at Harvest on Hudson (1 River Street, Hastings-On-Hudson), only a 15-minute drive from Tarrytown. It's an impressive setting with patio dining, an outside bar and lounge. Chef David Amorelli delights with authentic Italian cuisine using organic vegetables and herbs from their garden and local farms. Seasonal specialties aimed at the culinarily adventuresome range from mushroom risotto to quail with roasted Brussels sprouts and Rabbit Scarpariello with fennel sausage.

Across the Tappan Zee Bridge in Rockland County, indulge in comfort food in a casual setting. "Where friends go to meat" is the motto at Southbound BBQ (811 Chestnut Ridge Road, Chestnut Ridge) where a long, inviting bar and communal tables encourage interaction and mingling. The food is a mix of Southern classics, and the bar boasts an extensive whiskey list that serves up classic American cocktails and local spirits such as Black Dirt Bourbon and Wicked White Whiskey.

STAY
Why book a regular hotel, when you can stay in a medieval-style castle overlooking the Hudson River and its glorious rolling hills? Add an award-winning restaurant (Equus) and a holistic spa (Thann), and it's pretty much paradise. Castle Hotel & Spa (400 Benedict Avenue, Tarrytown) might be the most majestic place to spend the night and wake up primed for leaf peeping in the morning.
Gone is the feeling of congestion and claustrophobia—the Hudson Valley is a place to unwind and take in the surrounding beauty.
GETTING AROUND
Metro-North is an easy mode of transportation both in and out of the City. Trains run along the Hudson and stop at most river towns. Grab a seat on the "water side" for a stunning ride with mountainous vistas and glimpses of regional history, like the remnants of Bannerman's Castle near the Beacon stop. It's a simulated Scottish castle once owned by Francis Bannerman, an eccentric military surplus dealer who built it to store his arsenal.

Not having to worry about a designated driver is key when visiting the region's tasting rooms. Leros Limo offers door-to-door car service in the Tri-State area for private excursions or large groups (up to 55 people!). All-day Wine Tours hit some of the region's most popular wineries, and cars are stocked with light snacks and bottled water, making it a safe and enjoyable journey.

Another option is The Little Wine Bus. They pick up at specified locations in New York City and host guided wine and beer tours throughout the Hudson Valley. Snacks and lunch are provided and usually include local fare. Ask about their karaoke bus!
---
DESTINATION: Northern Westchester & Putnam
---
As the roads open up, the foliage becomes more expansive and everyday worries slip further away. This area is known for its bucolic landscapes and bountiful farmland, with craft beverage and culinary destinations on the rise.

SIP
McDonald & Peacock Cider House (38 N. Division Street, Peekskill) is the first restaurant with a cider focus in the Hudson Valley. In addition to authentic British pub plates and Indian street food, they have a traditional English roast on Sundays and Mondays. Ciders from all over the world are featured, with an emphasis on those from the U.K. that pair well with dishes like "Bubble and Squeak". Local hard ciders on tap and bottle include faves Awestruck, Pitchfork, and Orchard Hill, to name a few.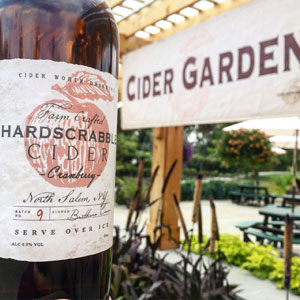 Harvest Moon Farm & Orchard and Hardscrabble Cider (130 Hardscrabble Road, North Salem) go hand in hand—the cidery operates on Harvest Moon Orchard, and the tasting room is attached to the Harvest Moon Farm Store (where grass-fed beef, farm-fresh eggs and produce are plentiful). This multi-dimensional enterprise right off I-684 is owned by three brothers with family roots deeply entrenched in the business. Farm-to-glass is the mode at Hardscrabble, where herbs and other ingredients from the farm (or ones nearby) make it into fresh-pressed orchard ciders, like "Black Dirt Beet" and "Lemon Ginger". Linger on Friday and Saturday evenings for tastings of New York craft beer and wine, and wood-fired pizza on the patio.

TASTE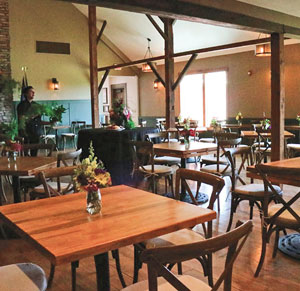 A ten-minute drive from Hardscrabble Cider is Tilly's Table, (100 NY-312, Brewster), the recently opened culinary destination in public-private partnership with Putnam County. The County purchased and revitalized the 199-acre Tilly Foster farm in 2002, then opened an Educational Institute and restaurant (September 2017). Showcasing ingredients grown in the Hudson Valley, the collaborative kitchen features talented local chefs and offers an authentic immersion into the area's food scene.

SEE
Make time to stop at West Point Foundry Preserve (80 Kemble Avenue, Cold Spring), an early ironworks that now serves as a wildlife sanctuary with beautiful walking trails along Constitution Marsh. This 87-acre forest is a must-see!
---
SIDETRIP: Cold Spring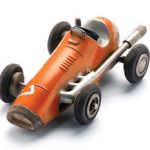 Directly across from West Point (a destination all on its own) sits the quaint village of Cold Spring, an easy stopping point between the Lower and Mid-Hudson Valley. Amid the outdoor bars and cafés there is a treasure trove of antique shops. Be forewarned – vintage barware and retro beer trays abound!

Antipodean Books, Maps, & Prints | 29-31 Garrisons Landing
Sellers for 40 years, this is the ultimate shop for rare books, maps, prints, ephemera and photographs.

Cold Spring Antiques Center | 77 Main Street
Located in a 19th-century bank, this unique shop has 27 dealers loaded with antiques, vintage jewelry and clothing, vinyl records, and other unusual items. Outsider art addicts can fuel their passions here!

Once Upon A Time Antiques | 112 Main Street
An eclectic selection plus friendly and knowledgeable owners make this store a favorite. Antiques, greeting cards, and nostalgic toys are all carefully displayed without the chaos.

Bijou Galleries | 50 Main Street
Located in a former movie theater, Bijou boasts a plethora of vintage goodies and is also known for their art.

Downtown Gallery | 40 Main Street
Right off the Cold Spring Metro-North stop, this shop has 5,000 square feet of collectibles from more than 30 dealers. It's "gallery-meets-antique shop", featuring paintings from local artists and an ever-changing inventory of hard-to-find objects.
---
DESTINATION: Orange County
---
Just 60 to 90 minutes from Manhattan, Orange County is a sprawling 812 square miles brimming with craft beverage destinations, folksy attractions, hiking and biking trails, museums, farmers markets, shopping and historic sites. It's also home to diverse destinations – the U.S. Military Academy at West Point and Motorcyclepedia – among others. Many wineries of the Shawangunk Wine Trail, including historic Brotherhood, America's Oldest Winery, are located in this region so it's the perfect place for a wine-centric fall getaway!

Set your sites for the county via the New York State Thruway (I-87) exits 16 or 17; east or west from I-84.

SIP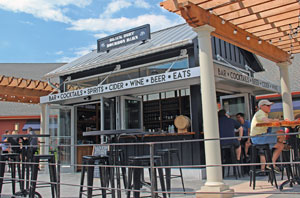 Power-shoppers can make their first craft beverage stop the Black Dirt Bourbon Barn located at Woodbury Common Premium Outlets (Blue Parking Lot, 498 Red Apple Court, Central Valley), a world-renowned shopping complex. The "Bourbon Barn", which opened earlier this year, is a satellite tasting room for Warwick Valley Winery & Black Dirt Distillery. It features the full lineup of Black Dirt Distillery spirits, Doc's Draft Hard Ciders, and Warwick Valley wines, all created by savvy spirits entrepreneurs, Jason Grissanti and Jeremy Kidde. Small plates, an extensive cocktail menu, and libations from around New York State are a welcome respite from the outlet crowds. Live music kicks in on weekends!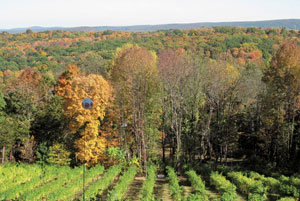 Head up to Warwick, best known for its annual fall Applefest, for a tetrad of wineries including Clearview Vineyard (35 Clearview Lane, Warwick) which was recently named one of the top 25 wineries in the U.S. by Travel + Leisure. True to its name, Clearview offers 15 miles of sweeping views overlooking Harriman State Park, Sugar Loaf, Mount Peter, and West Point. While away an afternoon with live music on weekends and bocce and corn hole on the lawn. Owners Frank and Karen Graessle cater to the locavore crowd by offering beers from Rushing Duck and Pine Island Brewery, as well as ciders from Naked Flock, Aaron Burr and Glorie Farm. Inside the tasting room, Noiret, the winery's staple red wine, pairs perfectly with noshes like a baguette topped with fresh mozzarella, basil, and Demarest Distillery Balsamic Reduction. At neighboring Demarest Hill Winery & Distillery (81 Pine Island Turnpike, Warwick, ), owner Francesco Ciummo offers nearly 40 different wines, spirits, vinegars and other products to titillate the palate
Getting into the autumnal spirit comes easy at Applewood Winery/Naked Flock Cidery (82 Four Corners Road, Warwick). Stop in for a flight, pick apples from the orchard, groove to live music, or grab a seasonal bite at the café. Whatever your drinking pleasure, the Hull family has it here – wine, spirits, cider, and now mead and cyser (a blend of dry mead and cider). Want to try something really different? Blackberry Chipotle Mead might fit the bill! Warwick Valley Winery & Black Dirt Distillery (114 Little York Road, Warwick) has been a craft beverage destination in the area for decades, located on a 30-acre apple orchard. Go for the wine, spirits, and hard cider; stay for the pick-your-own, live music on the lawn, and a bite at the café.

There's certainly no shortage of cider or beer in Orange County either. Pennings Farm Cidery (4 Warwick Turnpike, Warwick) offers a variety of cider styles made from the apples (and other fruits and veggies, like pumpkins and beets) from the Pennings Farm Market. It's a bustling operation with a friendly, laid-back vibe. Tapas-style snacks are served in the tap room and heartier fare can be found at the farm's pub/beer garden. Grab some ultra-fresh produce from the farm store to bring home a piece of the Hudson Valley. Head north to Orchard Hill Cider Mill (29 Soons Circle, New Hampton), a destination for European-style ciders including Ten66, a Normandy-inspired Pommeau that can also be found in several Michelin Star restaurants. The cidery hosts a Saturday Night Speakeasy with live music, light bites, and New York State craft libations. Bonus: Soons Orchard farm store, right next door, is teeming with harvest activities this time of year.

Equilibrium is defined as "a state of rest or balance due to the equal action of opposing forces" — and in Middletown, it's also a fitting definition for the beers developed by the M.I.T.-trained scientists at Equilibrium Brewery (22 Henry Street, Middletown). Enjoy the brews (with appropriately scientific names) along with a bite at The Grille (the brewery's taproom), or just pop by to grab a growler.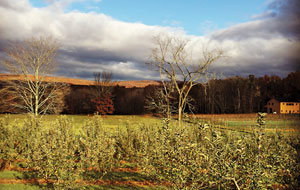 On the county border in Pine Bush, power craft beverage couple Monica and Chris Pennings satisfy your thirst for wine, cider, and sunsets all in one place. Christopher Jacobs Winery (320 Crawford Street, Pine Bush) is open on weekends for tastings led by the winemaker on the back patio, where stunning views of the Shawangunk Mountains paint a colorful backdrop. Spread out a blanket and be surrounded by the lush vineyard and orchard while live music wafts through the air at sunset. Add a white sangria made with their Olé dessert wine to make it heavenly.

Exploding on the modern cider scene is Graft Cider (218 Ann Street, Newburgh), an urban cidery in an up-and-coming neighborhood off the Thruway in Newburgh. Graft's creative blend of ingredients like the pineapple, vanilla, lemon zest, and lactose found in their "Cloud City Amarillo District" cider is matched by the unique label art by Caleb Luke Lin. While the taproom isn't open yet, check for monthly pop-up events inside the facility and on the cider patio.
Fall is about local businesses and farms working together to make the Hudson Valley an authentic farm-to-table community. For craft enthusiasts, it's a time to experience all that goes into the glass, from twig to swig and vine to wine.

TASTE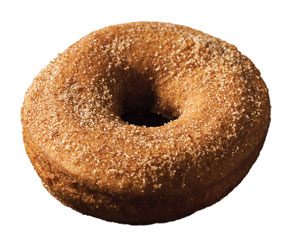 There is nothing more Hudson Valley than apple cider doughnuts in the fall. Get them fresh and warm from Jones Farm Country Store (190 Angola Road, Cornwall). In fact, anything proudly made from scratch there by Grandma Phoebe is going to be delectable. Lunch at the café overlooking views of the Schunemunk Mountains, or spend some time feeding the farm animals, enjoying a hayride, and filling your market tote with tasty treats.
SEE
Rediscover the retro experience of outdoor movies at Warwick Drive-In (5 Warwick Turnpike, Warwick)—with practically retro prices ($11 buys a double feature)! Stock up on snacks and beverages from nearby wineries and farm markets and settle in for some nostalgia. During the intermission, focus your attention on the breathtaking star-filled sky!

SUP
A welcome addition to Pine Bush is the newly renovated Hoot Owl (26 Awosting Road, Pine Bush) a charming iteration of its former self (previously a dive bar, German restaurant, brothel, speakeasy and post office), featuring Indian and American comfort food, or "global comfort food" as beverage director Joshua Byford calls it. The feel there is communal, as are the ingredients – often sourced from farms right down the road. The cocktails are equally as exotic, crafted with local orchard fruit, homemade purees and shrubs.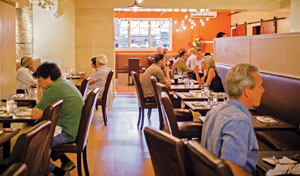 Chef Michael Kelly has many culinary accomplishments under his belt, and Liberty Street Bistro (97 Liberty Street, Newburgh) is his latest. Fulfilling a need for upscale food in Newburgh, Kelly made it happen, offering classic French fare in a casual atmosphere. With a focus on local and seasonal dishes, the theme is also reflected on the bar menu where the mixologist serves up luscious libations using American spirits and beverages from neighboring producers.

STAY
Portland ex-pats, Doug Posey and Sally Watkinson felt the pull of the Hudson Valley's rolling hills and bought Audrey's Farmhouse (2188 Bruynswick Road, Wallkill) in the hamlet of Wallkill. The 1740 Dutch farmhouse is just twenty minutes from New Paltz (a must-do for craft beverage lovers and foodies), surrounded by farm markets and wineries, and is now the #1 pet-friendly B&B in the U.S. Relax in the natural pool (May–September); unwind in the hot tub (year-round) while taking in the scenery of the 'Gunks; read a book in the hammock; or play a game beside the wood burning stove in the living room.

---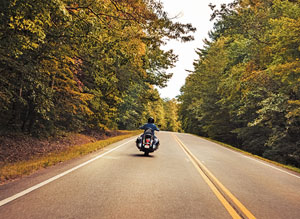 TOP PICKS FOR SCENIC RIDES
If you are driving to the Hudson Valley for a weekend of leaf peeping and harvest activities, you'll want to set the GPS for these picturesque routes. Most scenic drives in the region have pull-offs where you can stop to take it all in and snap a few photos.

WESTCHESTER COUNTY
Bear Mountain Bridge Road, nicknamed "The Goat Trail" due to the way the road clings to the side of the mountain, is a stunning, three-mile road that winds around Anthony's Nose, the southernmost peak of the Hudson Highlands on the east side of the Hudson River.
ORANGE COUNTY
Route 218, otherwise known as Storm King Highway, between the Town of Highlands and the village of Cornwall-on-Hudson, is a must-see. It offers panoramic views of the Hudson River and surrounding mountains such as Breakneck Ridge and Bull Hill.

Route 9W between Cornwall and West Point offers spectacular river views and the rocky cliffs of Butter Hill and Crow's Nest.

Hawk's Nest Drive (Route 97) is a New York State Scenic Byway that follows the Delaware River beginning in the railroad city of Port Jervis, with a snake-like portion in Sparrowbush.

Touring by bike? Unparalleled beauty and a smooth ride draws motorcyclists to the region, revved up by the popularity of shows like Orange County Choppers, and more recently, resident Norman Reedus's (The Walking Dead) Ride. Visit orangetourism.org for foliage-filled excursions.
Satisfy your thirst for adventure in the Hudson Valley this fall! Share your favorite spots with us by tagging #HVWM.