The Hudson Valley has long sparkled in our country's crown of priceless jewels. And as the country continues to find its footing economically, the Hudson Valley's proximity to New York City has attracted an increasing amount of foot traffic from curious vacationers eager to explore their backyard – a boon for the Valley's wine industry, lending urgency to its increasingly accelerated evolution.
Hudson Valley wineries, of course, have noticed the rise in visitors. But instead of sitting back and lapping up the fruits of their overflowing cups, several have taken the opportunity to reinvigorate their production and tasting facilities with green, sustainable technology and redesigns. A handful of relatively new wineries are digging into their vineyards, and committing to producing wine in a manner that is rigorously environmentally conscientious, in a setting that has been carefully designed to reflect the majestic natural topography found in the region.
Call it a green design revolution, architectural terroir or form-meets-function. No matter what nomenclature used, it is helping to create ripples well beyond the region and quite possibly – finally – helping the Hudson Valley earn the sterling reputation it deserves for its stellar wines.
The region was voted one of the top places in the world to visit this year by the internationally acclaimed Lonely Planet, underlining the renaissance the Hudson Valley region has experienced in recent years. The attractions, of course, are obvious: vertiginously high peaks and subterranean hollows, bountiful and lush landscapes, and the mighty Hudson River that flows through the heart of the region, infusing the terroir and spirit of the place with its moderating temperatures and warming breezes.
A magical place to visit, a rewarding place to live. Want to cultivate a vineyard here? That's another matter.
"When the Norseman landed on our shores, they dubbed the area 'Vinland' for the number of grapes and vines in the region," said Ned Towle, director of the Westchester Wine School. "Of course, they were referring to the native labrusca grapes, which aren't as highly regarded as European vinifera varieties."
Leif Ericson and the rest of Viking crew headed home without cultivating any of the plentiful Vinland they found; it wouldn't be until 1677 that French Huguenot settlers would plant the first vinifera vines in New Paltz, making the Hudson Valley the first place in America to produce wine, a full 100 years ahead of Napa Valley.
So why are we so far behind, in terms of tangible progress, like…er, glittering golden accolades, busloads of thirsty tourists and glossy spreads in Wine Spectator magazine? "It isn't a question of quality," Towle offers. "The Hudson Valley is one of the most exciting and innovative wine-production regions in the country, but it's also one of the smallest."
In all, America has about 1.1 million acres of land under production for wine. Only about 200 acres of that is in the Hudson Valley, due to a combination of economic (extremely vigorous and counterproductive bouts of expansion and consolidation), biological (various diseases and insects), sociopolitical (Prohibition), and geographical (the heterogeneous topography) challenges that stymied the first Hudson Valley wine "Golden Age" in the first few centuries of its existence. And there's the climate too.
"In California's Napa Valley, about 45,000 acres are devoted to vineyards," Towle points out. "And within that region, there are very distinctive climate zones depending on a vineyard's distance from the ocean, but its ups and downs are analogous to the Mediterranean region. In the Hudson Valley region, we have a similar climate for all of our vineyards, but the extremes of heat and cold here are much more significant."
The Hudson River region, at about 42º North, is similar to extreme regions of Continental Europe, like Dijon, France. Unlike Napa, which has larger swathes of homogenous land available for grape production and a climate that acts as an overprotective, indulgent nanny to seedlings until they're ripe for picking, the Hudson Valley region has teensy pockets of arable land in which seedlings will be whipped, howled at, burnt and frozen by Mother Nature's toughest brand of love, until the hardiest survive to be crushed.
"The challenges are what have made the Hudson Valley such an interesting region to watch in the past 20 years," Towle notes enthusiastically. "It's a thrilling process to see these winemakers go back to the drawing board, explore terroir and emphasize sustainable practices in their winemaking. The result is top-quality wines that can stand up against European vineyards with hundreds of years of history, all produced on tiny plots of land in what is essentially their backyards."
Certainly, a new crop of growers has found that a bit of Yankee innovation in the design of the physical structures on their land and in their harvesting, pressing and storage processes, has yielded a superior, more environmentally-sustainable product, in addition to enhancing the natural beauty and architectural terroir indigenous to the Hudson River region.
Taking a look around, there are several outstanding wineries that are noteworthy for leading the way in defining the Hudson Valley's newfound, old commitment to natural winemaking, with delicious results.
BashaKill Vineyards: Taking Cues From the Land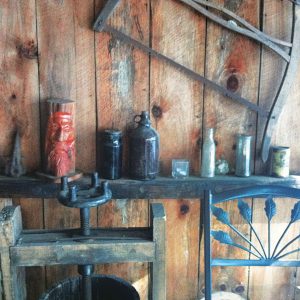 BashaKill Vineyards, the first farm winery in Sullivan County, embodies starry-eyed '60s-era, flower-power idealism, sans the cheesiness, with a serious dose of post-millennial smarts. The road to the vineyard sets the mood: visitors cross a bird-and-flora-flecked lake-like section of the 2,175-acre BashaKill Wetlands, the largest preserve in southern New York State, home to animals as various as the northern goshawk and the black bear.
The vineyard, owned by Paul Deninno, is on a slight slope, affording a broad view of the wetlands; the 1920s house and 1980s converted garage/tasting room recline like a supine wooden nymph; the sound of chickens squawking and sheep bleating greet visitors. The vibe is decidedly Easy Rider goes to Sonoma, on a Lilliputian scale.
Which, as it happens, is exactly what Paul finds he wants – if not what he initially envisioned – when he contemplated ditching his 180-mile commute to an IT job in 2005 to open his own business. After a few false starts, he rallied the courage to pursue his real passion: organic winemaking.
"I've always been fascinated by organic agriculture," Paul confirms, "A lot of my family members have had cancer and I started to realize how much diet and the environment affects that. The FDA doesn't require wine, beer or liquor companies to print their ingredients on their labels, so you never know what you're getting. I took a few classes in winemaking at Cornell and that, coupled with my interest in natural agriculture and the fact that I had more than 10 acres of land zoned for agriculture, made winemaking seem like the logical choice."
BashaKill's harvesting, winemaking and storing methods take their cues from the land … literally. The vineyard has been passively designed by the landscape; it appears to have been plucked out of a journal on biodynamic wine, but it required a great deal of research, planning and sweat to achieve the easy, breezy, rustic look, while still managing to bring home a Best-in-Show award at the Hudson Valley Wine Competition for its 2010 Black Bear Cabernet Franc (all wines are named after animals found in the wetlands). No mean feat for a six-year-old winery.
"I've always been fascinated by organic agriculture . . . the FDA doesn't require wine, beer or liquor companies to print their ingredients on their labels, so you never know what you're getting."
"It's all trial and error," Paul says. "Luckily, our proximity to the wetlands has been amazingly beneficial for the grapes we grow here. The moist, warmer air from the wetlands protects the vineyard from cold winds, providing a kind of protective sheath. Our trellis posts are made from native Black Locust wood which doesn't need to be treated and outlasts most other woods; we have sheep for weed-control and fertilizer, and of course, our latest project – a wine cave to store and age our wine in."
The cave has been at the top of Paul's to-do list since he broke ground – it provides an ideal environment to age low-sulfite wines longer, and create reserve wines. He dragged his favorite carpenter out of retirement to hand-forge the metal and wood doors, and spent months poring over the blueprints in order to perfect and prime every corner of the 40 x 16-foot cavern, so that it will boast the ideal geothermal humidity and 55ºF environment (in the most sustainable manner possible) for aging his reserve wines. This summer, it will be up, running, and ready for as many barrels of wine as Paul can throw at it.
BashaKill sources some of its grapes from other vineyards around the state, but uses low levels of sulfites on their Estate wines, and never introduces non-organic pesticides, chemicals, stabilizers or additives of any kind.
"No hangover!" Paul crows. "One of the side benefits of having a natural wine is that you don't wake up feeling any of the wine you had the day before."
The vineyard's unique approach to terroir enhancement and the symbiotic relationship it has developed with the land around helps create an ideal setting to grow accolade-worthy wines, not to mention a unique retreat for visitors. Tastings are free, and guests are encouraged to bring food, children and even dogs for picnics. The tasting room features a screened-in porch, wood stoves, "found" glass bottles, ancient farming equipment, a giant tasting bar, and a miniature gallery of paintings by local artists.
Currently, BashaKill produces about 1,200 cases a year, and the new cave will allow Paul to start producing additional reserves. Paul is also planning on clearing a few more acres for planting. BashaKill Vineyards is far enough from other wineries that it merits its own afternoon trip, but its charms are so plentiful, it's more than worth it; turn it into an entire day by tagging on a trip around the wetlands.
Whitecliff Vineyard: American Aristocrats Go Green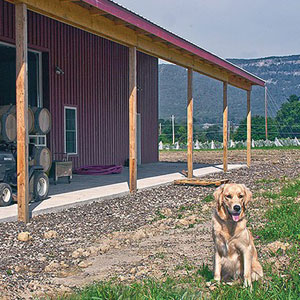 Is it possible to sip a distillation of F. Scott Fitzgerald's vision of a rich, fun America, one that never falls behind? If so, it can be done on the tasting room deck at Whitecliff, a winery that is as committed to keeping up with the go-go-go times as it is eager to cling to old-fashioned hallmarks of quality and distinction.
Upon arrival, visitors are greeted immediately by high theater – the cliffs, the curling vines, the wooden structures that look as much a part of the landscape as the sky, the dusty road, the conviction that only elegant, witty things can happen here.
While the physical buildings are classic Hudson Valley – a wooden farmhouse and two other structures (the tasting room/ old production facility and the new production facility) – the vineyard, which seems to stretch to the edges of the horizon, and the surrounding cliffs are the stars of this American novel, in which every sense plays an important role.
"Isn't the landscape amazing?" Yancey Stanforth-Migliore asked rhetorically as we walked from the sunny, laid-back tasting room to the new state-of-the-art wine cave and production facility. "We're in Wallkill Valley, and with the white cliffs of the Shawangunks surrounding us it makes it look like we're in a large room, hugged by cliffs. From the deck of the tasting room, visitors can watch the light hitting the ridges as the sun sets. It provides a unique footprint for our winemaking; the Wallkill River, which feeds into the Hudson and moistens the cold air. But we do have a cold pocket here, presenting us with benefits and challenges."
Michael Migliore and Yancey Stanforth-Migliore built every structure on their 70-acre plot (30 of which are devoted to growing grapes), which Michael snapped up as an empty field more than 30 years ago. Migliore's father was a carpenter and when Michael was getting his degree in chemical engineering he worked as a union carpenter, so he was prepared to design, pour the concrete and build every inch of their home, tasting room and original winemaking facility to spec.
"Sustainability means different things to different people . . . To us, having a sustainable winery means not only being as green as we can be, but also having a successful company."
The landscape loomed large in the couple's life even before they planted their first vine. "We met and fell in love rock-climbing on the Shawangunk Ridge," Yancey explained.
Stanforth-Migliore is quick to give her husband (they married in the '80s) 99.9% of the credit for his technical mastery of winemaking, not to mention his "amazing palate and vision." But it's clear that her focus, spark and creativity (as well as her background in writing and environmental issues) have helped to steer the brand, if not the wine itself.
"Sustainability means different things to different people," Yancey noted. "To us, having a sustainable winery means not only being as green as we can be, but also having a successful company. We built our wine cave in part as a commitment to our environmental principles, and in part because we just wanted to grow our business. This wine cave will take us to a new level."
The new wine cave is a physical manifestation of Whitecliff 's vision of fiscally aggressive sustainability; its outer barn-like shell looks like it belongs to the vineyard and surrounding landscape, but the inside is all space-age science, glittering steel surfaces and concrete disguising a labyrinth of geothermal activity, designed to keep the room and the wine at roughly 55ºF, 24/7.
Michael planned and designed the 40 x 80-foot cave, but hired a builder to physically put it up this time. It features 16-foot ceilings, 550 feet of trenches with geothermal coils that would stretch over a mile if uncoiled. Located six feet underground, the cave is a rigorously organized maze of steel and French and American Oak barrels, providing enough space to significantly increase their production capacity.
In all, Whitecliff boasts 20 varieties of grapes; currently, about 5,500 cases are under production, but they hope to pump up the volume to 10,000 cases in the next few years. As the duo continues to build their brand, their space and each glass of wine by hand, expect to continue to see and taste their fingerprint in every label, corner and sip. And, thanks to their sustainable, intelligent design, their footprint on the gorgeous landscape blossoming in every direction from their home, will leave nary a trace.
Stoutridge Vineyard: Filling Big Shoes with a Tiny Footprint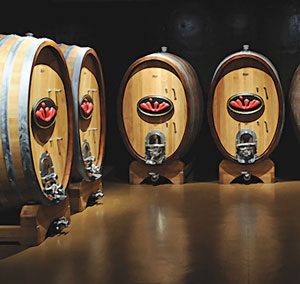 How did Germany flout the Recession, hurtling ahead of every other country in the E.U. to become the nation with the fourth largest GDP in the world and the second-largest exporter, with precious few raw materials to work with? In a word: ingenuity.
Stephen Osborn of Stoutridge Vineyard consciously modeled his wine, winery, and production methods after traditional Germanic wineries – but he may have also unconsciously modeled his work ethic and business plan on the notoriously sharp Teutonic paradigm. Auspiciously, Stoutridge also sits on the historical foundations of vineyards planted as far back as the 1700s, inheriting well-tilled grape-growing terroir; and was built directly on the site of the once-famous 1902 Marono Winery. Stoutridge planted its vineyard in 2001 and uncorked its first market-ready wine in 2006.
Architectural and agricultural ghosts inhabit the place, but instead of exorcising them, Stoutridge has channeled their energy, literally building upon the ancient stone edifices left by previous owners, the history of the place, nurturing and respecting the landscape that has served so many generations of farmers before Stephen, while erecting his own vision of what modern, sustainable wine-stewardship means.
"There is such a thing as architectural terroir," Stephen muses. "The style of the exterior of the winery is German, but we worked hard to retain the stonework of the original farm buildings so that element is retained. In the interior, all of intricate moldings in the public areas is a direct copy of the style that was most common in this town at the turn of the century. We chose that era as that was when the winery was located on the site. Similarly, most of my wines are designed to bring forth the flavor of this region in a very authentic way."
Stoutridge also utilizes an old-fashioned German modus operandi when it comes to the manipulation – or lack thereof – of the grapes themselves. Stephen employs a notably hands-off winemaking technique that depends on the so-called "gravity flow" style of production, which he believes is necessary to preserve the more delicate aspects of the terroir he inhabits. Stoutridge also proudly features solar-powered energy. The south roof is equipped with more than 2,000 feet of solar photovoltaic panels, which produce up to 30 KW of electricity on sunny days.
"The winemaking process here does not use pumps, filtration, or chemical processing of any sort. We are unique in the United States in offering such a completely natural product."
Stoutridge's sustainable methods – it has more than 120 species of native trees planted around the property, and it was designed and built into a hill with gravity flow construction – produces wines that have higher levels of natural antioxidants.
"This winery is very different from most wineries as it is architected to use only gentle gravity instead of pumps to move wine, thus requiring a very exact vertical design," Stephen said. "The winemaking process here does not use pumps, filtration, or chemical processing of any sort. We are unique in the United States in offering such a completely natural product. And we can only do this because we only sell the wine out of the tasting room. Unprocessed wine cannot be distributed."
Fortunately for visitors, the chic German ski-chalet design of the public spaces, featuring custom-built cherry and walnut furnishings, large mahogany doors opening onto a hand-laid fieldstone patio area and the extensive use of granite throughout the winery, is far more refined than the accommodations for the grapes.
Since Stoutridge wines can't be distributed, go there to sip their portfolio and feel virtuously green while sitting in the lap of luxury and lapping up a vintage that's crisp, clean and inexplicably Spring-y.
Brotherhood America's Oldest Winery: Sustaining a Legacy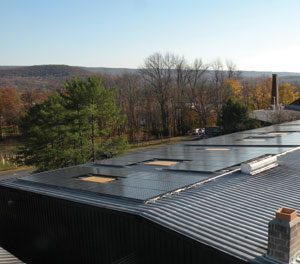 America's Oldest Winery could easily sit back on its well-appointed laurels and sustain a steady stream of visitors, due to its historical status, sprawling event space, acclaimed café and Victorian-style buildings and grounds.
Instead, Brotherhood Winery has taken on one of the most aggressive green refurbishments in the Hudson Valley. Since 2005, the winery has been undergoing a piecemeal update – doing the entire facility at once would force a shutdown. Their most recently completed portion is the Grand Monarque Hall, their landmark building which was nearly demolished by a fire in 1999.
The most radical changes, however, involve the winery's new commitment to sustainability and green technology. According to Hernan Donoso, President, in 2010 their warehouse/production facility went solar to offset their "carbon footprint and use clean energy" in their winemaking process.
The winery's method of production is earth-friendly too. "Our wines are made from grapes processed in a controlled natural environment using eco-friendly energy in our production process. Eco-friendly wines are trending right now – biodynamic and organic grapes with different methods of filtration and preservation, if any, present their own set of challenges."
Brotherhood hopes that, in addition to alleviating the environmental burden that modern agriculture imposes, their sustainable initiatives will help usher in the kind of critical acclaim that other American wine regions enjoy – and with the acclaim, more visitors.
Brotherhood Winery is already recognized by the National and State Register of Historic Places, giving it a significant aesthetic edge over other area wineries. "We are hoping with the new initiatives we are participating in, that our local and state government agencies will show more support to help bring the Hudson Valley's wines to a more recognized place in the market, like our West Coast counterparts."