[Little-known but Really Great Reasons to Visit the Craft Beverage Producers of the Hudson Valley]
---
George Washingon Slept Here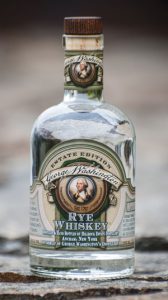 Well, not really, but even better: Whiskey made from George Washington's stills at Historic Mount Vernon is included in Hillrock Estate Distillery's Estate Edition George Washington Rye Whiskey. This amazing bit of history in a glass is being produced right here in Ancram, NY! How did it come to be? It was Master Distiller Dave Pickerell who resuscitated Washington's recipe and began making the whiskey at Mount Vernon. When Jeff Baker and he were developing the business in Ancram, they realized that it was very possible General Washington may have visited or at least seen Hillrock Farm. It seemed synergistic that Pickerell would incorporate what he'd created with what was his and Baker's current vision — growth of the first New York distillery since Prohibition to hand-craft whiskey from estate-grown grain. The collaboration is an exciting success, truly living history that you can see and taste in a glass.
---
So You Want to Make Wine
If you've ever had the itch to learn more about the winemaking process – from vine to wine – then you need to check out Millbrook Vineyard & Winery's Winegrowing Boot Camp (photo top). Participants work with Millbrook's veteran viticulturist and winemaker, John Graziano, to cultivate their own vines and follow their growth from bud break to harvest. Boot Camp starts with pruning and tying of select Tocai Fruliano and Cabernet Franc vines in mid April, and follows their growth, harvest, and production into bottled wines through seven additional seminars over the course of 11 months that include bud break, vertical shoot positioning, leaf pulling, vineyard assessment, harvest, and bottling. It's not all labor, either. Participants enjoy the Tocai New Release Party and the Harvest Party at the winery, and after bottling in March, go home with a case of hand-crafted wine from the very vines they tended. Boot Camp was started in 2012 and is going strong. It's limited to 20 people.
---
Feelin' the Love
At Palaia Vineyards, you can release your inner Woodstock wild child and revel in their theme of "Good wines, good times, good vibes, good food." At their site in Highland Mills, NY, where they opened their winery in 2001, they wanted to tap in to the nostalgia for an "eclectic and groovy vibe" that focused on an enjoyable experience. You can feel it at every level, from the focus on music and festivals that happen throughout the year, to the very bottles of wine themselves, whose labels have recently been updated to reflect Palaia's peace-loving passion. The redesign features their iconic tree with a peace sign at its center and a wolf howling at its base, but each wine has been color-coded with a hue that, together, forms a rainbow over their selection of eight wines. Now you can find Pinkish Floyd, Zappa Franc, Pearl Power, and their other signature offerings with labels that keep you tuned into the experience. How cool is that?
---
A Truly Divine Wine
We all know it can be difficult to find just the right adjective to describe a love interest. You want to share your joy, and have to find the perfect word to express it. When it's a white wine grape developed by Cornell University that's identified by its number only, what do you do? If you're the Graessles at Clearview Vineyard, you decide on Divinity. The Graessles discovered the grape (NY81.0315.17) in a catalog and bought the vines with a promise to let the catalog company know how they worked out. It's a cross between Cayuga and Riesling, with the resulting flavor profile leaning toward a dry-style Riesling with floral notes. The grape is rare and few vineyards grow it. Estate Divinity White is a must-try in the tasting room. You'll fall in love, too.
---
Where the Wild Things Are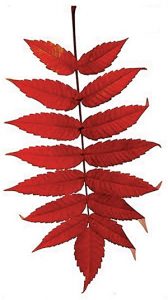 It's not just carefully cultivated grapes, grains, berries, apples, and other fruits that lend flavor and variety to the craft beverages produced in the amazing Hudson Valley. At Hudson Valley Distillers and Helderberg Meadworks, there's magic happening with wild-grown sumac and wild-cultivated yeast, respectively. At Hudson Valley Distillers, Tom Yozzo realized he was on to something when he became interested in a plant that grew so prolifically where he grew up in Newburgh, NY – Staghorn sumac. He learned that Native Americans as well as early settlers used the flowers as medicinal tea. Intrigued, he harvested some himself, dried it, and used it in their small-batch gin. He loves the floral nose and almost lime-like flavor it provides. The flowers are plentiful at the distillery property, too, and he is able to source a completely organic, locally grown product to create something unique. Similarly, at Helderberg Meadworks, Peter and Kristen Voelker became fascinated in the role of wild yeast, and spent nearly two years capturing and cultivating a wild strain. Now that it's captured, they keep a supply of it on hand. It is what they use in the fermentation of their Feral Mead to bring the alcohol up to at least 12%. This lovely mead is then bottled in ceramic to protect it from any exposure to light until it can be enjoyed in the glass.
---
Time is on Their Side

Slow and steady is the way they like it at Stoutridge Vineyard, where a visit leaves you not only appreciating the wines made there, but the unique way they are brought from vineyard to bottle. The philosophy at Stoutridge is about sustainability, and you will see it at every turn. While other wineries are installing solar panels to help with energy conservation and doing other things to reduce their energy-consuming impact, Stoutridge is going beyond the ordinary. One of the most visually impressive aspects of their production facility is the room that houses their 700-gallon Hungarian oak barrels. The casks are not toasted, and are used only for aging, not to impart any additional flavors or characteristics typically added with oak. The casks are filled by gravity at their tops, and the aged wine feeds out the bottom to a bottling system below when the wines are ready. They are cleaned with steam only, and are built to last about 100 years. This eliminates the need for many smaller barrels. Impressive. And beautiful.
---
Bring The Family — Dogs, Too!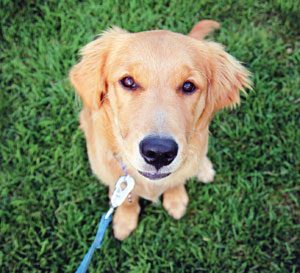 The Hudson Valley's agricultural heritage is one that's great to share with family members of all ages. Whether it's apple and pumpkin picking in the fall, visiting a goat or sheep farm where cheese is made, or enjoying meeting farmers and local producers at a market on the weekend, the connection between the land and good living is all around us here in the Hudson Valley.
For families who like to combine more kid-friendly activities with the adult-friendly activity of wine tasting, it's essential to everyone's enjoyment to find a place where all feel welcome. If that sounds like you, look no further than Robibero Winery in New Paltz, NY and Nostrano Vineyards in Milton, NY.
At Robibero, families with two- and four-legged members are welcome to picnic on and enjoy the grounds extending from the tasting room on the hill. There's a fire pit that serves as a great gathering spot in the evenings. There is a similar feel at Nostrano Vineyards, which literally translates to "of our own" in Italian, and is intended to extend to all parts of the experience on the grounds. Beautiful and accommodating in every sense, Nostrano offers walking trails, picnic areas, and a fire pit for gatherings. All that and fabulous estate wines, too.
There's no need to feel you can't include wineries on your family outings in the Hudson Valley. If you're looking for a warm, tail-wagging welcome for all, you'll find it at these wineries. They're just 12 miles apart, too!
---
Welcome to Clermont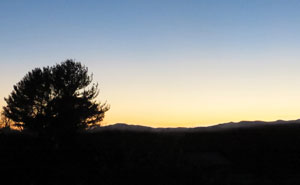 Columbia County – the gem of an area between Dutchess and Rensselaer Counties – is now home to three wineries! The newest addition is Clermont Vineyards & Winery, owned by Tony and Louise Trigo. It's always fun to scout out a new winery in the Hudson Valley, and this one will certainly not disappoint. Located almost directly across from the gorgeous and popular Clermont State Historic Site (a national park and historic landmark also well worth a visit), the Trigos's winery and vineyards by the same name only complement the natural beauty of this very special location. The tasting room and production facilities are housed in a big, red barn that has been outfitted with a deck from which the view of the Catskill Mountains across the Hudson is truly breathtaking. The mature vineyards stretch out in neat rows, and the feeling is one of utter enjoyment. Add to that a glass of estate wine, and you may find yourself making an entire day of your visit.
---
Applewood's Past and Present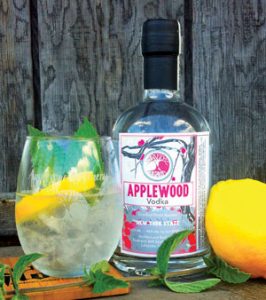 When you arrive at Applewood Winery in Warwick, NY, get out of your car and take a minute to just look around the orchards. You are on land that was hunted by the Minisink Indians for thousands of years, and that is currently the oldest working farm in Orange County! A mere 315 years ago, Samuel Staats, whose family migrated from the Netherlands in 1664, acquired 5,000 acres that included what is now Applewood. On one of the massive shale slabs used to build his stone house, Staats inscribed his initials and the date – SGS 1700 – and you can see them there today (to the right of the front door). Flash-forward to 1949 when the farm was bought by the Hull family, who planted orchards and established what would be known as today's Applewood Orchards. Jonathan Hull opened the winery in 1993. The Hulls love to share the history of their place with guests, and a visit is rich with speculation and imagination of how generations lived on the land, right up to the current vintage of wine, cider – and now, vodka – offered in the tasting room.
---
Kir Here

Adair Vineyards was established in 1985 – 30 years ago! – and the folks there know a thing or two about making wines from all kinds of Hudson Valley fruits. They produced a peche wine from fresh peaches that was legendary in the Hudson Valley and beyond. These days, the focus is on a growing line of kirs – grape-based wines that are enhanced with wines made from fresh fruits. Kir is a French aperitif that's traditionally made by adding dry or sparkling white wine to a small amount of black currant liqueur (crème de cassis). Following in his French ancestors' footsteps, Marc Stopkie concocted a wine called Black Currant Kir which is actually a dry red wine–based wine to which wine made from black currants was added. Just over a year ago, Adair launched its Peachberry Kir, a white wine–based wine to which wines made with peaches and raspberries have been added. This fall, a Nectarine Kir is being introduced. Marc and his wife Lori source all their fruit locally, so their fruited wines are still 100% Hudson Valley.
---
Le Vrai Français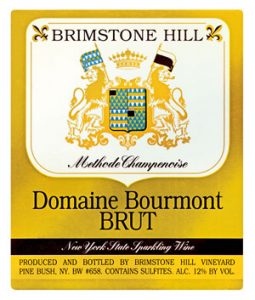 A true Francophile when it comes to wine (his wife, Valerie, was from the Loire Valley, after all!), Dick Eldridge of Brimstone Hill Vineyard wanted to really get behind the scenes of the French Méthode Champenoise, the tradition of making true Champagne. His dedication to the process dates back to 1989, when he embarked on the journey to create his Domaine Bourmont Sparkling Wine. He learned that Hudson Valley grapes, with their higher acidity than those of California, were more like the kinds grown in the Champagne region of France. Through experimentation, he's settled on Vidal Blanc to get the flavor he loves. Made in small batches and worked by hand at every stage, fermentation occurs individually in the bottles, and it spends a year on its side before it is disgorged. For over two decades Eldridge has crafted this distinctive product. If a limited production is available when you visit his tasting room, snap it up and say "Salut! A votre sante!" It's a fantastic marriage of the Old and New Worlds to create a wine worth celebrating.
---
A Room with a View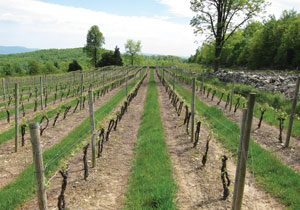 When you turn into the driveway of Glorie Farm Winery in Marlboro, you begin an ascent up a lane that's flanked by an amazing stone wall. This is a beautiful sight in and of itself. Then there's a majestic, big, gray barn, which is circa 1913, and to which the tasting room is attached. It's an impressive structure. Doug Glorie and his wife have been growing grapes on the property since 1983, and established their winery in 2004. A tasting at Glorie Farm is rich in a variety of wines that have great stories behind them. But there's more. What Glorie Farm visitors can't help but remark on (in addition to what's already been mentioned) is the truly amazing view from the property. It is Glorie-ous!!!
---
Triple Treat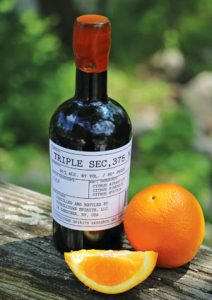 The folks at Tuthilltown Spirits Distillery are at it again. The newest reason to visit this groundbreaking Hudson Valley distiller? The release of the first New York State-produced triple sec! Using a 100-year-old cognac still imported from France (mais oui!) and working with orange peels and dried oranges, Ralph Erenzo and team have crafted a triple sec orange liqueur that rivals the finest Grand Marnier. Tuthilltown has a building devoted to research and development of new additions to their line of classic offerings of bourbon, vodka, rye, whiskey, and gin, and it is here that the triple sec was hatched. Another unique offering is their Cacao liqueur, featuring beans that have been roasted and milled to their specifications to produce an earthy, rich, chocolate-lovers sensation. Yes, here in the Hudson Valley!
---
Turning in Their Graves
If Dutch Schultz and Patrick Ryan could visit Harvest Homestead Farm today, they would feel vindicated. It was 83 years ago, on October 17, 1932, that federal agents raided their underground complex in Pine Plains where thousands of gallons of Moonshine were being produced and destroyed all the equipment. It was Prohibition, after all. The operation was terminated, but the story survived, and in 2008 Ariel Schein and Alex Adams (a descendant of a potato farmer who was involved in Dutch's operation at the time) decided to breathe new life into it. They opened Dutch's Spirits on the site in 2010, and their signature Sugar Wash Moonshine is served and consumed with enthusiasm in broad daylight across the land.
---
Riding the Rails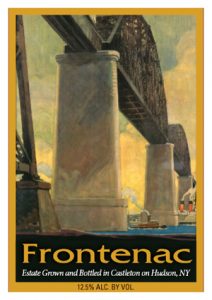 When you visit Brookview Station Winery, you'll soon discover that pride in the wine runs as deep as pride in a railroad heritage. Brookview is part of Goold Orchards, which has been a family-owned farm for over 100 years. Sue Goold's great grandfather, Henry, was the Deputy Superintendent of the New York Central Railroad in the early 1900s, and with the Brookview Train Station located just a mile from the orchard, it was easy for the family to travel back and forth to Albany (and all for free). Current owners Sue Goold Miller and Ed Miller started planting grapes in 2008, and they've recently released an Estate Marquette and an Estate Frontenac from these cold-hardy hybrid grape varietals that are thriving on their property, Both wines have striking labels that join their other train-themed wines, including All Aboard Red, Whistle Stop White, and The Conductor's Cassis. Fun!
---
Scoping out Schoharie
If Schoharie County isn't on your radar yet, it's time to program it into your GPS. It's a bit off the beaten path of the Hudson Valley, but it's well worth the extra miles. Located midway between Albany and Cooperstown, for years its attractions have included Sharon Springs (now home of The Beekman Boys); Cobleskill (where SUNY Cobleskill has been graduating preeminent agricultural specialists); and Howe Caverns (the #2 natural attraction in New York after Niagara Falls!). Adding to the agriculturally inclined region is the newly announced Schoharie County Beverage Trail.
Pride in their products and their heritages shine through for each of the four founding members of the Trail. KyMar Farm Winery and Distillery in Charlotteville is the first licensed farm winery and distillery in the county since Prohibition, and works with local providers to make its line of spirits and wine, which features a sorghum-based vodka. Green Wolf Brewing Co. sources much of its hops and grains for production from local growers, helping to restore a history of hops production in the county and throughout NY state. Their location on Main Street in Middleburgh includes a Beer Garden where guests can enjoy local entertainment with their beers. At the newly opened Royal Meadery in Richmondville, meadmaker Greg Wilhelm uses honey from his own bees and other local hives to craft his line of distinctive meads. Barber's Farm in Fultonham has been a Schoharie fixture for over 150 years. At the new Barber's Farm Distillery they make 1857 Potato Vodka from their crop, and are one of the only potato vodka producers in the world to grow their own potatoes on site.