Bert & Ernie. PB & J. Some things are great on their own, but better as a set. You know where we're going with this right? Wine & cheese. And in the Hudson Valley, where cows, sheep, and goats can often be found grazing just down a dusty dirt road from a vineyard, we are able to fully embrace the concept of "what grows together, goes together."
We're not trying to reinvent the cheese wheel here, but we find that our cocktail hours taste even better when we know we're supporting our neighbors. (Who wants to eat cheese flown in from thousands of miles away, when equally lauded curds are being cranked out in your own hood, anyway?)
The most iconic grape grown in the Hudson Valley is Cabernet Franc. We'll be the first to tell you why: terroir. Cab Franc has grown beautifully here in our challenging clime, and tastes better, with more consistency, each year. We love Whitecliff Winery's Estate Cabernet Franc, because like many local Cab Francs, it has great depth, with subtle but supple tannins, and dark fruit. We love pairing it with the funky, bloomy, creamy Camembert from Columbia County's Old Chatham Sheepherding Creamery.
If you rosé all day, grab Nostrano's, because it is made for picnics and lakesides as much as it is for cool breezes on warm patio nights. Made from Pinot Noir grapes, it's complex, with notes of strawberry and watermelon. We love sipping it with Coach Farm's Traditional Aged Goat Cheese. It has more bite and heft than the fresh unaged version, and the aging allows a welcome 'shroomy tang to invade its cake-like center.
Robibero Winery's Dry Riesling is well-balanced, with a bracing acidity and minerality balanced with soft floral flavors. It's perfectly suited for the mellow, toothsome mozzarella that R&G Cheesemakers, out of Troy, is known for.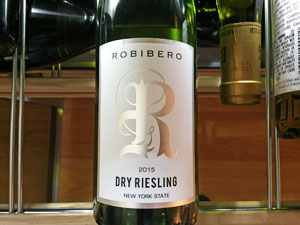 Brotherhood Winery's dry, full-bodied Cabernet Sauvignon, with dark red and black fruit flavors, is complimented perfectly by the rich, mild Cheddar from Ghent's biodynamic Hawthorne Valley Creamery.
One of our favorite wine and cheese duos wherever we are is Pinot Noir and Alpine Cheese. Millbrook Winery's Pinot Noir is concentrated late summer harvest in a glass: rose petals, black raspberries, hibiscus, and soft integrated tannins. Paired with 100% grass-fed Alpage from neighboring Chaseholm Farm, with its full-bodied flavors of nuts, caramel and concentrated umami, the crunch of lactate crystals, it's not just a meal, it's a feast, in and of itself.
What's your favorite New York wine and cheese combo?