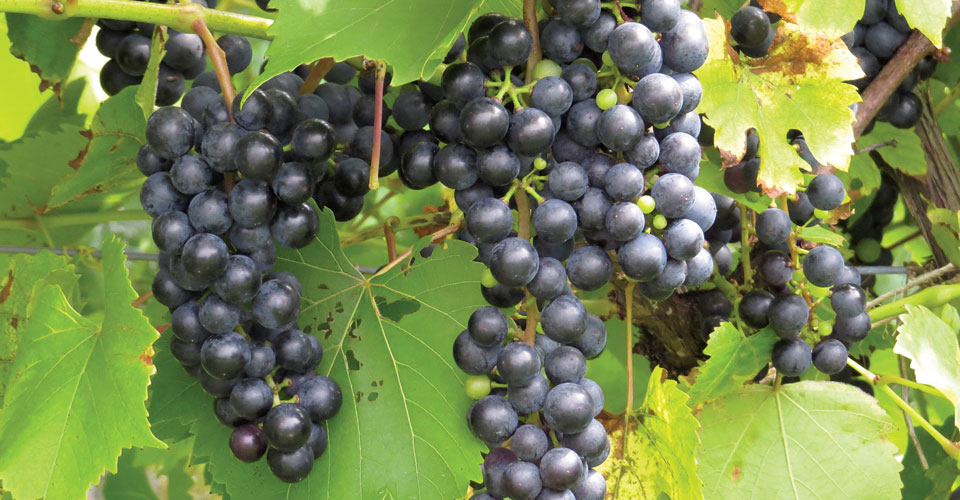 Baco Noir is a French-American hybrid grape that was bred by François (some say Maurice) Baco. Baco (1865 – 1947) was a teacher from the town of Belus, Landes, Armagnac Province, France (south of Bordeaux). The grape that we now call "Baco" was bred in 1902 and commercially released in 1910. It is the result of a cross-breeding of Folle Blanche (a traditional grape variety used to make brandies in Armagnac) crossed with a "Riperia" grape. The Riperia family of grapes, also known as "riverbank" or "riverside" grapes, are found along river banks in the eastern part of North America from southern Canada to the Gulf of Mexico to the Rocky Mountains.
Over the course of Baco's career, he hybridized more than 5,000 grape crosses, but limited his designated named varieties to no more than six. Baco Noir is still grown to some extent in Burgundy and the Loire Valley, France, and in the eastern part of the United States.
Baco Noir grapes have deep color, lots of berry and plum fruit, and possess high acid levels that stand up well to barbecued meats or other heavy dishes. It also has great aging potential. The grape grows well in the Hudson Valley and makes a wide range of quality wines, as diverse as Burgundian Pinot Noirs, Bordeaux-like Cabernet Sauvignons, light, young fall wines or nouveaus, and even rosé.
If Baco is left on its skins for more than seven days as it ferments, it can, with age, have many big Bordeaux-like qualities. It has robust and aromatic flavor elements such as cedar, tobacco, leather, and chocolate. It has complex fruit flavors of black and choke cherries, blackberries and prunes. Further, it can have herbal notes of black pepper, licorice, cinnamon, and eucalyptus. As it ages over five to fifteen years, Baco becomes a complex, full-bodied wine that accompanies red meats very well.
Baco can also be made into a slightly lighter style that is reminiscent of a Burgundian Pinot Noir. When made in this style, it has a rich nose with fruits reminiscent of raspberries, black raspberries, blueberries, cherries, and strawberry jam. The herbal notes remain, but include more muted flavors of lavender, black pepper, mint and licorice.