Most people in the wine industry, as well as wine collectors, have a wine cellar. It's important to keep wine in a quality-controlled atmosphere. But what happens if you don't have the space? While wine self-storage is a huge market in Napa, no one was doing it here. Jonathan and Allison Brett saw the potential right outside the Hudson Valley wine region and opened Highlands Wine & Self Storage. Just half an hour outside of Warwick, winemakers and wine lovers alike can benefit from their business. HVWM chatted with Jonathan about this unique business model. But first, some tips on storing wine.
The ideal temperature range is between 45° F and 65° F.
A dark space with little-to-no UV light is preferred.
50-80 percent humidity will keep corks from drying out.
Keep vibrations to a minimum.
JB: There are numerous parts to the storage facility but the wine storage area was built in 2014. There are small and large units that are all temperature and humidity-controlled. We use LED lights to prevent any UV exposure and our security is unparalleled. If someone has made the decision to invest in wine, it's in their best interest to make sure that it is securely stored. The large units can hold up to 300 cases and the smallest hold 48. Customers also have 24-hour access.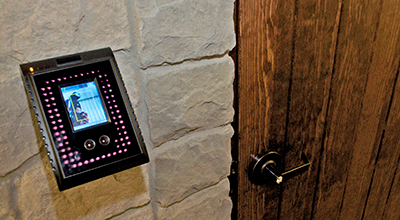 HVWM: What sort of security features do you use?
JB: Just to get in the gate there is a code, then facial recognition is needed to get into your storage unit. Once you are in, there is still a lock that needs to be opened. There are four cameras in the wine storage area as well. When you enter your code, the lights in your unit turn on. Customers punch out again so we know when people come and go.
HVWM: In what ways can you guarantee temperature and humidity control?
JB: In addition to our exacting refrigeration equipment, we utilize a natural gas 5K generator in cases of a power outage. We also put in a heat strip in case of an extended power outage in the winter season to make sure a constant 55 degrees at all times. Each storage unit has two monitors with set humidity parameters and every month a report is sent to each customer to prove that it's stored properly. Brokers like this because they can prove to the wineries they represent that the wine is stored safely.

HVWM: So how did you and Allison get into this business, did your own wine collection spur the idea?
JB: Not really, although we do enjoy wine. Our plan was to see the country via motor home and wanted to start a business that could be run on the road. When we pinpointed exactly what we wanted to do and found the perfect spot in Hardyston we began building. This was in 2008 and as you know this coincides with the banks going bankrupt and a huge economic downturn. It was hard to get loans and the build was very stressful. We ended up working our regular jobs during the week and then would work at Highlands on the weekends.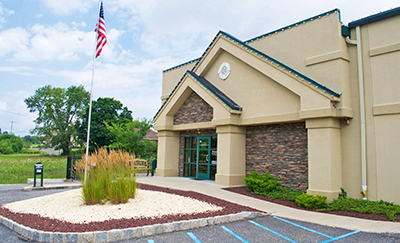 HVWM: So what gave you the idea to build the wine storage facility?
JB: Self-storage is huge in California, and I saw a need for it here. It hit me when I saw the wine cellar at Crystal Springs Resort nearby. They have the third largest wine cellar in the country. It was really something. Allison and I like to visit the wineries in the Hudson Valley. We love to visit Demarest Hill Winery, Applewood, Warwick Valley Winery, and Clearview. We take our old red truck to spend the day. Our favorite spot is Orange County Distillery—it's a small red barn that's very cool, and all the spirits are from the area which we love. Those weekend visits got me thinking about how our facility is the perfect spot for local wineries and restaurants to store surplus. Another reason we thought it might work is that our area has many high-end townhouses that don't have basements for storage.
HVWM: That's smart. To get a discount, restaurants have to order numerous cases and don't always have the space to store them. Who else could benefit from your wine storage?
JB: Well, as I said, wine brokers love the temperature and humidity reports, as do restaurateurs, wineries, collectors, and investors. It's also perfect for temporary storage if you are renovating or moving. And it's interesting, our customers are from all over. We have a customer that lives in Texas but travels extensively—he has five wine storage units across the country. We have a lot of clients from NYC and Hoboken due to the lack of storage space, as well. When a unit opens up, we offer it to existing clients before the public. It's a very niche market and the people that use it will often take on more space when it's available.
HVWM: It certainly doesn't sound like your typical storage unit, more like the Cheers of storage facilities.
JB: We know our clients well and some of them come and hang out at the office. It's a really comfortable and beautiful space. We even have a few people that use their units as offices.
HVWM: Sustainable energy is such a huge interest in the Hudson Valley—are there any ways that you are going green at Highlands?
JB: Absolutely, everything is powered by solar panels—we have a zero electric bill. It's really been a game-changer. It's such a great investment for anyone with a business in the area.
HVWM: So what does the future hold for Highlands?
JB: We are in the process of building our fourth facility. We are also trying to acquire property for RV storage. All the baby boomers are retiring and buying RVs. I am literally turning two people away a week regarding RV storage! I plan to have an electric vehicle charging center out front and if you're a customer, you will have a card to swipe that lets you charge for free. More people are going green and getting hybrid automobiles and we want to support that.
Most importantly though, we want to expand our customer experience to offer our Hudson Valley clients delivery if they are local. Once our red truck is restored we are going to use it to deliver wine from our tenant's units to them. A little delivery service just for wine!
Contact Jonathan Brett for more information: 973-823-1000