Mead is having its moment. All it took was about 8,000 years.
"People want something different," said Eric DeRise of Pleasant Valley's Slate Point Meadery. "Even though it's been around for ages and is one of the oldest alcoholic beverages known to man. But it hasn't been that prominent until recently."
For years, mead was a thick, sweet, syrupy concoction you drank out of a goblet at a renaissance faire once and then never felt a desire to try again. In the Hudson Valley that's changing, as local artisans are experimenting with carbonated meads, meads mixed with other local flavorings, and collaborating with farmers and beekeepers to create sophisticated flavors more suitable for the 21st century as opposed to the 12th century. "Mead's evolving from what it once was," said Greg Wilhelm of Royal Meadery in Delmar. "We're getting mead makers who have a little bit of a different take on what mead can be."
In its simplest form, mead can still be made by a novice homebrewer the way it was ages ago when—as legend has it— someone left a pot of honey outside in the rain and mead was born: Take honey, filtered water, and yeast. Put it in a cool place, stir it a couple of times a day. A month later, you've got mead. Maybe not great mead, but mead.
But whereas homebrewers who have just completed their first batch of beer can then go to their local grocery store and find an abundance of craft beers in a variety of styles to further their education and give them ideas of what to make next, the home mead makers of the Hudson Valley were out of luck. "There was never a good selection of mead," recalled Peter Voelker of Helderberg Meadworks in Esperance, west of Albany. "And all the mead I was making myself was way better than what I could find at the store."
"We wanted to have what we couldn't find," agreed DeRise. "That's when we realized that there was a hole in the market. It just made sense to make the business."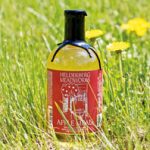 The Hudson Valley may not have been a good place to buy honey-based craft beverages, but it was, and is, an ideal place to make it. A surprisingly large amount of the more than 40 types of honey made in the world can be found in New York State hives. "We don't have citrus blossom honey, but we have berry blossoms, raspberries, strawberry blossoms, blueberry, apple," said Wilhelm, naming just a few. "These are honeys that you're not going to get anywhere else. New York just has so many different species of plants for bees to forage. It makes us really unique."
"New York just has so many different species of plants
for bees to forage. It makes us really unique."

—Greg Wilhelm, beekeeper/mead maker
Wilhelm knows his honey. He was a beekeeper first, building his way up to fifty hives before he even thought about making mead. Once he did, everything changed. "I thought I was hooked on beekeeping," he said. "But I got hooked on making mead even more." Unfortunately he soon found out he couldn't simultaneously be a full-time beekeeper and a full-time meadmaker, so while some of the honey used at Royal Meadery comes from  his (now reduced) hives, the majority of it comes from a beekeeper near Utica.
Wilhelm, DeRise, and Voelker all insist on two requirements when selecting an apiary to purchase their honey from: First, they have to be located in New York State. (DeRise buys his honey from a beekeeper near Seneca Lakes, while Voelker gets his honey from a beekeeper about twenty miles away from his meadery.) Second, they have to do as little to the honey as possible. That means just a coarse filtration to remove any bee parts, and not heating it. Many large apiaries will heat their honey in order to make their product more shelf stable and suitable for mass consumption, but for mead makers it's not worth the trade-off. "If you don't heat the honey, you preserve all the volatile aromatics from the flowers that the honey comes from," said Voelker. "It's a lot more complex, and there's a  lot more character to it."
"You're getting a lot on the nose just from opening up the pail of honey before mixing it with water to create mead," said DeRise of his honey. "Insane floral notes. Not just a pile of sugar."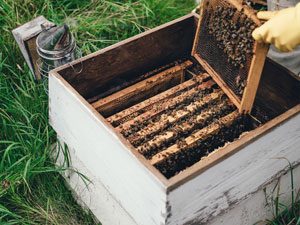 Raw, local honey with character is the secret to great mead, but for Hudson Valley mead makers it's also a challenge. Honey's flavor, aroma, and appearance depend on what types of plants the bees visit, which is in turn affected by the weather and time of year. As a general rule, lighter honey is made in the spring when plants are just beginning to bloom whereas darker honey with more robust flavors are made in the fall. But not necessarily.
"Seasons really affect the honey because if it's dry, there's going to be different plants blooming and different nectar sources," said Wilhelm. "So if you taste some honey from July 2015 and then honey from the same hive in July 2016, they're going to be completely different because of differences in weather. If you had a warm spring, and things started blooming early, then that honey I liked last July might end up being made by the bees in June instead. It's not the same every year."
"I could go to a bulk honey producer and I could get consistent honey year round," said Voelker. "But I like the fun of the seasons. We live in New York. We get spring, summer, fall, and winter, sometimes all in the same day. I want to celebrate that. I don't want to hide it. I love getting something that's different every time. And then I taste it and figure out what to do with it."
An early season honey, with less pronounced flavors, can benefit from the addition of local fruits or other local, natural products such as maple syrup. Ideas can come from simply looking around and seeing what's in season at the same time as the honey, and even sampling the raw honey and raw fruits together to see what makes a good pairing.
"I could go to a bulk honey producer and get consistent honey year round…But I like the fun of the seasons. I love getting something different every time."

—Peter Voelker, mead maker
The strong flavors of a late season honey might be best suited for a simpler mead with no added fruits or other flavors, so that the honey can stand out on its own. But again, there are exceptions. Eastern buckwheat honey, as opposed to buckwheat honey from the west coast, has a deep molasses, pungent flavor that on its own is sometimes referred to as "barnyardy," which is not exactly an appetizing description. So a different approach must be taken.
"We just made a batch with buckwheat honey, and it was really good!" said Kestutis Katinas. His secret? He's not making mead.
Katinas and his wife Marushka Osman are the founders of KAS Spirits in Mahopac. They make krupnikas, a traditional Lithuanian spirit that's made with honey, neutral spirits, and a lot of flavorings. Katinas' family recipe, inherited from his mother, calls for a mix of  ten spices, including such strong flavorings as cardamom, ginger, and star anise. But there are as many traditional Lithuanian krupnikas recipes as there are Lithuanian families. Katinas has friends who make it with 15 spices, all of which are completely different from his 10 spices. Some even make it with milk.
Krupnikas may be different from mead—for one thing, it has a much higher proof, so you definitely don't want to be gulping it down from a goblet—but Katinas and Osman came to it the same way their mead making colleagues did: For fun. The couple owns a cabin in the Catskills, which was where their krupnikas was made. Years ago, Katinas worked in Manhattan and wood grain alcohol wasn't available in New York. So after work on a Friday, he'd drive out to Bottle King in New Jersey, just a few miles from the state line, pick up a case of Everclear, and drive up to the Catskills to meet friends at the cabin to make krupnikas. "We'd turn it into a party," he said. "And then you have to wait for it to settle so you can filter it, and we'd turn that into another party and have everyone join us at the house upstate again." The couple would then give out bottles as gifts for the holidays.
Not surprisingly, Katinas and Osman are also very picky about their honey, and get theirs from an apiary in the Finger Lakes. And as with the mead makers, they've learned to accept that it's the bees who are driving the process, not them. "Last year, the spring honey was actually dark, and then the fall honey was even darker," said Katinas. "It's like a vintage now. You can't control what nature does."
Then again, what's the fun in knowing what's going to happen?
"I'm just getting approval [from NYS] to make a Black Locust Honey krupnikas," said Katinas excitedly. "I'm hoping to be cooking up a batch of that in the next month or so, and we have no idea what it's going to taste like."
Correction: June 24, 2019
An earlier version of this article misstated the surname of Eric DeRise. He is Eric DeRise, not DeRosa.