Orange County Distillery at Brown Barn Farms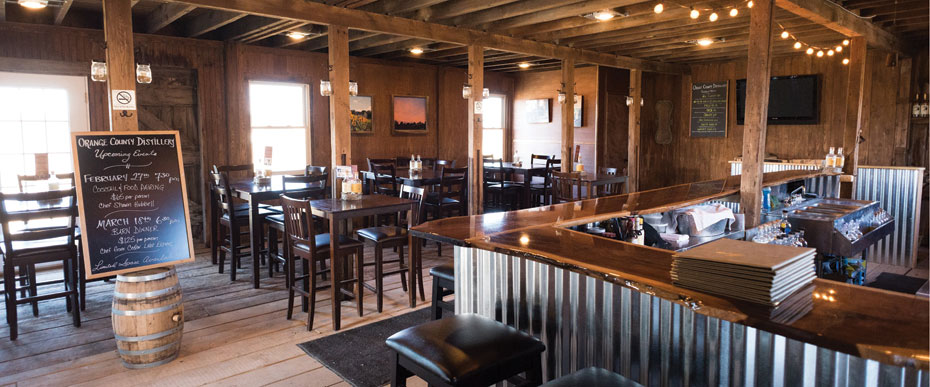 Located on a fifth-generation farm in the Black Dirt region of Orange County, NY, Orange County Distillery is a true farm-to-bottle craft distillery. Their focus is on quality, not quantity. They grow everything on their farm that is needed to produce quality spirits. All of the distillery operations take place on site, from grain processing and storage, malting, peat-smoke malting, mashing, fermentation and distillation, to aging, bottling, and distribution. Quality ingredients, small batches, hands-on processes.
In 2015, the distillery opened a branch location, Orange County Distillery at Brown Barn Farms. Nestled among 23 acres of farmland just a few miles from the distillery, Brown Barn Farms is a cocktail bar and more. The rustic interior features a wraparound bar where their own spirits are crafted into amazing farm-fresh cocktails that range from the classics to OCD originals. They also feature a vast selection of local beers, ciders, wines, and spirits, all produced in New York.
There is a resident food truck on the property that serves up tasty specialties as well as local cheese and charcuterie platters to accompany the wide assortment of cocktails and beverages available by the glass. Brunch at Brown Barn Farms is served every Sunday, all day. Check the website for a schedule of live music on Fridays and Saturdays, and other events throughout the year.
LOCATION
286 Maple Avenue
New Hampton, NY 10598
OPEN YEAR ROUND
Thurs–Fri: 4–10pm
Sat: 12–10pm
Sun: 12–7pm
CLOSED
New Year's Day, Thanksgiving, Christmas