Wine and food are the perfect couple; they can stand on their own, but their lovely rapport makes them even more enjoyable when they're together. In the Hudson Valley, where locally-sourced, handcrafted beverages and food products are center stage, this delightful partnership reaches its apotheosis. Across the 7,228-square-mile Valley, there are many award-winning tasting rooms with their own eateries. Sometimes it's fun to just go where your thirst and your appetite takes you!
---
Pané Café at Warwick Valley Winery
114 Little York Road, Warwick
Sometimes you want to taste the effort, but you don't want to make an effort yourself. Consider Pané Café at Warwick Valley Winery a return to your childhood.
You'll be able to indulge in a gourmet feast from Culinary Institute of America grad (and Warwick Valley Winery co-owner) Katherine Grizzanti, paired with Warwick's estate-made wines, ciders, and spirits, in a relaxed setting, explains Stevie Millhaven, tasting room manager.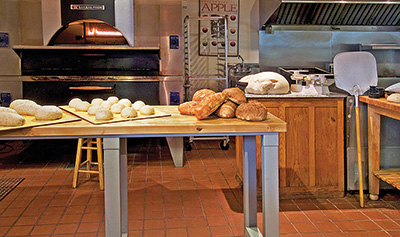 "Katherine is an extraordinary chef, and she makes everything from scratch, even our pizza dough and sandwich bread," Millhaven says. "But we have the menu on a sandwich board, and the setting is really casual." In addition to offering Warwick's full line of libations (10 ciders on tap, 10 wines, gin, bourbons, and liqueurs) they offer cocktails, like their Barrel-Aged Manhattan.
Millhaven's favorite pairing is the Lobster Roll and Warwick Chardonnay. Try the Sausage & Sage Pizza (made from hand-tossed, handmade dough and fired in an Italian pizza oven) with Warwick's Black Dirt red wine, or the Porcetta Sandwich with Black Dirt Bourbon, straight up. The café is open lunch to late afternoon, but check the website for the latest hours.
---
Palaia Winery
10 Sweet Clover Road, Highland Mills
Palaia Winery is where everyone in the know in the Hudson Valley goes when they want fuss-free grub, live music, and drinks. Simple, earthy, real.
"We have casual, but healthy food like flatbread pizzas, cheese platters, paninis, wings, potstickers, breaded ravioli, onion rings," co-owner Jan Palaggi tells us. And yes, she is serious when she defines onion rings as healthy(ish). "We have an air-fryer so everything has less fat and fewer calories. Plus, we have gluten-free and vegetarian options."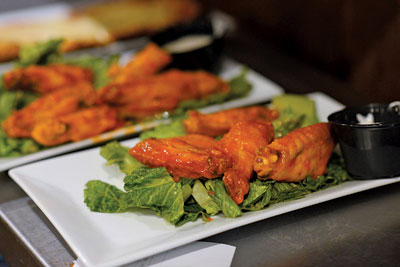 Many people come for the music and the mixed drinks, many of which—like the Magical Mule made from their in-house mead—are gluten-free, as well. They have eight fun, food-friendly wines that span the gamut from crisp to dry and sweet to mellow, and several local craft beers on tap.
"Most people think of beer when they eat chicken wings, but wines go surprisingly well, too," she says.
Through copious market research, they've found that a glass or two of Zappa Franc + a basket of spicy chicken wings + live music at Palaia will make just about any problem recede to a comfortable distance.
Photo courtesy Palaia Winery.
---
If you're here for a weekend visit, or just craving pairings that really sing, there are food options to suit whatever mood you're in. Head out and enjoy!
---
1839 Restaurant & Bar at Brotherhood Winery
84 Brotherhood Plaza Drive, Washingtonville
1839 Restaurant & Bar is as distinguished and elegant as the 19th century winery it's attached to. You don't come to eat at 1839, you come to dine. And yet…it's not fancy.
"We wanted to deliver upscale, modern cuisine using as many local ingredients as possible, but we didn't want people who came here in shorts or jeans to feel out of place," says Frank DeBari, Jr., the director of food at 1839. "A perfect example of this spirit is our Raclette Burger; the cheese is brought out and scraped from the traditional shell at the table, where it melts on contact with the burger."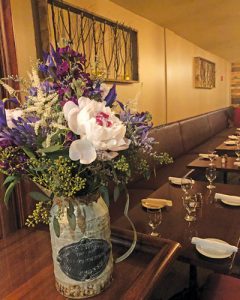 The menu is inspired by global cuisine, and sourced from the finest ingredients possible; the chefs shop for produce, meats, and artisanal cheeses from the farmer's markets, and import specialties from abroad, as well.
Visitors flock to 1839 for both lunch and dinner. A perfect dinner might be the Line Caught Seared Tuna Poke, followed by a Hudson Valley Farm-to-Table Salad, then Braised Short Rib Ravioli, and a grand Flourless Chocolate Torte finale. DeBari's favorite dish is the Shrimp and Grits. "It's made with local, smoked bacon and cooked in sherry from the winery."
The staff is happy to recommend in-house wine pairings for each course. But their cocktails are fabulous too. A sell-out is the Susan Jean, with Brotherhood's Blanc de Blancs, St. Germain, muddled cherries, fresh thyme, and a candy cranberry rim.
Photo courtesy 1839 Restaurant and Bar.
---
Brooklyn Cider House
155 North Ohioville Road, New Paltz
If you find yourself packing cans of San Marzano tomatoes when you head into the Valley, Brooklyn Cider House's chillaxed, vibey orchard-adjacent bar will make you feel like you never left the boroughs.
"We highlight simple, fresh ingredients in our pizzas and burgers," says the cidery's co-founder, Susan Yi. "Our Neopolitan pizzas are made from dough that takes 40 hours to rise, San Marzano tomato sauce, and fresh mozzarella. Our burgers are hormone and antibiotic-free and sourced from Schweid & Sons, a family-run farm in New Jersey." There are also scratch-baked cider doughnuts.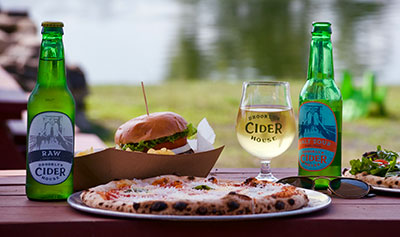 All of the food pairs beautifully with their seven housemade hard ciders, none of which have additional sugar or flavorings, Yi explains. "Our Raw Cider, which is slightly funky and sour, with notes of ginger and citrus zest, is one of the most versatile beverages and goes with just about anything, from burgers, to pizzas, to doughnuts," she says, adding that her favorite pairing is with their Fig & Prosciutto Pizza.
The Half Sour cider, with notes of honey, pear and wildflower, should be sipped alongside Dragon's Breath Pizza, with chorizo, jalapeno, cilantro, and Mike's Hot Honey. For the gluten-free and vegetarian, Brooklyn Cider recently introduced a cauliflower pizza crust, and several non-dairy, non-meat pizza and "burger" options.
Swing by on Sundays for live music, and check the website for special pig roasts, Apple Festivals, and an extended Oktoberfest.
All Brooklyn Cider House photos: Lily Brown, MST Creative PR, courtesy Brooklyn Cider House.