Demarest Hill Winery & Distillery
Small (less than 5,000 cases)
Demarest Hill Winery is the largest winery in Warwick, NY, stocking 40 varieties of wine, ports, and ciders. They also make their own vinegars – which include Balsamico, Bombita Red, Apple Cider, and Apple Balsamico – as well as a Chocolate Grappa spread to use on whatever you fancy. There's also an impressive array of spirits on hand, including five different varieties of grappa, their award-winning gin, brandies, vodkas, rum, schnapps, and more.
The winery, located upon a beautiful hilltop, is home to the owner, Francesco Ciummo and his wife, Orietta, which they built together from the ground up. The estate exhibits a gorgeous view of the valley, perfect for picnic lunches in the summer or a relaxing weekend getaway.

Summer is the perfect time to visit the winery. Sit and enjoy a picnic lunch while sipping on one of Demarest Hill's refreshing drinks, such as their Limoncello, Orancella (limoncello made with orange peels), or Peach Brandy over ice. The estate exhibits a gorgeous view to enjoy on the lawn or under the covered Pavilion.
Demarest Hill entered the Finger Lakes International Wine Competition in 2012 for the first time, and the winery received a silver medal for Cherry Brandy, along with three other bronze medals. Since then, Demarest Hill Winery has won a bronze medal from The Big E in Connecticut for their Peach Wine, a silver medal for the Porto Fino Ice Wine, and two silver medals for their Grappa and Grape Vodka from the East Meets West International Wine Competition.
Their Warwick Black Pearl is a dry red wine which won awards at the New York State Fair. Incredibly rich and full-bodied, it remains the best seller at the winery. In addition to the different varieties of wine that one would expect to find, Demarest Hill makes fruit wines, non-alcoholic wines, ice wine, Vin Santo, sangria, and even Dandelion Wine.
What started out as merely a passion of the owner is now a fruitful business, growing each year as the Master Vintner invents new creations. Demarest Hill Winery brings a taste of Southern Italy to the Hudson Valley Region.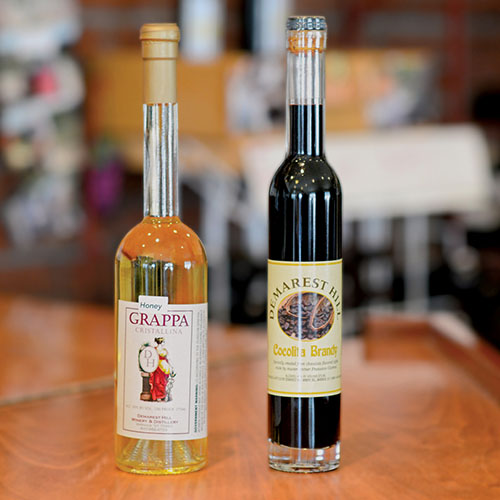 New at the winery!
Cocolita & Honey Grappa
Demarest Hill Winery is pleased to announce the latest additions to their award-winning collection: Cocolita Brandy and Honey Grappa. Each placed Bronze in the 2018 Finger Lakes International Wine Competition. This competition boasts 3,000 wines and spirits entered from 600 wineries from 16 countries. The entries are judged blindly to ensure fair and unbiased judging by a diverse panel consisting of renowned judges from all over the world.
These and many other award-winning wines and spirits are available in the tasting room.
Open Year Round
Daily 11am–6pm
Closed
New Year's Day, Easter, Thanksgiving, Christmas Day
Visit the website or Facebook for upcoming events. For a complete listing of events visit www.GunksWine.com