If you've ever driven extensively around the Hudson Valley, chances are you hit a GPS dead zone en route to your destination, only to find yourself delighted to be wherever you ended up. In fact, the entire region was discovered by accident in 1609, when Henry Hudson sailed up the river that now bears his name on a futile quest for a shortcut to Asia. The Hudson Valley's craft beverage scene – especially over the past decade – seems to bear the imprint of its discoverer. Thanks to the river's moderating effect on weather, the region's rich terroir, easy access to New York City and Boston, and its historical roots as the birthplace of American wine, the Hudson Valley has become a magnet for budding craft wine and beverage makers.

Since 2008 (and the first issue of Hudson Valley Wine Magazine), the Hudson Valley has created more craft beverage manufacturers than any other region in the state, with over 93 new businesses opening, according to the Governor's Office. Call it an accident. Call it serendipity. We're just thrilled it happened, and honored to have helped tell its story for the past ten years.
Selecting the Standouts
Picking the most notable producers or products over the past decade makes me feel like Hudson must have as he chose the course for his ambitious voyage; granted, on a slightly smaller scale. Several producers stand out, for one of several reasons. The consistent quality of their product solidifies their position, relative to the world stage; they're leaders in innovation; they foster opportunities for other makers; or they're just stunningly creative.

There are so many products we could have included in this list of picks that we consider game changers for the region. Like Millbrook Winery's show-stopping vinifera wines, which they've produced since John Dyson established the winery 30+ years ago. As former Commissioner of Agriculture and one of those responsible for passing the 1976 Farm Winery Act, Dyson paved the way for the today's wines and wineries.

Or any wine from Whitecliff Vineyard's extensive product line. Whitecliff is entering its twentieth year of boundary-pushing grape growing and wine making. They helped put the Hudson Valley on the map by upstaging wines around the world with a victorious Best White Wine in Show at the prestigious San Francisco International Wine Competition. They continue to forge new ground with sustainable practices, a growing line of sparkling wines, and luscious offerings from their newly expanded vineyards in Columbia County.

Of course, we must include Brotherhood Winery, the oldest winery in the country, which has been a leader in product innovation and production methods for almost 180 years. Then there's Stoutridge Vineyard, the first winery in the region to go solar, and to embrace the Slow Wine approach to wine making. They've carried over those sustainable, no-intervention practices to their new distillery, which opened last year.

And there's Doc's Hard Cider—created by Warwick Winery's Jeremy Kidde and Jason Grizzanti—a product that resulted from a surplus of farm apples. Doc's was the region's first orchard-to-bottle cider, and predated the current Cider Revolution by almost two decades. Today, Doc's comes in cans, in myriad flavors, and can be found almost everywhere. Warwick Winery also wins merit for establishing the first fruit distillery in New York since Repeal with the launch of its American Fruits line back in 2003.

The list goes on, but the ten products we've selected here have been cheering up happy hours not just in the Hudson Valley, but in some cases, across the globe, for the past decade. In some instances these picks predate even the magazine's existence. One thing is clear: they hail from our terroir, and have become part of our landscape. They give us another reason to say "Cheers" to the Hudson Valley!
Innovating Every Day
Our ten year story starts with the region's wine and craft producers, who are the heart of the industry. One thing that never gets old is their drive to break new ground with tasty innovations each year.
---
Baldwin Vineyards Strawberry Wine
1985


This authentic fruit wine has withstood the test of time. Baldwin Vineyards was started back in 1982 by Pat and Jack Baldwin in a corner of Ulster County known for its fruitful farmland. Pat, who had an earnest interest in European winemaking, also had the audacious vision to pack real fruit in a wine bottle in a way that had never been done in the region before. She crafted the Strawberry Wine not to be cloyingly sweet, but just sweet enough to end a meal on a high note, especially when paired with a sharp cheese or drizzled over a decadent desert.

The next generation of Baldwins has taken the reins (and the recipe), continuing the tradition of producing farm-fresh fruit wines, and holding the annual Strawberry and Chocolate Wine festivals that have been pleasing crowds since Pat began hosting them back in 2006.

We can attest that cellared properly, this wine ages beautifully to become unctuous and infinitely more complex. Not just a standout in the region, Baldwin's Strawberry Wine stacks up to fruit wines from around the world, garnering dozens of awards each year, including international competitions.
---
Tuthilltown Spirits Hudson Baby Bourbon
2005

Tuthilltown Spirits Distillery radically shifted the world's perception of the Hudson Valley's craft scene. At a time when finding a locally-made product on a shelf in a liquor store meant dusting off a bottle relegated to floor-level in a dark corner, Tuthilltown's Baby Bourbon found prominent placement even in the tough Manhattan market.

Besides the taste (a peaty bite softened with notes of caramelized honey) Hudson Baby Bourbon is a prime example of a farm-to-bottle spirit. The packaging—a squat hand-numbered bottle with a hand-applied wax seal and the words "HUDSON WHISKEY" boldly imprinted on the front—wears its origins with pride.

Tuthilltown, founded by Ralph Erenzo in 2003, was the first whiskey distillery in New York since before Prohibition – when there were more than 1,000 in the region. Erenzo revitalized the tradition of small-batch spirit production, sourcing from local fruit and grain growers. Their first product was vodka made from scraps they gathered at a local apple slicing facility.

Tuthilltown rose to fame for its Baby Bourbon, made from 100% New York corn, and its Manhattan Rye Whiskey. Many credit the distillery for not only producing the first local whiskey, but for helping to mainstream mixology. In 2017, Tuthilltown was sold to Scottish distiller William Grant & Sons.
---
Hudson-Chatham Winery Baco Noir Reserve
2007 CASSCLES VINEYARD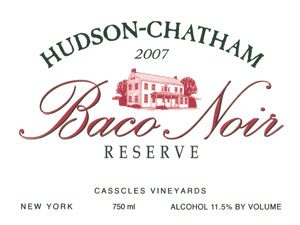 Baco Noir has held a lot of promise for the Hudson Valley since the Task Force for Hudson Valley Fruit Growers deemed it a viable grape for the region in a 2006 New York State legislative report. While many winemakers fashioned a "Hudson Red" with Baco as the star, this hybrid grape really didn't catch on, even though it endures the Hudson Valley's tempestuous weather patterns. When Hudson-Chatham opened its winery in 2006 and embraced Baco, the varietal seemed to immediately take off.

A cross between a vitis vinifera (Folle Blanche, a French wine grape) and an unknown variety of vitis riparia (an indigenous North American grape), Baco Noir was created by French hybridizer Maurice Baco with the goal of replacing Pinot Noir during the phylloxera crisis. Like Pinot Noir, when coaxed to fruition in a cooperative terroir, Baco Noir produces a medium-bodied, fruit-forward wine, with aromas of black fruit and deep caramel.

Stephen Casscles re-introduced Baco Noir to the Hudson Valley around 1990 after growing it on his vineyard in Athens, not far from the Hudson River's west bank. The grapes, destined for Hudson-Chatham wine bottles (where Steve has been head winemaker since 2006) have earned the wine a cult status and numerous gold medals for Hudson-Chatham. There are now five Baco Noirs on their tasting menu including estate grown and old vines vintages from nearby farms, and Field Stones Baco Noir, aged along with rocks right from the vineyard.
---
Brookview Station – Whistle Stop White
2007
Talk about a game changer. Brookview Station's Whistle Stop White altered the perception that wines made from fruit other than grapes can't be dry. Despite its 100% orchard-apple provenance, Brookview's Semi-Dry Apple wine has only 2% residual sugar. Just six months after it was released, it beat out 70 other wines to win the prestigious Cornell Cup for Best Hudson River Region Wine (Best in Class and Best in Category). It hasn't stopped winning awards since.

Pressed and vinified in a traditional winemaking method and fermented in stainless steel, Whistle Stop White is made from the apples harvested from the Goold Orchard family farm, now more than 100 years old. This crisp, European-styled white retains its true apple essence from first sip to smooth sweet-tart finish.
---
Harvest Spirits Core Vodka
2008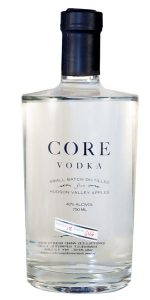 The creation of graphic designer-turned-distiller Derek Grout, Core Vodka was born out of Harvest Spirits Farm Distillery, distilled from 100% homegrown apples picked onsite from the family farm. This year, Core Vodka holds the distinction of celebrating its tenth anniversary on the market.

True to its origins, Core is still made using the same production methods – by mashing farm apples and fermenting them into apple cider, then distilling the cider three times in a hybrid copper pot/column still. The resulting spirit splashes into cocktail glasses thicker than water, with a hint of sheen. The remnants of apple are in the aroma. Everything about Core is clean – its simple, wide-shouldered bottle, and its crisp, refreshing-as-a-fall-day-on-an-orchard-in-the-Hudson-Valley taste.

Ten years later, Core is as popular and reassuringly familiar as ever. It will always hold a special place in our hearts as one of the first Hudson Valley–made products we spied proudly on display well outside of the region.
---
Crossroads Brewing Company – Outrage IPA
2010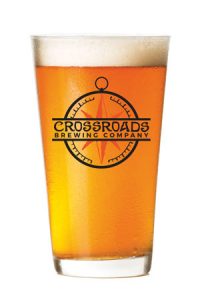 It's hard to believe that in 2008 there were only a handful of breweries in the Hudson Valley (there are now more than 111). Founded by Ken Landin and Janine Bennett, early advocators of local craft which had not yet been dubbed a "movement", they had the vision to revamp an historic 1890s opera house in the tiny river town of Athens to create a meeting place for locals – this time, with a love of beer.

In 2010, they opened the 7-barrel brew house with a small tasting room, bringing in food trucks and hosting pot-luck Thanksgiving dinners for avid patrons until they debuted their kitchen in 2012. Their founding brewer was Hutch Kugeman (now head brewer at The Brewery at the CIA) who fashioned recipes for tasty brews that suited his own palate. Thankfully, they trended.

Right out of the gate, in 2011, Crossroads was awarded the inaugural John Calen Award for Best IPA in New York State, and took home the 2011 Matthew Vassar Cup for Best Brewery in the Hudson Valley. Now, with Adam Krawczak at the helm, Crossroads has won several more TAP NY medals and a GABF bronze.

Crossroads opened a new taproom in Catskill in 2017 to meet growing demand for the product, now also sold in cans. Packed to the brim most every night, the two tasting rooms have become a magnet for locals to enjoy their award-winning local beer, and in Athens, brew-friendly, farm-to-table fare.
---
Hillrock Estate – Distillery Solera Aged Bourbon
2012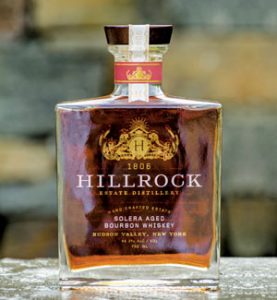 Hillrock Estate Distillery broke onto the scene in 2011 as the first "grain to glass" whiskey using organically grown grains cultivated at the estate. They were also the first distillery to floor malt in the region, and first to build a malt house at a distillery in the U.S. since before Prohibition. Their inaugural product, Solera Aged Bourbon was released in 2012 in a distinctive premium package that immediately vied for top shelf attention.

Hillrock is a legend for its Solera Aged Bourbon – it's the world's first bourbon produced in this method, in which a small portion of whiskey is transferred from barrel to barrel across and down a stack, so no barrel is ever completely emptied; it is refilled with new whiskey. This gradual aging method adds complexity and depth over time. At Hillrock, the solera blends small barrel-aged Hillrock Estate Bourbon and mature seed bourbon, and then it is finished in 20-year-old Oloroso Sherry casks to smooth away any rough edges.

Hillrock's Solera Aged Bourbon earned instantaneous critical adulation from every major beverage magazine upon its release, including 96 points from Wine Enthusiast, and has garnered an enviable amount of awards in major competitions.
---
Benmarl Winery Cabernet Franc
2012 RIDGE ROAD ESTATE – HUDSON RIVER REGION


While Benmarl Winery was officially established in 1957, vines have been cultivated on this slope of land in Marlboro since 1772. The winery had enjoyed a distinct reputation under Mark Miller's ownership from 1957-2003, when the winery's steep terraces were replanted with European hybrid and vinifera wine grapes, and Miller created wines that celebrated European traditions.

When the Spaccarelli family purchased the Benmarl estate in 2006, no one knew what to expect. But the innovation continued. The dynamic young winemaking team of Matthew Spaccarelli and Kristop Brown transitioned to a more modern approach, with delicious results.

Eventually, Matt took over the helm as head winemaker and began producing refined wines that reflected the unique Marlboro terroir. The 2012 Ridge Road Estate Cabernet Franc wine, sourced from grapes across from the road from the winery, raised eyebrows. We weren't the only ones arrested by the wine's rich raspberry aroma, the soft tannins, the vibrant bright fruit, and the breath of spice and black pepper on the finish. It garnered 90 points in Wine Enthusiast, a coup for a vinifera wine made in the region at the time, making it a benchmark for other New World Cab Francs.

This wine was one of a group of estate Cab Francs that spurred the creation of the Hudson Valley Cabernet Franc Coalition. Hudson Valley Wine Magazine is also a co-founding member of this group, whose purpose is to make Cabernet Franc the signature grape of the region.
---
Naked Flock Hard Apple Cider
2012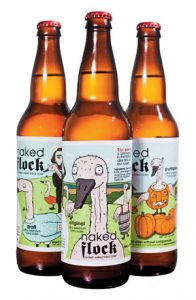 When Applewood Winery decided to branch out and enter the cider business (and why wouldn't they, being located on a 130-acre apple orchard that has hosted thousands of U-pickers for decades), they weren't the first cider maker in the region. But they broke the mold with Naked Flock. Not only was the cider fermented with homegrown apples and sweetened with local honey, its whimsical label design is a tongue-in-cheek ode to local Warwick folklore.

As the story goes, a church pastor was given a pack of seeds from the Orient that grew to beautiful poppies. A flock of geese broke into the garden, ate the poppies and fell into a deep sleep, and were plucked of their feathers by the pastor's children. To the congregation's horror, the geese eventually awoke and staggered around the town "naked." The defiant pastor, defending the actions of his children, saved the "naked flock" from slaughter.

The complete line of Naked Flock ciders (including new cans) features a wide-eyed illustrated goose—usually sporting a barrel, pumpkin, or other carefully placed object to shield its embarrassment. In the competitive U.S. craft beer and cider market where packaging is almost as important as the product, Naked Flock not only stands out, but reflects the owner's goal of crafting experimental ciders that are as whimsical and fun as they are ground-breaking and delicious.
---
Helderberg Meadworks – Feral Mead
2014


Mead has always played an important role in Norse Mythology, but not so much at your average happy hour. At best, the honey wine was considered a throwback in the Hudson Valley until Peter Voelkner gave it a much deserved second act. A deep appreciation of his Norwegian heritage, a taste for beer, and a passion for homebrewing led to the creation of his first product, "Heritage" mead, from a recipe he considers "fit for a Norse king."

In 2012, Peter and his wife Kirsten took their product to market and quickly found success filling a void in the marketplace. It satisfied the thirst of curiosity seekers who wished to learn more about the legendary product, but also mead purists who shied away from the sweet syrupy options that predated Helderberg's flagship.

It was Peter's ambitious "Feral" mead that took his craft to the next level. Cultivating wild yeast found right in the production facility, Peter transformed his mead to a tangier, more complex version of the original. "Feral" truly captured a taste of place like no other product before it. Today, wild yeast is a welcome ingredient, finding its way into more of the region's cider and brew ferments than ever before.

Helderberg continues to break boundaries, innovating with products like Staghorn Mead, Braggot, and carbonated mead.
---
Nine Pin Ciderworks – Original Cans
2015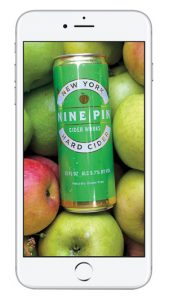 Did we say ten picks? We lied. It would be difficult to overstate the impact of Nine Pin Ciderworks on the craft scene in the Hudson Valley. From the get-go, founder Alejandro del Peral splashed onto the local market with the distinction of being the first farm cidery in New York. His offbeat, unexpected takes on cider are as memorable as they are innovative.

While Nine Pin has always had big ideas for cider (think Cider Monster, crafted from 130 varieties of apples, or Lion's Share Barrel Aged Cider made in collaboration with Ommegang Brewery), Nine Pin cider was also the first in the region to come out in cans. In 2015, they re-introduced their Original in slim, green apple–colored four-packs, giving consumers the option to pop open a local craft beverage in places where glass is restricted.

Alejandro and his team source all fruit locally. Dedicated to supporting the region's community of farmers, they established an annual "Gathering of the Farm Cideries" event. They were one of the first to move into the warehouse district in Albany, settling into an 18,000 square foot factory, and opening its doors with a tasting room of locally sourced, housemade items. Now, the area is flourishing with craft producers and legions of locals.